Milltag Stripes shorts, jersey and arm-warmers review
A twist on the classic rainbow stripes available in a complete outfit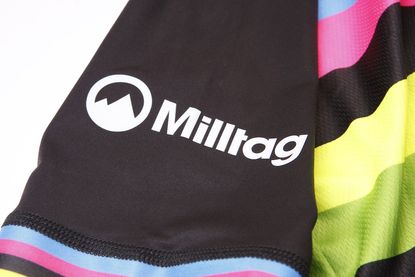 If the kit were priced lower, we would be prepared to overlook certain details such as the lack of hidden zip, high-waisted shorts and irritating seams, but at £80 each we feel these flaws should be addressed. Colours are hugely subjective, but Milltag aesthetics are at least a welcome break from the norm.
Reasons to buy
+

Bright colours

+

Different to majority of kit out there

+
+
+
Reasons to avoid
-

Annoying seams

-

Arm warmers dropped down

-

High waist on shorts

-

Overpriced

-
We recently featured Milltag's Stripes jersey in our Christmas gift guide, and here we are reviewing the complete outfit, comprising of shorts, a jersey and arm warmers.
A twist on the classic rainbow stripes found on the World Champion's jersey, the Milltag design is designed to help with visibility, using retina-blasting fluoro inks and reflective logos so riders can look cool but stay seen as the evenings grow longer.
>>> Cyclists' guide to high visibility clothing and accessories.
According to Milltag: "We wanted to design a collection that was essentially a champions' jersey for the riders out there who will never get to stand on a podium but can be proud that they get out there and ride for however long and in all conditions. These are stripes that they earned simply by being out on your bike week in, week out." The jersey features a subtle reminder to this, with a hidden message, stating that 'you earned these stripes.'
We like the idea and the variation on the World Champion stripes, and it's refreshing to see kit that dares to be different from the plethora of block primary colours and black which dominate cycling clothing. When we wore it, the kit received mostly positive comments.
The jersey is a "club fit" that won't suit many cyclists' lean build, leaving too much material around the arms and shoulders. However, if you are shaped more like a normal person and not with the T-Rex arms of a cyclist, you may welcome the additional room. At £80 we would have liked to see a hidden zip that doesn't break up the stripes on the chest.
We found the shorts to be too high waisted, making 'comfort breaks' logistically difficult. In addition, we were not a fan of the material used for the straps and upper part of the bibs. This felt uncomfortable against our skin and became quite irritating on our lower back, as did the seam joining the mesh straps with the short. The chamois is decent, if not remarkable.
>>> Cycling bib shorts: 15 of the best.
The arm warmers complete the outfit and we did like the overall look when it was all worn together. The armwarmers had a habit of slipping down our testers' arms, but that may again be due to ergonomics designed around a "club fit" more than a "race fit".
Head over to the Milltag website for more info.
Thank you for reading 10 articles this month* Join now for unlimited access
Enjoy your first month for just £1 / $1 / €1
*Read 5 free articles per month without a subscription
Join now for unlimited access
Try first month for just £1 / $1 / €1
Oliver Bridgewood - no, Doctor Oliver Bridgewood - is a PhD Chemist who discovered a love of cycling. He enjoys racing time trials, hill climbs, road races and criteriums. During his time at Cycling Weekly, he worked predominantly within the tech team, also utilising his science background to produce insightful fitness articles, before moving to an entirely video-focused role heading up the Cycling Weekly YouTube channel, where his feature-length documentary 'Project 49' was his crowning glory.