Sportful Loom Thermal Long Sleeve Jersey review - a versatile lightweight option
Great for those inbetween-y temps and pairs well with a baselayer for cooler mornings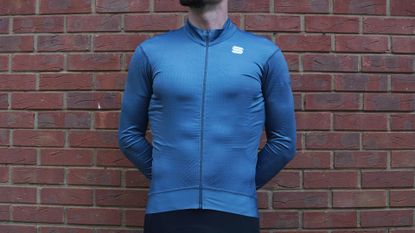 (Image credit: Future)
The Sportful Loom Thermal jersey is a great mid-weight layer. It can be worn on its own on warmer days and with a base layer for fresher spring mornings. The pockets offer plenty of room and the ability to expand them is neat and useful if you want to squeeze a layer in. Beware during hard efforts though, as the sweat wicking capacity is limited.
Reasons to buy
+

Comfortable and relaxed fit

+

Easy to layer with
Reasons to avoid
-

Doesn't wick sweat particularly effectively
Long sleeve jerseys are a difficult product to get right, some fleece lined options can leave you overheating and sweaty, whilst others are so thin that the window between wearing it or going down to a short sleeved jersey is small enough as to make the garment pointless.
The Sportful Loom long sleeve jersey, though, finds a neat balance between the two. It has a slightly heavier material providing a little bit of warmth, but there's still enough ventilation to reduce sweat build up. The Sportful Loom jersey fits into the lighter end of the best long sleeve jerseys we've tested.
Sportful Loom: construction
The Loom LS Jersey is made from a jacquard fabric (where the design is weaved directly into the garment) giving it a high quality feel. The material is relatively heavy, compared to a regular jersey, but breathable making it appropriate for a wide range of temperatures.
There are three pockets on the rear of the Loom jersey, with a gusset which gives the wearer the ability to expand the capacity of the pocket.
Around the wrist and the waistband, there is grippy stretch tape which holds the jersey in place. I faced no issues with the jersey moving out of position while I've been riding.
Sportful Loom: The ride
I mostly took this jersey out during days with moderate weather. When paired with a long sleeve baselayer, it worked well on milder winter days and cooler spring mornings. In the deep winter, I used this jersey as a mid layer underneath a winter jacket, and that pairing actually worked quite well.
The Loom jersey really comes into its own, though, when it's not quite warm enough to have your arms out but not that cold either.
One thing you notice when you put the jersey on is how it looks as if it's been hand made, hence the name Loom. This is due to a combination of a clever bit of printing and some design features being weaved into it. The Loom jersey is great for longer, easy rides as the relaxed fit allows a number of layering options to be used.
The only slight pitfall was during very hard training efforts. Despite being quite breathable for the most part, once this jersey becomes sweaty it does get a little heavy and the material hangs on to the sweat for a little longer than some top performing models, which wick the sweat away a little faster.
Sportful Loom: value and conclusion
The Sportful Loom Thermal jersey costs $130 / £120 at full price and considering the quality and versatility, this is good value. To put this price into context, you can get long sleeve jerseys for cheaper - dhb's Aeron Thermal Jersey is excellent value at $100 / £85 for example. On the other hand, Rapha's Classic Long Sleeve Jersey comes in at significantly more ($185 / £135).
Overall, the Sportful Loom Thermal is a great jersey for training and casual riding, and is comfortable in a range of temperatures.
Thank you for reading 10 articles this month* Join now for unlimited access
Enjoy your first month for just £1 / $1 / €1
*Read 5 free articles per month without a subscription
Join now for unlimited access
Try first month for just £1 / $1 / €1
Tom Epton is a freelance writer and data scientist. Originally training as a scientist after completing his studies in physics he realised that cycling was what he wanted to spend his life thinking about. Now he works with manufacturers, athletes and teams using cutting edge data science methods to find performance gains. Tom writes primarily about sport-science and tech!