dhb Aeron Women's FLT Roubaix bib tights review
Reflective detailing is teamed with the highly regarded Roubaix fabric from Italian brand Miti for the dhb Aeron Women's FLT Roubaix bib tights, but can this affordable option of keep you warm on a bike this winter?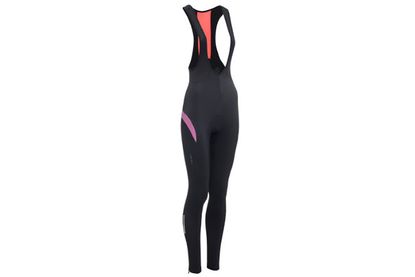 The dhb Aeron Women's FLT Roubaix bib tights are a good value pair of thermal tights, if they provide you with the right fit.
Reasons to buy
+

Reflective detailing

+

Warmth

+

Elastic Interface Tour HP chamois

+

Value

+

Zip and silicon backed ankle gripper

+
Reasons to avoid
-

Fit

-

No water resistance
Aeron is one of dhb five clothing ranges, aimed at performance-orientated riders, and over the course of several years, the Wiggle house brand range has built up a well rounded collection of race style cycling kit at a more affordable price points than most on the market, with many items coming in well below the £100 price point.
>>> 10 worst winter kit mistakes and how to avoid them
It's been just over a year since we last saw the dhb Aeron Women's FLT Roubaix bib tights. That time it was in the form of the halterneck version and we really rated the design and the value they offered as an entry level winter tight option.
The 2018/2019 version still promises many of the features we liked, but this time round its in the form of a more traditional style up and over bib tight.
Construction
The dhb Aeron Women's FLT Roubaix bib tights still use the same fleecy Roubaix fabric as before. Many brands, use a similar, own cultivated, version, such as the Sportful Total Comfort bib tights, but dhb use the real deal, sourcing the fabric directly from the manufacturers in Italy, Miti.
This fleece backed fabric plays a duel role in keeping you insulated via it's loft fibres, as well as ensuring breathability to the bib tights. Miti say this four-way stretch fabric also offers great abrasion resistance as well as an element of wind control.
Up on top of the dhb Aeron Women's FLT Roubaix bib tights is a high backed brace system. The centre of the back is a breathable mesh, which is flanked by fleece backed straps that have been designed to offer further warmth.
In the middle sits a Elastic Interface pad (R). The Tour Air chamois uses two foam densities and has been designed for middle distance riding of around six hours in the saddle, on or off road.
Out side is where the FLT element comes in to play on the dhb Aeron Women's FLT Roubaix bib tights with the Flash Light Technology (FLT) using what the brand calls considered application of reflective fabric in areas where you need it most. In the case of these particular bib tights it's the inclusion of subtle insert on each thigh, along with lower leg reflective detail, and a small reflective logo at the rear.
The ride
Riding these back to back with several other pairs of bib tights, from GOREs C3 Windstopper to the Rapha Soupless Winter tights gives me a really good indication as to where the dhb Aeron Women's FLT Roubaix bib tights sit in the market.
Fit wise, the legs are really close fitting, and while it's near on impossible to take a full leg measurement on bib tights as there is no definitive start point to the waist, these are one of the longest I've tested for a while, finishing just below my ankle, a rare find for size small tights. They are also are one of the closest fitting round my skinny 24cm circumference ankle too.
While the legs fit well, it start to go slightly awry at around the hip level. I'm still not sure if it's the fit of the bibs, which for me felt too tight and dug in, or the crutch - because I just could not get the chamois close enough to my groin.
This, therefore meant that there was a constant gap between pad and body, which was only closed when sitting in the saddle. On paper this doesn't sound too bad, but in practice, it was really uncomfortable overtime I stood on the pedals, to be greeted by a cold draft blowing through my neither regions, and then to have to sit back down on the cold damp chamois.
I headed out on a cold winter night right in the dhb Aeron Women's FLT Roubaix bib tights, on a mixture of road and off-road terrain. The temperature had dropped significantly, but there's nothing like an impending restaurant booking to get the blood pumping to get the ride finished in double quick time.
The leg aspect to the tights worked really well. I was grateful for both the element of wind protection that the true Roubaix fabric offers, as well as their breathability. They kept my legs adequately warm down to single figures and even on some of the sharp fast descents, I wasn't suffering with noticeable cold wind penetration on my thighs or shins.
It was just that groin issue, it changed how I rode as I just didn't want to get out of the saddle to deal with the cold uncomfortableness. It's a real shame as the fundamentals of a really great pair of bib tights are there, and I was impressed with the reflective detailing being in the right place, another rare find on bib tights.
Value
Fit of tights is a real personal thing, I really don't want write the dhb Aeron Women's FLT Roubaix bib tights off for everyone as, although it was a big flaw for me, the tights might fit the next rider perfectly and the issue becomes resolved instantly.
At £85 they are also a lot cheaper than the next nearest priced pair, and for this they do offer just as much in terms of features as the Sportful Total Comfort, so well worth a try before you cut the swing tags off, but for me I'll happily pay the extra to get the right fitting tights.
Thank you for reading 5 articles this month* Join now for unlimited access
Enjoy your first month for just £1 / $1 / €1
*Read 5 free articles per month without a subscription
Join now for unlimited access
Try first month for just £1 / $1 / €1