GORE C3 Women's Windstopper bib tights + review
Made from the coveted GORE Windstopper fabric the GORE C3 Women's Windstopper bib tights + promise to keep you riding down to -15 degrees, so could they be your ideal snow partner?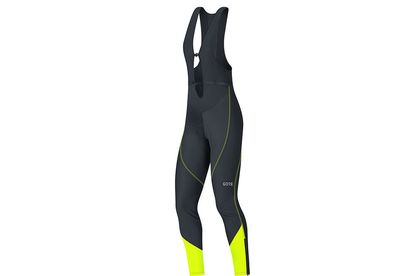 The GORE C3 Women's Windstopper bib tights + are in a class of their own when it comes to keeping you warm in sub zero riding conditions. The fit does need to be improved to make these perfect, but I'd still take these over a better fitting less insulated pair any snow day of the week.
Reasons to buy
+

Windproof

+

Water resistant

+

Thermal

+

Zipper waist for easy comfort brakes

+

Reflective details

+

Price
Reasons to avoid
-

Some restrictive movement

-

Fit
You can trust Cycling Weekly. Our team of experts put in hard miles testing cycling tech and will always share honest, unbiased advice to help you choose. Find out more about how we test.
Until this year, I could probably have counted my sub zero snow rides on one hand. They've been exciting and knowing that the snow wouldn't hang around for long, I swopped bikes, stuck on some spike tyres and headed off road for an exciting adventure.
>>> Best bib tights for autumn and winter 2018/2019
But this year, winter far outstayed it's welcome and the icicle flanked rides lost their novelty and quite frankly I got fed up of constantly being cold on a bike. While standard bib-tights are more than adequate for getting through the cold snaps, when faced with a couple of months of bitter cold temperatures, as the climate scientists are now predicting, it's time to seek out the hardcore winter options.
And hardcore in terms of bike kit probably don't come much harder than the GORE C3 Women's Windstopper bib tights + with it's temperature range of between five degrees and -15 degrees.
Construction
At the core of the GORE C3 Women's Windstopper bib tights + is the infamous GORE Windstopper fabric. It forms the whole of the tights, from ankle to stomach, providing it's proven wind proofing properties to the whole of the legs and lower torso.
This whole leg coverage is a rare concept, with most other tights, such as the Sportful Total Comfort bib tights or the Rapha Soupless Thermal bib tights, keeping windproofing the reserve of the front of the tights only.
The ankles of the GORE C3 Women's Windstopper bib tights + use one of the longest zipper closures I've come across. Measuring 22cm, it's around six centimetres longer than most other brands, including the above mentioned Sportful Total Comfort and dhb Aaron FLT Women's Roubaix bib tights. If your a sock on before bib tights kinda rider, it's no biggie how long the zipper is really, but if you're a constant sock choice faffer (aka me) and find it's the last kit decision of the ride, then super long zips are incredibly helpful - especially if you like to suck it to the UCI man and go with unregulated knee highs in the winter for extra warmth.
Up top on the GORE C3 Women's Windstopper bib tights + are probably one of the fullest bib. The main brace aspect uses a stretchy thermal fleece backed fabric, while the central back panel that joins the two over arm sections uses a breathable mesh insert, which GORE say aids ventilation. The X-shaped front uses a hook and eye closure to secure the bibs in place.
In the middle sits GORE Windstopper Cup seat insert. GORE say it developed this new chamois protect against the cold and wind-chill, as well as increased breathability and enhanced moisture management. The pre-formed cup aims to prevent unwanted compression and ensure anatomical comfort.
The middle of the GORE C3 Women's Windstopper bib tights + is also home to a quick stop pit-stop system with it's almost 360deg zip (a small section of the tights remain connected at all times) that enables the tights to be separated from the bibs for easy comfort brakes.
The Ride
Even just picking the GORE C3 Women's Windstopper bib tights + up and it's clear they're not your average winter set up. They're very much like a soft shell type fabric, with clearly a few millimetres of fabric density. This meaty material does immediately pay a weight penalty, with a size small pair tipping the scales at 332g, but to be honest if you're questioning the additional grams on a pair of winter tights you're not doing winter bike riding, where everything should be significantly heavier than your summer steed, right?
When on the GORE Winstopper fabric is immediately noticeable in that they have a limited stretch. They do have pre-shaped knees which does help, but when riding there is clearly a resistance to pull against. As with anything done repetitively enough, it soon becomes a normal feeling, but for the first 20minutes or so of every ride it's a noticeable. I wouldn't go as far to say that it's uncomfortable, but I wouldn't want to wear these on a tasty paced club run - but again, they aren't designed for that.
What they are designed for are the winter wonder land rides, or the perfectly paced Schelde chain-gang, along the banks of the Schelde in Belgium where the war of attrition is won by whoever can hold out against the grainy head-wind driven freezing cold rain the longest, and wearing the GORE C3 Women's Windstopper bib tights + will undoubtedly assist your lower half in sticking it out the longest.
They're certainly thermal. You wouldn't want to throw caution to the wind and ride these up a temperature range or two, as although they do have an element of breathability, it wouldn't be able to contest with the soaring body temperatures of riding these in double figures.
I'm not normally a fan of pit-stop systems, finding that the irritation of the zip/ fabric not worth overriding the hassle for removing a jersey. Ask me the value of one when the thermometer drops below zero however and I'll be the first one to point out the benefits over stripping to just a baselayer when stood in frozen field after having to submit to a wild wee. The GORE system worked well and was easy to use, once gloves were removed in order to find the zipper.
So far so good, but there is a but, well more of a butt actually, in that the tights don't stay attached to mine. It's a combination of a long bib, which for the folk with longer torsos out there will be music to their ears, and the weight of the tights combined with the stretch of the bib means that they constantly end up about four centimetres away from groin.
It's not as uncomfortably problematic as the dhb Aaron FLT Women's Roubaix bib tights are, as the GORE C3 Women's Windstopper bib tights + are fully wind proofed in this area, so there are no issues with cold drafts and chamois isn't quite as cold or moist when sitting back down in the saddle - but it's annoying all the same.
Value
Would the baggy crutch stop me buying the bib tights? Possibly not. It definitely would on any other pair of tights, but the GORE C3 Women's Windstopper bib tights + are just so good in every other way, that theres nothing else on the market that competes with this genuine level of thermal insulation for the exceptional price of £139.99. It's a case of just suck it up if you want to stay warm on a bike in the snow problem.
Thank you for reading 20 articles this month* Join now for unlimited access
Enjoy your first month for just £1 / $1 / €1
*Read 5 free articles per month without a subscription
Join now for unlimited access
Try first month for just £1 / $1 / €1