Schwalbe Marathon Plus tire review - robust and reliable
...because life's too short to be fixing unnecessary punctures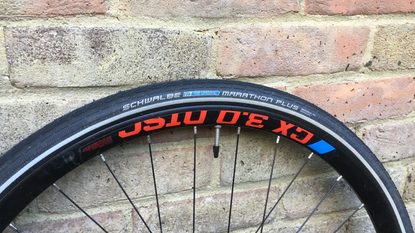 (Image credit: Paul Grele)
If you value reliability over other elements of performance, then the Marathon is one to consider. It is best suited to commuter and utility bikes, although other, less performance oriented, riding can also benefit from its features. It has good rolling resistance for its type and is a comfortable ride. Its downside is shown with hard cornering where it can lose its composure a little.
Reasons to buy
+

Highly puncture resistant

+

Long lasting

+

Quality made

+

Proportion of recycled material used in its construction

+

Reflective sidewall
Reasons to avoid
-

Heavy

-

Not as secure with hard cornering as some
The Schwalbe Marathon Plus tires build on their long held reputation for reliability and puncture resistance. They are also able to be used on e-bikes, as well as conventional bikes.
Marathon Plus tires claim to be flat-less, thanks to their unique patented puncture protection belt. They offer a long life, dynamic rolling behaviour and an anti-aging technology - which prevents ugly cracks in the tire sidewalls - and rank amongst the very best road bike tires for reliability and puncture resistance
That puncture protection belt is super strong and manufactured from a highly elastic special rubber. Even sharp thumb tacks/drawing pins cannot puncture it - and it is rated at 7/7 on Schwalbe's puncture protection scale.
It is purposed primarily for tarmac roads and paths and secondarily for light gravel surfaces, such as canal tow paths.
There are a wide variety of sizes from 35-349 (16") to 47-622 (700c/28") available, with 18 options in total.
Schwalbe Marathon Plus: construction
The Marathon Plus 28c tire uses a wire bead with the ADDIX rubber compound being used in the tread. Underneath the tread, the SmartGuard anti puncture strip uses a proportion of recycled C50 rubber from old latex products.
The 28c tires weigh 750g each (which I confirmed with my scales). They also require an inner tube, rather than being tubeless compatible - but considering the puncture-proof credentials, sealant really would be overkill. The tires feature a reflective sidewall, which is good safety feature, particularly for night or winter commutes.
They are also e-bike ready with this model being E-25 (up to 25kph - UK assisted maximum), whilst others in the lineup are E-50 (up to 50 kph) compliant.
Pressure range is listed on the sidewall as 5.50 - 7.50 Bar (80 - 110psi) for the 28c model, but this is much higher than you'll really want to be using them. Previously Schwalbe has advised us to use as low a pressure as you can before the tyre feels like its folding over a bit in the corners and moderate square-edge hits touch the rim.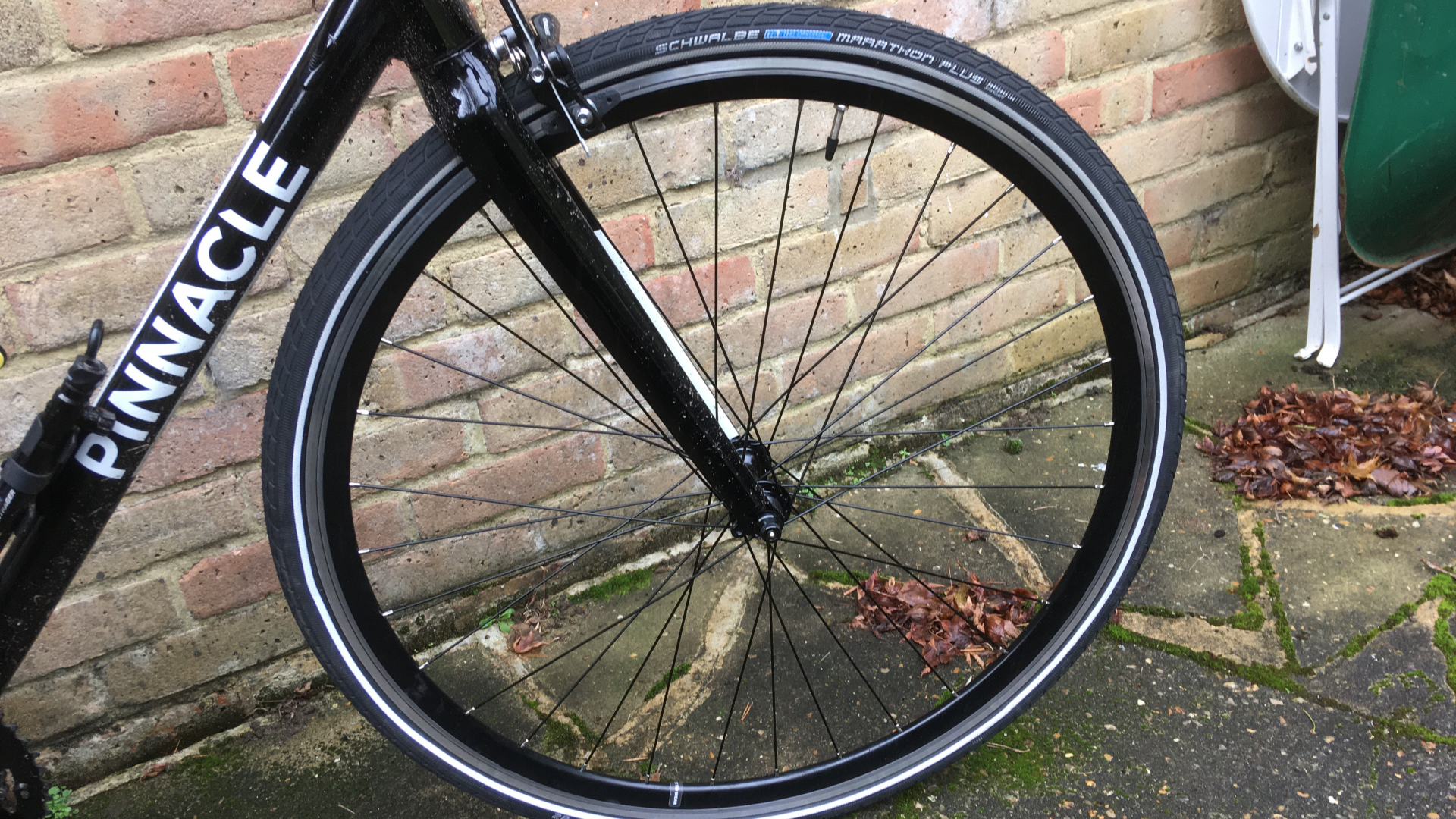 Schwalbe Marathon Plus: the ride
My first job, after weighing the tires, was to fit them. I decided to try them with the Pinnacle Laterite 2 bike that I had on test. The Pinnacle's wheels had a 17mm internal rim width, which was a reasonable match for the Marathon tires. I did find that the wire beaded tires were a bit of a fight to fit. They weren't a tight fit, like some can be, but more awkward.
What I found was that the stiff sidewall/bead would pop off the rim on the opposite side to where you were fitting the tire. You almost needed three hands to fit them, with two hands to hold the bead in place and the third to lever the tire into place. Since that isn't the case, it meant that the struggle went on for a while...
I lined the centre of the sidewall writing up with the valve, for the sake of good form, and initially pumped them up to 90psi. Even at this pressure, you can feel a softness under the central ridge of the tire if you squeeze it. This is the 5mm thick puncture guard (the blue section in photo below), which is able to resist punctures from thumb tacks, says Schwalbe.
Although they are nominally a 28c tire, when fitted to the rims mentioned above I found that they came up a little wide. I measured the tires at 30mm - worth bearing in mind if you have tight tolerances, say with fenders, you may wish to size down to keep a safe gap between the tire and bike.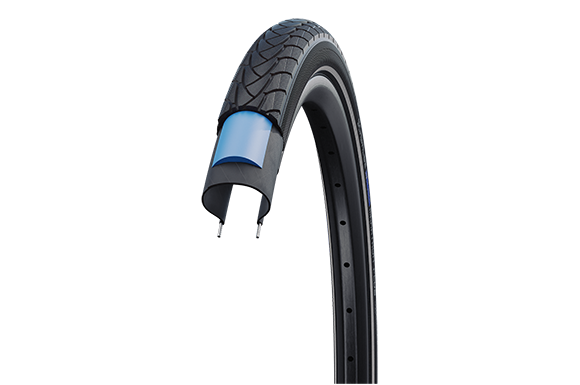 Once out cycling, I was pleased how comfortable they were to ride with. I was surprised how well they hid their 750g weight too. The Laterite test bike came shod with Schwalbe Lugano II wired bead 25c tires, which are less than half the weight of the Marathons at 365g - and yet the Marathons felt more comfortable.
Both setups felt that they kept similar pace, although I didn't take any timing measurements. Schwalbe claims that the rolling resistance remains excellent, certainly when compared to other tires with puncture belts of similar thickness. This would seem to be a reasonable claim, as they did roll well.
The one area that let the Marathons down a little was with harder cornering. There is a corner I ride which tightens up on you mid bend. The road surface is nicely tarmacked and quite smooth. When I first rode it with the Marathons it was 6°C / 43°F and a cool, cloudy day with damp road surfaces. As I leant in initially, I didn't feel as secure on the Marathons as I normally do on other tires, so I straightened up a bit a took the corner wider, wondering if this was because the tires were new and not bedded in yet.
So, a few rides later I tried the same bend again. Conditions were broadly similar (9°C / 48°F this time) and I found the same thing. I had to straighten the bike up mid-corner as I didn't feel 100% secure. Note that with the Lugano tires there was no issue when ridden two days later.
But other than this tight and technical corner, I didn't have any issues with the Marathons' handling. I wonder whether is is the softer anti puncture strip that is causing this slight squirming sensation. I do appreciate that this is a tire purposed for reliability over performance, and that you're probably not riding super hard on a commute or a trip to the shops!
One of the key reasons to use these tires is because you don't want the inconvenience of punctures. So, as if on cue, a local farmer was hedge cutting on the lane that I was riding. I'd normally tiptoe through the shards, but sensing a testing opportunity I rode full tilt through the detritus. Nothing! I even deliberately rode back down the same lane on the return leg to catch more hedge cuttings. Needless to say that the tires remained fully inflated.
After six weeks of riding, and removing them from the test bike, I inspected them closely for any wear, rips, cuts or thorns and could see nothing untoward. My friend has been using a pair of these (32c) for a number of years without issue. In fact he needs to replace the rear tire soon as he's worn it out!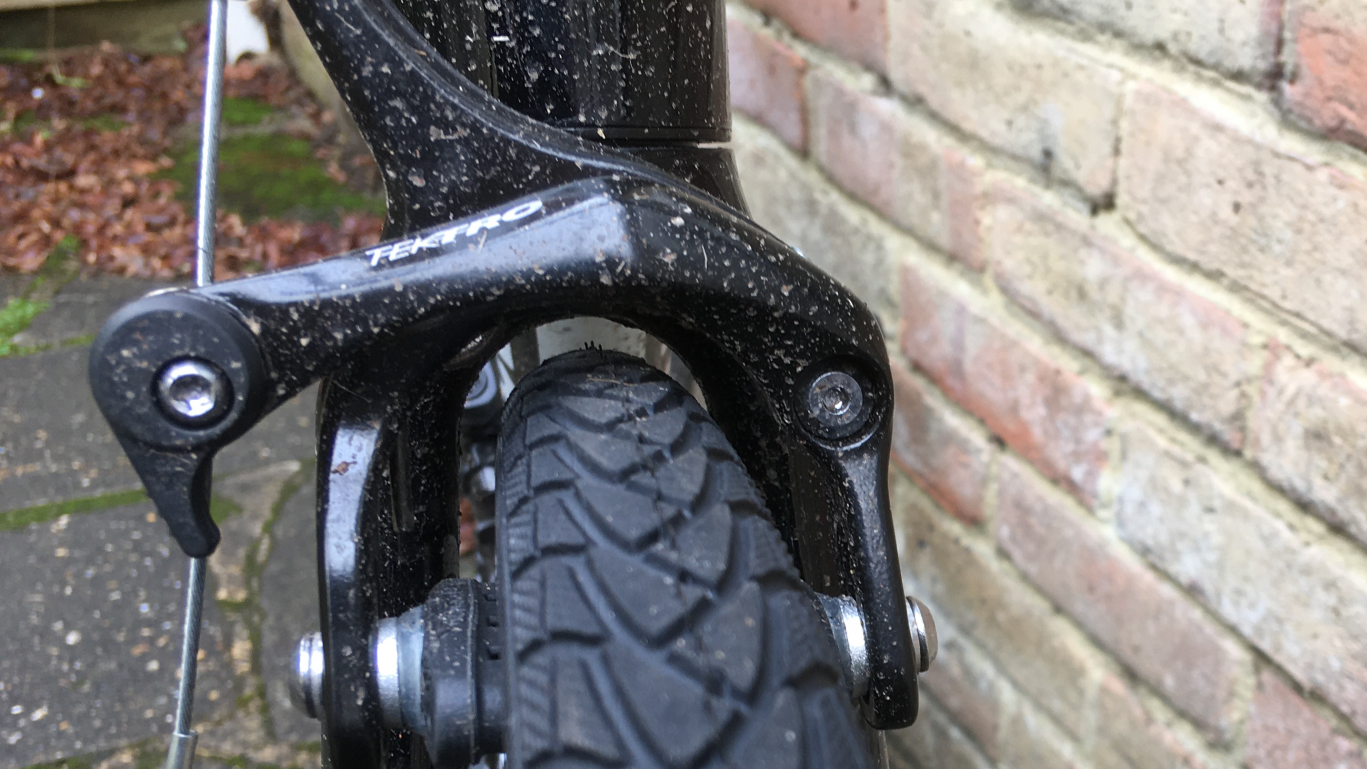 Schwalbe Marathon Plus: value and conclusion
At $50.00 / £44.99 RRP these tires are fairly expensive, yet represent good value for money as they come from a quality manufacturer, last well and are highly puncture resistant. The improvement in rolling resistance is a good thing and the fact that they use an amount of recycled C50 rubber in the SmartGuard is an environmental and recycling plus, too. The reflective sidewalls are a good safety feature when riding at night.
Although they are a quite heavy at 750g, this is similar to others in this segment. They rolled surprisingly well, which probably helped to hide their weight, as well as being a comfortable tire to ride with. Although they weren't great with hard cornering it should be kept in mind that this is not their purpose. Moderate cornering was good.
Overall I enjoyed ticking off the miles with these tires as they rolled well and didn't leave me fixing a flat at the side of the road in the rain!
Thank you for reading 10 articles this month* Join now for unlimited access
Enjoy your first month for just £1 / $1 / €1
*Read 5 free articles per month without a subscription
Join now for unlimited access
Try first month for just £1 / $1 / €1
Over 40 years cycling in a variety of disciplines including road riding, commuting, a self-supported Land's End to John o' Groats trip, XC mountain biking and several Polaris Challenge two-day events. Adventure, escape and fun are the motivations for my riding. I also love bike and kit design and have fillet brazed a couple of framesets using Reynolds 853 steel tubing for myself. A very satisfying experience to ride your own bespoke bike!
Height: 180cm
Weight: 66kg