Pinnacle Laterite 2 road bike review - an excellent value workhorse model
A fantastic value winter trainer or commuter bike that won't break the bank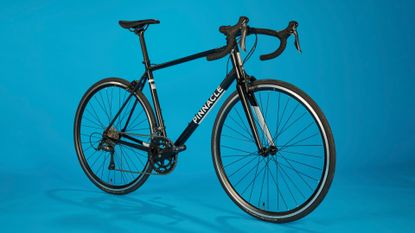 (Image credit: Future)
This is a well designed bike for a low price. It rides nicely with predictable handling and good braking. The obvious compromise is the tyres which are not particularly supple. They're fine, but also easy to change when you're ready to. It is also a good looking bike in Black (with white decals). With the addition of mudguards you'd have a great winter training bike.
Reasons to buy
+

Great value

+

Versatile

+

Able to accept 25c to 32c tyres

+

Able to be fitted with mudguards and/or a rack

+

Looks good
Reasons to avoid
-

Gear gaps a little wide with 8 speed and 11-32 cassette

-

Wheels rob some performance advantage
Could the Pinnacle Laterite be the perfect introduction to drop bar bikes? Featuring a carbon bladed fork, improved braking performance, a balanced riding position and comfortable geometry, this all aims to make this an ideal bike for training miles, sportives or leisure riding.
The frame comes with mounts to allow full coverage mudguards and a rear pannier rack. A threaded bottom bracket helps to keep maintenance simple, particularly through winter. Is this one of the best cheap road bikes out there? We put the Laterite through some heavy testing to find out...
Pinnacle Laterite 2: construction
The frame of the Laterite 2 is made from durable 6061 heat treated aluminium. When paired with a carbon blade fork with a alloy steerer this frameset is reasonably lightweight. In addition, integrated rack and mudguard mounts make the bike more versatile.
The 2x8 speed Claris groupset covers a wide range of gearing for most eventualities. It has a decently low first gear which should be able to get most people out of trouble on a hill.
Traditional 32 hole, three cross spoked wheels, should be durable for many miles of riding. The brakes use the rim surface with Tektro dual pivot calipers to ensure powerful braking.
Unusually, the quick release skewers get fixed in place by a 5mm Allen/Hex key, rather than a lever, while the seat post clamp also uses an Allen key fixing. The Laterite 2 is available in 5 sizes from XS to XL and in the Black (with white detailing) finish. Weight wise, it tipped the scales at 10.1kg/22.2lbs in a size Large and without pedals.
Pinnacle Laterite 2: the ride
My first impression of the Laterite 2 is that it is a nice looking bike, I liked the gloss black with white decals. I checked that the 25c tyres were at my usual 90 psi and took it for a ride. It rode smoothly and wasn't overly jolty over rough sections of road.
I had five main impressions over that first ride which were; the bar tape felt a bit hard to me, that I wasn't sure about the brake pad compound (more on this later), that the jumps between ratios were a little larger than I'd ideally like, that there was a slightly long reach to pull the brake levers when on the drops (braking from the hoods was good) and whether the wheels and tyres were sapping a bit of the 'excitement' away...?
Overall I really liked the ride quality and position, as well as the front derailleur changing action. Also, I rode a Large (5'10"-6'1") and it fitted very nicely. I'm 5'11", so the sizing seems accurate.
So, to test what effect the wheelset was having on the performance of the bike, I substituted my BORG26 wheels and PIRELLI P Zero 28 tyres on the next ride. This combination transformed the bike and revealed that the frame and fork are nicely designed. The uptick in acceleration and general rolling was improved, as was the comfort. I appreciate that this combination would be quite an investment over the cost of the Pinnacle as it is, however I wanted to see where the limitations were in the build.
The standard 32 spoke wheels are absolutely fine, they hold speed but they weren't particularly willing to accelerate. The 25mm tyres were, again, fine, but not terribly supple and the move to a class leading 28mm tyre showed up the differences. All this is to say, is that this bike will accommodate improvements and upgrades, and reward you should you do so. Run the tyres until such time that you want to change them, then consider something better. The same holds with the wheels. They are perfect to run on a commuter bike or winter trainer, but if you have an event in the summer consider a lighter and more responsive pair of wheels. $350 / £300 should get you something good.
I replaced the wheels back to the ones originally specced on the Laterite 2 and then fitted Schwalbe Marathon Plus 28c tyres (which I have currently on test) to see how a commuter focused setup would work. These tyres measure up at 30mm once fitted so would be a tight fit or impossible under mudguards, however without 'guards there was plenty of space (see photo below). Pinnacle says that a 28mm tyre will fit under mudguards, but as the 28c Marathons come up a little wider you'd maybe need to choose the 25c tyre in this case.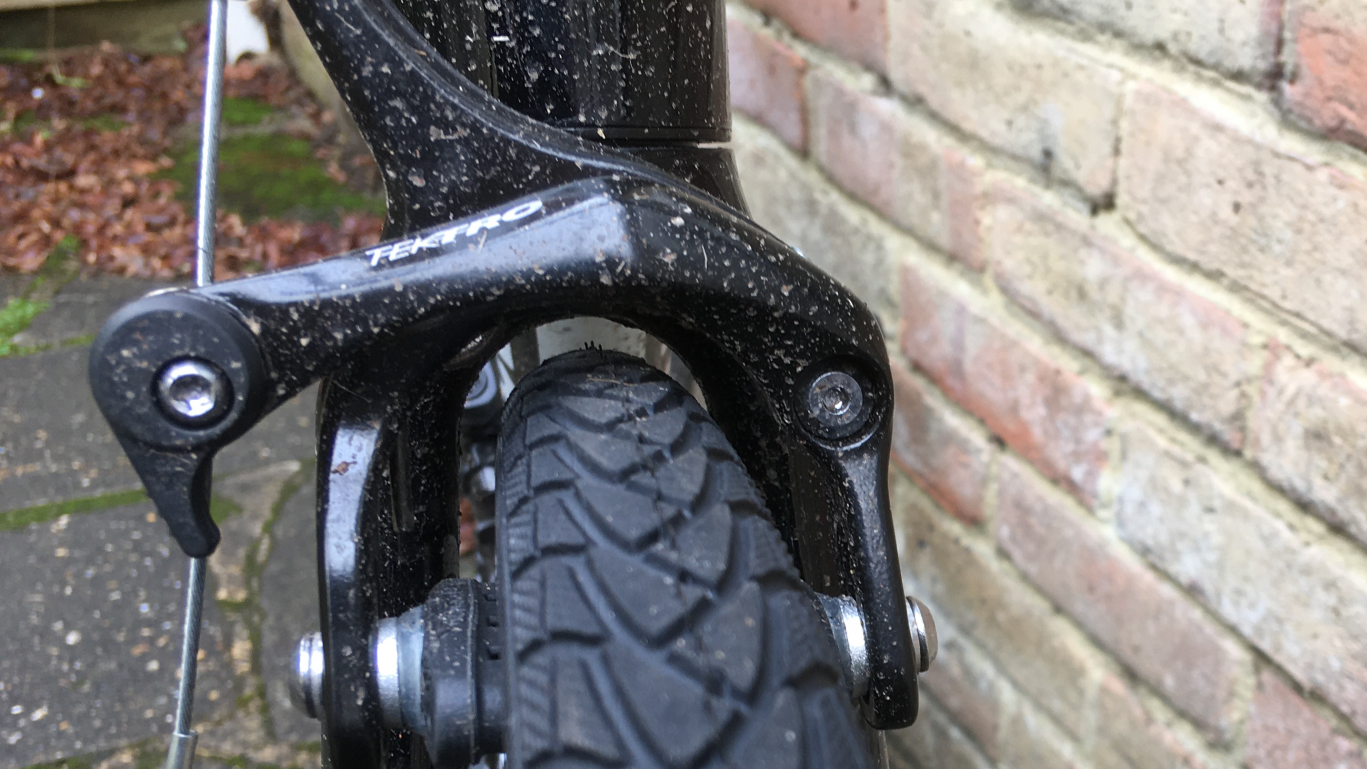 My fears about the braking proved unfounded as once the pads had bedded in they worked nicely. I had initially thought that the brake block compound might be a little on the hard side. The power and modulation was great, certainly as good as any other rim brake systems that I've used.
I also found the bars a fraction wide at 44cm but I could certainly live with them. I found the bends in the bars to be comfortable but the reach to the brake levers from the drop position was a slight stretch. There is a screw to adjust the reach, says Shimano, which is good to know. I also liked the brake/gear levers, the gear change was positive and having both cables under the bar tape is a nice touch. It kept the cockpit area clean.
I found that the 11-32t cassette had slightly large jumps between the eight ratios available. I fully understand the choice as it gives an easier 'first gear' for many riders, however a more experienced rider may wish to consider changing to a 11-28t cassette when this one wears out. This is less of a criticism and more an observation.
Bike saddles are an enormously personal choice. I didn't notice this one at all, which is a compliment. I had no issues with it and forgot all about it. By the way, when you find a saddle style that suits you, then hang on to it and move it between bikes!
Pinnacle Laterite 2: value and conclusion
Overall the Pinnacle Laterite 2 is a great value bike. It is versatile and can withstand some judicious upgrades. It is comfortable to ride and the handling is predictable. It allows you to fit mudguards, and a variety of tyre sizes, as well as a rack. I thoroughly enjoyed riding it.
I would consider three upgrades and two additions over time if this was my bike; I'd change the tyres to a good quality 28c, change the bar tape, fit a 11-28t or 12-28t cassette to narrow the gear gaps, and fit mudguards in the winter. I would also fit the versatile Shimano PD-M520 pedals too - this would allow you to choose from a good selection of the best budget cycling shoes.
You may want to consider the Laterite 3 which (as I write) is only £75 more and has a 2x9 speed gearing...
But really, this a great bike for those getting started. You can tweek it should you wish but you don't have to.
Pinnacle Laterite 2: specs
Frame: 6061 heat treated aluminium
Fork: Carbon blades with straight 1 1/8 alloy steerer and mudguard mounts
Front Derailleur: Shimano Claris FD-R2000
Rear Derailleur: Shimano Claris RD-R2000-GS
Shifters: Shimano Claris SL-R2000
Speed: 16 (2x8)
Crankset: 50T/34T alloy crankset w/ 68-111mm square taper bottom bracket
Cassette: 11-32T 8 speed cassette
Chain: KMC Z8.3 8 speed chain
Brakes: Tektro R315 long drop dual pivot calipers Rim Brakes
Tyres: Schwalbe Lugano 700x25C
Pedals: Included
Model Year: 2021
Weight: 10.1kg/22.2lbs (Large & without pedals)
Sizes: XS, S, M, L, XL
Thank you for reading 10 articles this month* Join now for unlimited access
Enjoy your first month for just £1 / $1 / €1
*Read 5 free articles per month without a subscription
Join now for unlimited access
Try first month for just £1 / $1 / €1
Over 40 years cycling in a variety of disciplines including road riding, commuting, a self-supported Land's End to John o' Groats trip, XC mountain biking and several Polaris Challenge two-day events. Adventure, escape and fun are the motivations for my riding. I also love bike and kit design and have fillet brazed a couple of framesets using Reynolds 853 steel tubing for myself. A very satisfying experience to ride your own bespoke bike!
Height: 180cm
Weight: 66kg