Borg 26 2:1 700c rim-brake wheelset review
A durable, reasonably light, well-priced pair of four-season wheels that are handbuilt in Suffolk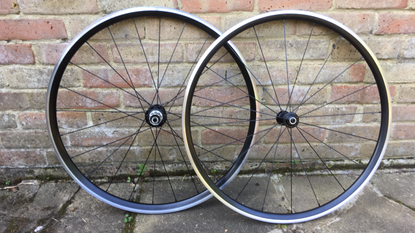 (Image credit: Paul Grele)
Handbuilt aluminium rim-brake wheels - remember those? The Borg 26 2:1s are proof that more traditional wheels are not only alive and well but can also be light, fast, responsive, tough and great fun to ride. The Borgs' relatively low price of £505 might suggest they're 'training' wheels, but our verdict is that this is a good-quality wheelset that just gets on with the business of turning in all seasons and has a really nice turn of speed.
Reasons to buy
+

Reasonable weight

+

Tubeless ready

+

Stiff

+

Durable

+

Stealth looks
Reasons to avoid
-

Tight to fit clincher tyres over rim
You can trust Cycling Weekly. Our team of experts put in hard miles testing cycling tech and will always share honest, unbiased advice to help you choose. Find out more about how we test.
To clear this up from the start, these Borg 26 2:1 road bike wheels are 700c and not an old-school mountain bike size: the '26' refers to the depth of the rim not its diameter. There are Borg 22 and Borg 31 wheels too if you have a different set of requirements.
And since Borg wheels are handbuilt - Malcolm Borg builds him himself at his shop, The Cycle Clinic, in Suffolk - a wide range of wheel requirements can certainly be met.
Construction
The Borg 26 2:1 wheels weigh 1,625 g for the pair including the tubeless rim tape. This matched my own measurements. The rim is 24mm wide and has an internal width of 20.0mm but will accommodate tyres from 25mm up to 60mm.
Both wheels use Sapim aero spokes (CX Rays) and whilst the front is radially spoked with 20 spokes, the rear uses 24 spokes in a 2:1 ratio - hence the '2:1' in the name. There are eight radial spokes on the non drive side (NDS) and 16 on the drive side (DS) laced in a three-cross pattern. This means that the drive side can better handle the torque inputs where they enter the system, and the NDS can be made lighter as those spokes take less of this force.
The rims are rather stealth in looks. There is a 'Borg 26' logo, gloss black on a satin black rim up by the valve hole. So if you want LOOK AT ME! wheels these may not be them. I really liked the subtle and purposeful air they gave off.
The hubs are bespoke to Borg and bear the legend Borg Wheels 2:1. The front uses two 6901 NTN bearings that run on a 12mm axle while the rear uses 6902 NTN bearings in the shell and the freehub has 6802s.
The hubs came with black seals but red seals are an option if you want better weather sealing but there is more drag with this seal, as Malcolm Borg points out.
The over locknut dimension (OLD) is the standard 100mm front and 130mm rear.
Another option is to choose the freehub body you want. The Shimano alloy one will accommodate 8-11 speed but as it is 37mm wide you'll need to add a spacer as appropriate for 8-10 speed cassettes. The XDR freehub is for SRAM AXS 12 speed cassettes and the Campagnolo freehub is 9-12 speed compatible.
The freehub uses a 36t ratchet ring with four independently sprung pawls.
The Shimano freehub that I used was certainly noticeable with regard to noise. I generally prefer a quieter ratchet and pawls, but I've not found it distracting or annoying. I've heard louder and more more aggressive sounding ones.
Image 1 of 2
The ride
Before I describe how the wheels fared I want to say that I have enjoyed riding them enormously. They feel fast to accelerate, rewarding any effort put into them energy-wise, and they hang onto that energy once you've got there.
The Borg 26 2:1s are described as training wheels, designed to keep your raceday wheels fresh. So I fitted them to a Genesis Equilibrium (with mudguards), which seemed an appropriate bike to use. The training wheels that they replaced on the Genesis were 32 spoke / Tiagra hub / Alex AT470 rims weighing in at circa 895g for the front and 1,050g for the rear. So straight away that was roughly 150g saved at each end.
There is an adage used by the old wheelmen from my youth. "An ounce off the wheels is equivalent to a pound off the frame". This basically means that there is more advantage to losing weight off a rotational mass than a static mass. So losing roughly five ounces should make a good difference... A friend remarked that I was definitely faster on that first ride than of late. My fitness is returning but the wheels had a big part to play too.
I think the overriding sensation of riding with these wheels is how smooth and free rolling they are. It feels like you can put four or six hard pushes on the cranks to catch your riding buddy and then ease off to ride together but that momentum is kept with less effort than my old wheels.
Going uphill I'm able to maintain speed and effort comfortably and, if needed, accelerate too without blowing up. I certainly felt that I was riding lower down the cassette than usual.
Although the wheels are stiff and don't flex detectably they are comfortable. I can get a sore ulnar nerve (below the thumb) from certain bikes and setups, but this hasn't happened here. I have the brake pads set close to the rim to elicit brake rub when pushing hard out of the saddle and no noises occurred. This is a good sign that there is little or no flex. You certainly feel that every bit of effort is put into pushing you forwards and not being wasted.
The wider rim gives the tyre a different profile and due to the increased air volume rider comfort and handling over broken road surfaces is improved. I hit a raised bit of road on a night ride recently, partly by being unsighted following another rider and it being dark, and I thought something must've happened so I stopped to check the bike over. There was no problems with the tyres or rim trueness. Impressive. I certainly didn't do this deliberately but it was a good test of robustness.
Something to bear in mind is that due to the wider rim compared to more traditional rims, the tyre profile alters. I had to use a 25mm tyre, whereas before, using the old wheels, I was able to run a 28mm tyre. I found with the Borg wheels the 28mm tyre would rub on the mudguard bridge.
I ran the tyres with tubes but they are tubeless ready - and one thing to bear in mind is that the rim is a tight fit when mounting a tyre. I've used four different tyres and they all were tight. The supplied tyre levers (IRC) are really good. You get the bead to about 30cm left to hook over the rim and it's tight. You have to go 1cm at a time until 15cm to go, then the last section is easy. I used a wire beaded tyre and three folding-bead tyres to test this. All were the same.
Value and conclusion
Looking around at the competition I found some wheelsets that were lighter and cheaper (c. £400 and 1,450g) but they were reviewed as having detectable flex. A couple of wheelsets the seemed similar in quality to the Borgs were slightly lighter and slightly cheaper. But there wasn't much in it.
If you're after a good-quality wheelset that just gets on with the business of turning in all seasons, and is repairable as bits wear out, that offers free rolling and smooth progress, that is durable, is a bit stealthy looking and has a really nice turn of speed, then you should consider these.
Specification
Cost: £505 RRP
Weight: 1,625g (inc hub, spokes, rim and rim tape)
Front: 727g
Rear: 898g
Also included are tubeless valves 6g each, skewers and Shimano cassette spacer
700c
Rim 26mm deep, 24mm wide and 20mm bead-to-bead width
Front: 100mm OLD
Rear: 130mm OLD
Spokes: Sapim CX Ray Aero
Front: 20 spokes
Rear: 24 spokes
Options for Shimano, Campagnolo and SRAM AXS freehubs
Contact www.thecycleclinic.co.uk
Thank you for reading 20 articles this month* Join now for unlimited access
Enjoy your first month for just £1 / $1 / €1
*Read 5 free articles per month without a subscription
Join now for unlimited access
Try first month for just £1 / $1 / €1