Vittoria Corsa G+ tyres review
The Vittoria Corsa G+ is a high performance road tyre that incorperates graphene. Is it just marketing or are these tyres as fast as the makers say? We decided to find out.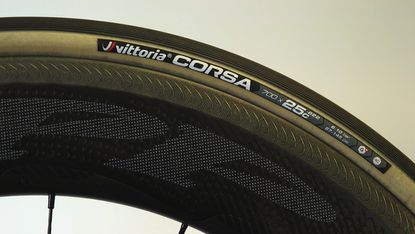 A fast rolling, grippy tyre, the Vittoria Corsa G+ tyres also come with a thicker carcass than the previous version for improved longevity. The tan sidewalls look superb on carbon rims too!
Reasons to buy
+

Fast

+

Second lowest rolling resistance we have tested

+

Decent puncture protection

+

Good grip
Reasons to avoid
-

Expensive

-

Grooves can trap sharp debris
Vittoria has made headlines recently with the inclusion of graphene into various products. By including a small percentage of Graphene powder into its rubber compounds the Italian company says its has seen huge leaps forward in the grip, rolling resistance, and durability of the Vittoria Corsa G+ tyres.
>>> Is graphene cycling's next game-changer?
I have been putting the Vittoria Corsa G+ tyres through their paces over the last six months, which has meant they have been subject to some horrendous weather and roads. In addition to field testing out on the road, engineer and pro rider, Dan Bigham helped me calculate the rolling resistance of these tyres. For the details of the rolling resistance test and the full results you can click here (it's towards the bottom of the page).
The Vittoria Corsa G+ tyres are noticeably fast on the road and also came second in our rolling resistance test. The Bontrager R4 tyres are lighter, with a thinner carcass, something that will help it to be faster, but that comes at the expense of puncture protection and longevity. I felt that there was more grip in wet corners here than the Bontrager R4s too.
>>> Buyer's guide to road bike tyres (video)
I even descended on these tyres in the wet during the Quebrantahuesos Gran Fondo in the Pyrenées where the grip was excellent, and they performed very well in the dry on my local criterium circuit too.
Watch: how to puncture proof your tyres?
Despite the improvements over the previous Vittoria Corsa, we did find that the new tyres had a tendency to pick up debris in the wet. Small stones and debris gets caught in the slotted grooves in the tread. I am always sceptical as to the actual benefit of tread patterns on road bike tyres, considering the very small contact patch. I should stress that I didn't get a puncture while testing though.
The Vittoria Corsa G+ tyres are also exceptionally wide for "25mm" tyres, coming out at 27mm when measured on our stock rim. Significantly wider than Bontrager, which at 24mm are also sold as 25mm. Interestingly, the 23mm tyre comes out wide too, at around 24.5mm. You may want to consider that as an option, if you are looking for actual 25mm width and clearance is an issue.
For more information, head over to Vittoria and Chicken Cycle Kit.
Thank you for reading 10 articles this month* Join now for unlimited access
Enjoy your first month for just £1 / $1 / €1
*Read 5 free articles per month without a subscription
Join now for unlimited access
Try first month for just £1 / $1 / €1
Oliver Bridgewood - no, Doctor Oliver Bridgewood - is a PhD Chemist who discovered a love of cycling. He enjoys racing time trials, hill climbs, road races and criteriums. During his time at Cycling Weekly, he worked predominantly within the tech team, also utilising his science background to produce insightful fitness articles, before moving to an entirely video-focused role heading up the Cycling Weekly YouTube channel, where his feature-length documentary 'Project 49' was his crowning glory.