Bontrager R4 320 tyres review
We have been testing all the leading summer tyres against each other. We see if the tan sidewalls on the Bontrager R4 320 tyres are a case of style over substance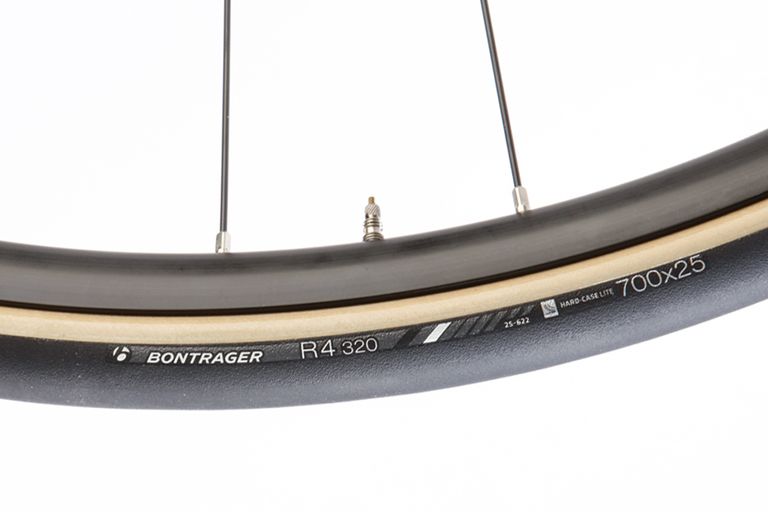 Put simply, Bontrager R4 320 tyres are the fastest tyres we have tested. The puncture protection is good, but owing to the supple tread and high price, we would recommend they are best saved for special occasions
Reasons to buy
+

Demonstratably and significantly faster than other tyres

+

Look great

+

Good puncture protection

+

Good grip
Reasons to avoid
-

Expensive

-

Won't last as long as other tyres
The Bontrager R4 320 tyres, as the name suggests, feature 320 threads per inch, giving a very supple tyre with very low rolling resistance. When testing the rolling resistance of different tyres, the Bontrager R4 320 tyres have earned the esteemed prize of being the fastest tyre we have ever tested.
Engineer and pro rider, Dan Bigham helped me calculate the rolling resistance for different tyres currently available on the market. Each set of tyres were ridden on rollers, allowing us to record the speed achieved for a given power output.
>>> Buyer's guide to road bike tyres (video)
For consistency, the tyres were all inflated to 100psi using a digital guage and ridden on flat rollers. For the test we exclusively used new tyres and a PowerTap hub was calibrated and used for power measurement. Each tyre was ridden at 280W for 5 minutes to allow it it warm up, whereupon they were ridden at a constant power of 300W for 5 minutes.
To ensure even weight distribution, the rider maintained a constant position on the hoods and the weight of the bike and rider was recorded before each test. Any slight differences in weight or power output were factored into the final calculations.
Watch: buyer's guide to road bike tyres

The Result
The Bontrager R4 320 tyres had a rolling resistance of 34.1W at 40kph when using the above protocol. In contrast, the hugely popular Continental GP4000S II came in at 37.6W and the Vittoria Corsa G+, was slightly slower at 35.1W.
The low rolling resistance is likely to be a combination of the high thread count (320 tpi), supple compound and relatively thin carcass. Owing to the thin carcass, there isn't as much tread on these tyres and I doubt you would get as many miles out of them as a pair of GP4000s (on the basis neither tyres were cut open)
>>> How to puncture proof your tyres (video)
The tan sidewalls are very supple and add a great aesthetic touch on the right bike too, personally I'm a fan. There is also Hard-Case Lite protection built in, to prevent punctures and despite suffering some cuts while testing, none resulted in a flat, suggesting that for summer riding at least the protection is good.
Grip in the corners is superb. Bontrager also shouts about the aerodynamics of this tyre and despite being a claimed 25mm, it actually came out at 24mm. This is considerably narrower than the Continental GP4000S II and Vittoria Corsa G+ tyres which I have measured to be 26mm and 27mm respectively in their 25mm versions.
>>> New Michelin Power tyre range outguns the Pro4
The advantage here is that the tyre sits perfectly inline with the wheel rim, with no mushrooming. This is considered to be optimal for aerodynamics. The Bontrager R4 320 tyres come highly recommended for those prioritising speed and performance. However, unless you own an oil field, I would suggest saving them for best days.
For more information, head over to Bontrager.