How to puncture proof your tyres (video)
Punctures can feel like a necessary evil for cyclists, but this useful puncture proofing hack can seriously reduce your risk of a flat tyre on the road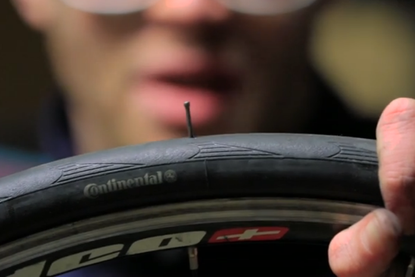 Many wheel and tyre companies are pushing tubeless tyres and wheels at the moment. For those who don't know, tubeless tyres are similar to a clincher, but form an air-tight seal against the rim and contain sealant, instead of an inner tube.
We previously did an experiment to see if a tubeless road tyre could survive a nail being hammered into the carcass. The result was that it can seal and is very impressive. Further to that we've tubeless tyres through the winter on the road and remain very impressed.
This got us thinking. What would happen if you put tubeless sealant inside a standard inner tube and then put it in a normal clincher tyre set up on your existing wheels? Would it work and would it still seal punctures?
>>> American Classic Road Tubeless Wheel review
We have decided to do an experiment to find out. To put the sealant inside the inner tubes we removed the valve cores – you can do this with a special key, or gently with some pliers. If you use the latter, be careful not to strip the thread.
Next we injected sealant into the inner tubes, while deflated inside the tyre. This is a little messy and you may need to spin the wheel a couple of times to get the sealant moving around the tube. We used about 25-30 mL per tube.
>>> Click here for our buyer's guide to road bike wheels
Next we replaced the valve core and pumped up the tyre as normal to around 90-100 psi. For reference we used Continental Grand Sport Tyres, Continental Butyl inner tubes and Stan's No Tubes Sealant.
The Test
Sticking multiple drawing pins into the tyre and tube was attempted. In all cases the punctures were sealed in a matter of seconds, with minimum air loss. It is necessary to spin the wheel to replicate the centrifugal force of riding and push the sealant to the outside of the wheel.
Next we tried the nail. We were surprised to see that this also works. Although it does take slightly longer to seal. So there you have it… It works!
Verdict
Although it will dramatically reduce your puncture risk, it is not quite as a effective as sealing punctures as a dedicated tubeless set up. That said, even a dedicated tubeless set up won't completely stop punctures and fitting standard clincher tyres is much easier than tubeless ones.
>>> Buyer's guide to road bike tyres
Tubeless tyres can be very difficult to fit, especially with cold hands. This set up is also significantly cheaper. It means you only need to buy some sealant, which is relatively inexpensive. Investing in a full tubeless set up involves wheels, tyres and special pump to blow the tyre onto the rim (much more costly).
The only real downside to this is that it adds roughly 25 grams of rotating weight to your tyre. Nutty weight weenies might be put off by this, but if it means you don't have to get covered in crap, shivering while trying to change a puncture in the freezing rain of a winters ride then it is surely a no brainer.
To quote Neil Buchanan from Art Attack, "try it yourself."
Thank you for reading 20 articles this month* Join now for unlimited access
Enjoy your first month for just £1 / $1 / €1
*Read 5 free articles per month without a subscription
Join now for unlimited access
Try first month for just £1 / $1 / €1