Bookings now live for the 2019 Sigma Sports Challenge Series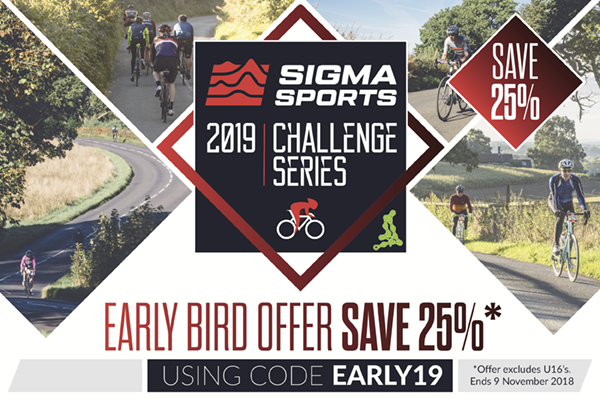 UK Cycling Events (UKCE) has joined forces with Sigma Sports for a second year combining some of your favourite rides with the NEW Ride Yorkshire and Suffolk Spring Classic plus the scenic Mendips Sportive.
Bookings are now live for the Sigma Sports Challenge Series, featuring 10 road events across the UK.
Series rides include the popular West Coast Classic.  Starting from Preston on Sunday 7 July, this is your chance to experience the best of the north west coast with the option to tuck into free fish and chips after a hard day in the saddle.
Sigma Sports Challenge Series dates for your diary:
Saturday 16 March: Wiltshire WildCat - Salisbury
Saturday 23 March: Surrey Hills Cyclone - Cranleigh
Saturday 30 March: Suffolk Spring Classic - Newmarket
Saturday 4 May: Dartmoor Demon - Exeter
Sunday 26 May: The Arrow - Market Rasen
Sunday 7 July: West Coast Classic - Preston
Saturday 27 July: Mendips Sportive - Somerset
Sunday 11 August: Ride Yorkshire - Thirsk
Saturday 5 October: Box Hill Original - Dunsfold Aerodrome
Saturday 19 October: Cobbler Classic - Turweston Aerodrome
Ian Whittingham, Managing Director at Sigma Sports, an online cycling and triathlon retailer with a flagship store in Kingston-upon-Thames catering for all abilities, said: "We're excited to partner with UK Cycling Events for a second year and it's great continue to be a part of such a popular and well known series of events.
"We're  busy bringing the high-quality, in-store, service you'd expect from Sigma Sports to our online offering, and this is a great chance for us to get out there and meet enthusiastic cyclists from all over the UK."
All 10 events will feature an epic, standard or short route, and will be fully supported mechanically and medically. Riders can also expect fully stocked SiS feed stations, well signed routes, route marshalling, and a finisher medal.
Visit UK Cycling Events now to book your place.
Natalie Hicks, Head of UK Cycling Events said: "We're proud to deliver the very best event experiences for our participants and this means working with trusted brands like Sigma Sports.
"With their continued backing, we have evolved the Challenge Series and added some great new events encouraging more participants to benefit from the outstanding areas of cycling the UK has to offer."