Peter Sagan's 'Grease' tribute is the weirdest thing you'll see in 2016
Mr and Mrs Sagan go to town on a spirited performance of 'You're The One That I Want'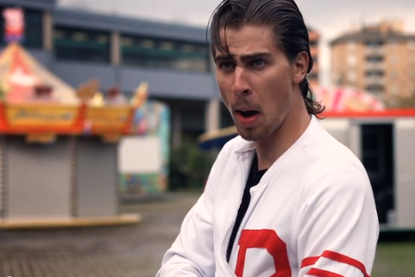 Peter Sagan is no stranger to the weird, or the wonderful – and his New Year gift to his fans certainly delivers plenty of the former.
Alongside his wife Katarína Smolková, Sagan delivers a full rendition of 'You're The One That I Want', apparently as part of his sponsorship deal with Slovak health food company Sun-Root.
The quiff is pretty special, and as ever with Peter Sagan, he definitely gives it his all.
Sagan married Smolková in a somewhat characterful ceremony in November to cap off a year that saw him further cement his position as one of modern cycling's most talented, and most popular, riders.
Although he failed to win a stage at this year's Tour de France, he amassed an astonishing five second-placed finishes, and won plaudits for consistently combative riding on a variety of stages. In the process he secured a comfortable victory in the points competition for his fourth successive green jersey win.
Sagan won a single stage at the Vuelta a Espana, but his greatest success of 2015 came in Richmond, Virginia, when he launched a brilliant solo attack to win the World Championships Road Race.
For many cycling fans, however, Sagan's year will be remembered not just for his successes on the road, but his antics off it. Photobombs, ski-slope stunts and a constant eye for fun – he'd sprinkle star-dust on any sport.
Thank you for reading 20 articles this month* Join now for unlimited access
Enjoy your first month for just £1 / $1 / €1
*Read 5 free articles per month without a subscription
Join now for unlimited access
Try first month for just £1 / $1 / €1