Peter Sagan's 10 greatest moments of 2015
An entertainer and a very good bike rider, Peter Sagan had some excellent moments in 2015 - here's our top 10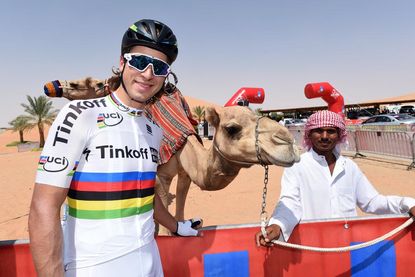 (Image credit: Watson)
Every year Peter Sagan is a one-man highlights reel, both on and off the bike, but 2015 really saw the Slovakian's profile grow even bigger.
From his early-season struggles and his good humour at always finishing second at the Tour de France, to his dominant win at the World Championships and his exploits since winning the rainbow jersey.
So, as the year draws to a close, take a look at Sagan's best moments of 2015.
Incredible bike handling in the Tirreno-Adriatico TT
https://www.youtube.com/watch?v=XhvE34zmStk
If you've ever ridden a time trial bike, you'll know that they aren't generally the most responsive and forgiving bikes in the world.
So when Sagan went a bit too hard into a corner in the Tirreno-Adriatico prologue - searching for his first win of the season - the odds would have been on him hitting the ground and doing himself an injury.
But the Tinkoff-Saxo rider, with probably the best bike handling in the peloton, managed to unclip his inside foot, plant it on the ground and stay upright.
Winning his weight in beer at E3 Harelbeke
Sagan kept reaping the rewards of his 2014 E3 Harelbeke win by being presented with his weight in beer ahead of the 2015 event.
"I'll have to put lead in my pockets," Sagan joked when told of his prize.
Winning the Tour of California by a matter of inches
This is how close it was between Sagan and Julian Alaphilippe winning the Tour of California.
Sagan (number 41) edged out MTN-Qhubeka's Tyler Farrar for third place on the final stage in Los Angeles to pick up the bonus seconds that moved him above the Etixx-Quick Step youngster in the overall standings.
The race was one of the best all year, with Sagan putting in an amazing performance to win the time trial, before he and Alaphilippe battled it out for the leader's jersey up Mount Baldy the following day.
Photobombing at the Tour de France
If you're good at doing the Tour de France, like Sagan is, you'll spend a lot of time post-stage doing interviews to honour whichever jersey you are wearing.
Wearing the white jersey of the best young rider (yes, he's still that young), Sagan took advantage of a lull in his interviews to go and listen to what his former teammate Vincenzo Nibali had to say.
He did the same thing a few days later when in the green jersey, but this time to stage winner Andre Greipel.
Trying to start a sprinter's breakaway
https://www.youtube.com/watch?time_continue=7&v=Mj-0PxFS7Dc
The intermediate sprints at the Tour de France often see a group of fastmen left floundering 50 metres up the road after they've battled for points.
Rather than simply retreating back into the safety of the peloton after one sprint, Sagan joked to his companions that they should just continue their little breakaway.
While John Degenkolb got the joke immediately, poor Andre Greipel had to double-take upon hearing the suggestion, before laughing it off and waiting for the rest to catch up.
Descending masterclass on the Col de Manse
https://www.youtube.com/watch?v=mAgTXrOb9ws
As well as being one of the world's best sprinters, Sagan is also a fearless descender - as proved by his display on the Col de Manse in the Tour de France.
Words can't do it much justice, so just watch the video above and then pick your jaw up off the floor.
Winning the World Championships
https://www.youtube.com/watch?v=zoCvceSbTn0
The question was never about when Sagan would win the World Championships, but how many would he win in his career.
It's hard to believe that he's still in his mid-20s and has accomplished so much, but the Worlds win in Richmond was by far the biggest of his career.
Now he's ticked off the Worlds, Sagan can now focus on winning that illusive Monument - but history is not on his side...the last world champion to win one was Paolo Bettini way back in 2006.
We wouldn't bet against Sagan being the man to break that run.
Performing an F1-style pitstop on the race circuit in Abu Dhabi
https://www.youtube.com/watch?v=5Qw6E2Tf_bg
Being world champion hasn't dulled Sagan's sense of fun, as he showed in the final stage of the inaugural Abu Dhabi Tour, which took place on the Yas Marina race circuit.
Midway through the race, Sagan entered the pit lane and was greeted by his team of mechanics and team owner Oleg Tinkov, who presented him with a new helmet, new bike and new glasses.
His unbelievable wedding ceremony
An eccentric wedding suit, wielding a chainsaw, releasing doves and unicycling along a highwire...Sagan's wedding to partner Katarina didn't lack any of his trademark showmanship.
And finally...he can ski
https://www.youtube.com/watch?v=WhcrVZN4icM
If you thought Sagan is one of those cyclists who is like a fish out of water when attempting any other sport, think again.
It turns out he's pretty handy on skis as well, as he showed at Tinkoff's 2016 kit launch in Courchevel.
Thank you for reading 20 articles this month* Join now for unlimited access
Enjoy your first month for just £1 / $1 / €1
*Read 5 free articles per month without a subscription
Join now for unlimited access
Try first month for just £1 / $1 / €1