Peter Sagan photobombs Vincenzo Nibali's TV interview at the Tour de France
Peter Sagan jokes with former teammate Vincenzo Nibali as the Italian takes part in a post-stage interview at the Tour de France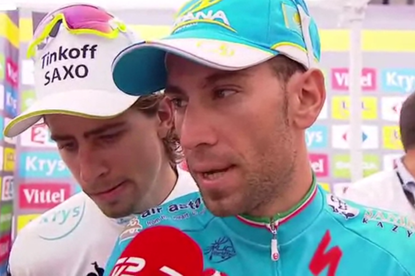 Peter Sagan really is just all about the banter. When he's not pinching podium girls' backsides he is trying to convince the sprinters to form a breakaway at the Tour de France.
Hours after that breakaway gag, Sagan was at it again, this time getting in on Vincenzo Nibali's post-race television interview.
Nibali and Sagan are former teammates from their time at Liquigas, with whom Sagan won his first of three green jerseys at the Tour de France in 2012.
While waiting for his turn in front of the cameras after stage four, Sagan chose not stand patiently in line, but instead went up behind Nibali and peer over his shoulder and nod along with everything he was saying.
"He's a great friend," Nibali said after realising that the Slovak was mimicking him.
Both riders have made fine starts to the Tour so far - Nibali sits comfortably in 13th position overall, while Sagan has two podium finishes on stages two and four.
Highlights from stage four of the Tour de France
Thank you for reading 20 articles this month* Join now for unlimited access
Enjoy your first month for just £1 / $1 / €1
*Read 5 free articles per month without a subscription
Join now for unlimited access
Try first month for just £1 / $1 / €1