Peter Sagan narrowly avoids crash in Tirreno-Adriatico TT (video)
Sagan almost came a cropper on a corner during the short opening time trial of Tirreno-Adriatico, while a cat nearly got involved as well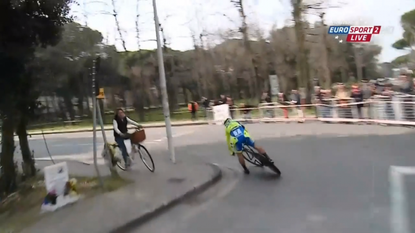 https://www.youtube.com/watch?v=XhvE34zmStk
Now we all know Peter Sagan's a good bike handler (see, exhibit A and exhibit B), but it's not the same as doing a wheelie on a training ride as it is when your in the full flow of an intense time trial.
Sagan expertly managed to keep himself upright after a very near miss on the opening time trial of the 2015 Tirreno-Adriatico.
The Slovak had to unclip and put a foot down on a left hand bend as his rear wheel slipped, but despite that, the Tinkoff-Saxo rider managed to recover to finish with a time of 6-10, securing ninth position on the stage.
That slip may have inadvertantly saved him however, as a few seconds further down the road and there may have been an incident with an errant black cat, which ran out into the road and narrowly avoided the motorcycle up ahead.
Sagan is still looking for his first victory in 2015, having joined up with new team Tinkoff-Saxo at the beginning of the year, and will be looking towards stage two in particular to try and take his chance to get off the mark.
Thank you for reading 20 articles this month* Join now for unlimited access
Enjoy your first month for just £1 / $1 / €1
*Read 5 free articles per month without a subscription
Join now for unlimited access
Try first month for just £1 / $1 / €1