Five of the best road cycling descent videos
Peter Sagan, Fabian Cancellara, Vincenzo Nibali and, um, Michael Rasmussen show you how to drop like a stone down a mountain road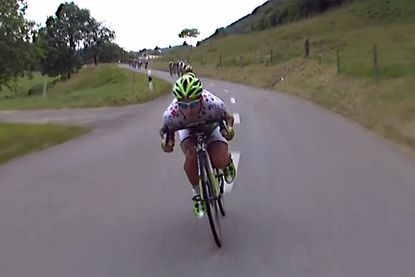 Whilst breathtaking downhill mountain bike videos are two a penny, there are actually very few decent films of top road racers descending as the cameras often switch between groups of cyclists on the road - and the TV motorbikes can't keep up with their pace.
Here we've collected together five videos that show some of the top descenders in action, most of whom are plummeting down a mountainside at speeds peaking at 100kmh (62mph) or beyond.
1. Fabian Cancellara, Tour de France 2009, stage seven
Whilst wearing the leader's yellow jersey, Fabian Cancellara suffered a puncture on stage seven of the Tour de France. He then worked his way back to the bunch through the team cars in what is generally agreed as the best show of road descending skills captured on film.
http://www.youtube.com/watch?v=j_wEG2RNMJc
2. Peter Sagan, Tour de Suisse 2014, stage six
Taking up a position at the front of the bunch, Peter Sagan barely pedals yet pulls away from the rest of the riders with apparent ease. His belly flat against his Cannondale's top tube, he uses every inch of the road as he apexes the switchbacks perfectly.
https://www.youtube.com/watch?v=zR3QoZWMkok
Sagan showed off his skills once more on stage 16 of the 2015 Tour de France, where he bombed down the Col de Manse in pursuit of stage victor Ruben Plaza.
https://www.youtube.com/watch?v=UHgeNu5Gq-c
3. Vincenzo Nibali, Giro d'Italia 2011, stage 11
Without doubt, Vincenzo Nibali is unrivalled among his fellow Grand Tour contenders when it comes to descending. His skills are such that his rivals now fear him attacking on the descents, because once he is away there are very few that can catch him. In this clip Nibali is literally tavelling at twice the speed of the riders he is passing.
http://www.youtube.com/watch?v=xPXIdGy1iM0
4. Various riders, Tour de France 2011, stage 19
The wide, treeless landscape of the Col du Galibier provided the perfect backdrop for the Tour de France's helicopter-mounted cameras to capture a frantic descent during the 2011 race, including a stand-out performance by Samuel Sanchez. The stage was eventually won by Pierre Rolland on Alpe d'Huez.
https://www.youtube.com/watch?v=MSmhgOFGl_M
5. Michael Rasmussen, Tour de France 2005, stage nine
Rasmussen may be better known for being ejected from the 2007 Tour and for his crash-filled time trial performance, but this film of the former mountain bike world champion sweeping through the corners shows he was as good at descending as he was with his EPO-assisted climbing. File under 'wasted talent'.
http://www.youtube.com/watch?v=sRSFUnclJGQ
Have we missed out a classic descent video? Let us know…
Thank you for reading 10 articles this month* Join now for unlimited access
Enjoy your first month for just £1 / $1 / €1
*Read 5 free articles per month without a subscription
Join now for unlimited access
Try first month for just £1 / $1 / €1