How to make Superseed Flapjacks: natural on-bike nutrition (video)
We show you how to make flapjacks that are perfect as a mid-ride snack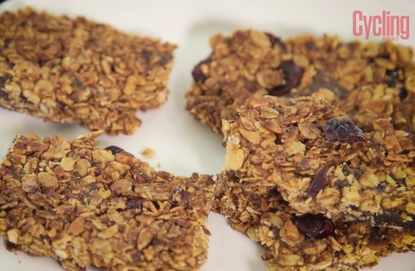 This recipe is packed full of raw ingredients that will ensure you don't bonk when it matters most.
Keeping carbohydrate levels topped up during a ride needn't be a chore, especially if your stomach doesn't agree with artificial energy gels.
>>> How to make Veggie Rice Balls: a perfect on-bike snack (video)
There are lots of ways of ensuring you process the recommended 30-60 grams of carbohydrates per hour through manufactured energy bars, gels and drinks. Whilst these products are great from a solely fuelling purpose, very few will contain as many natural ingredients as this superseed flapjack recipe.
Packed full of raw materials such as dried fruit, honey, rice, oats, nuts and seeds, these ingredients make it the perfect on bike treat.
Ingredients
(Makes nine)
- 100g coconut oil
- 80g honey
- 200g rolled oats
- 150g finely chopped dates
- 50g crushed or slivered almonds
- 20g flax seed
- 20g pumpkin seeds
- 20g sunflower seeds
- 20g cranberries
Method
1. Melt oil and honey together in a saucepan.
2. Stir in the rest of the ingredients and mix thoroughly.
3. Transfer mixture to a nine inch lined baking tray and press down until firm.
4. Transfer to pre-heated oven and bake at 160°C for 25 minutes.
5. Remove, allow to cool and cut into squares.
Nutrition
295 calories
48g carbohydrates
15g protein
26g fat
Thank you for reading 10 articles this month* Join now for unlimited access
Enjoy your first month for just £1 / $1 / €1
*Read 5 free articles per month without a subscription
Join now for unlimited access
Try first month for just £1 / $1 / €1
Paul Knott is a fitness and features writer, who has also presented Cycling Weekly videos as well as contributing to the print magazine as well as online articles. In 2020 he published his first book, The Official Tour de France Road Cycling Training Guide (Welbeck), a guide designed to help readers improve their cycling performance via cherrypicking from the strategies adopted by the pros.