How to make Veggie Rice Balls: a perfect on-bike snack (video)
Everything you need to know to make the low calorie high carb veggie rice balls that'll energise your rides and save you a bit of money too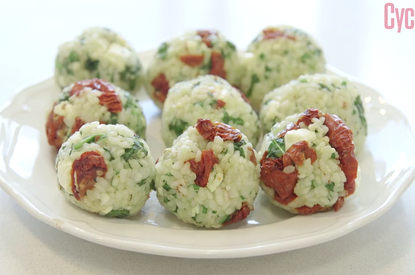 It doesn't matter whether you are a seasoned WorldTour pro or a Sunday sportive rider; we all need to stay fuelled when out on the bike for a long ride.
Getting the recommended 30-60 grams of carbohydrates can be easy even if you just dip your toe into a crowded sports nutrition market packed full of energy drinks, gels and bars.
>>> How to make your own recovery bars (videos)
However there is nothing stopping you getting a little creative in the kitchen and cooking up your own tasty on bike treats. It is not only easy to do, but it will also save you money that would have otherwise been shelled out on the aforementioned energy products.
Ingredients
(Makes nine)
200g white rice (jasmine, Calrose or any sushi variety)
375ml water
150g feta cheese chopped into 1/2in cubes
Six sundried tomatoes, finely chopped
1 handful of chopped spinach
Method
1. Combine rice, water and salt in a large saucepan (or rice cooker).
2. Cover then heat until water boils.
3. Turn to lowest heat and cook for 15 minutes.
4. Turn off heat and leave covered for 10 minutes.
5. Mix feta, tomatoes and spinach into cooked rice.
6. Line a small bowl (approx 3in diameter) with cling film.
7. Spoon rice mix into bowls, gather excess cling film over the top and press down to form a bowl-shaped rice ball.
8. Carefully unwrap and place on lined baking tray.
9. Repeat for rest of rice mix.
10. Bake at 180°C for 15 minutes.
Nutrition breakdown
126 kcalories
20g carbohydrates
4g protein
5g fat
Thank you for reading 10 articles this month* Join now for unlimited access
Enjoy your first month for just £1 / $1 / €1
*Read 5 free articles per month without a subscription
Join now for unlimited access
Try first month for just £1 / $1 / €1
Paul Knott is a fitness and features writer, who has also presented Cycling Weekly videos as well as contributing to the print magazine as well as online articles. In 2020 he published his first book, The Official Tour de France Road Cycling Training Guide (Welbeck), a guide designed to help readers improve their cycling performance via cherrypicking from the strategies adopted by the pros.