1989 Tour de France stage 21: LeMond crushes Fignon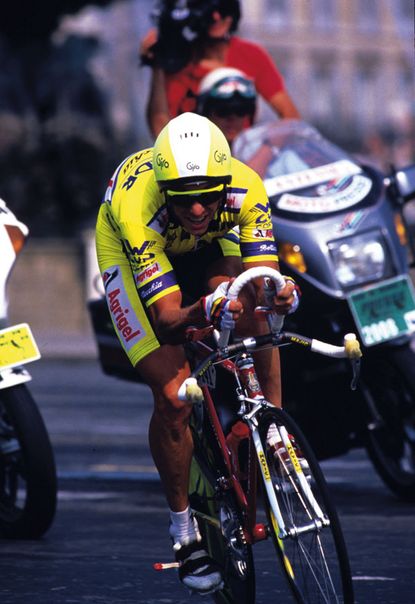 Get The Leadout Newsletter
The latest race content, interviews, features, reviews and expert buying guides, direct to your inbox!
Thank you for signing up to The Pick. You will receive a verification email shortly.
There was a problem. Please refresh the page and try again.
LEMOND TRIUMPH IN TIME TRIAL OF TRUTH
Sunday July 23, 1989

Versailles-Paris Champs Elysées, 25km TT


It may have been one of the shortest stages in the Tour, but for Laurent Fignon, this was the longest day in his life and it would end in misery.
At 16.12 hours on a sultry Sunday, he watched his rival Greg LeMond power away from the start of the final stage of the 1989 Tour, in one last bid to take back the yellow jersey he had lost to Fignon at L'Alpe d'Huez.
For two agonising minutes, Fignon waited as the timekeeper counted him down. And with a roar from the following cavalcade of press and officials, France's favourite took up the chase.
Fignon's Super-U team mate Thierry Marie held the lead with 27-30 for much of the afternoon, and while other favourites for this test failed to beat him, such as Sean Yates (7-Eleven) eventually fifth at 1-10, or Sean Kelly (PDM) who faded to 47th fastest at 2-31, all minds were tuned to the duel.
LeMond was 21 seconds faster than Fignon at 11.5 kilometres on the slightly downhill run in to Paris. He reached the Place de la Concorde and sped on to the Champs Elysées flowing over the pave, opening an ever-widening gap with three and a half kilometres to go up one side and down the other to the finish line.
The thousands of spectators were treated to an unforgettable last few minutes of the race as Fignon and entourage at last thundered onto the famous avenue. One look at Fignon's face told the story. Gone was the fluid rider of that great lone break to Villard de Lans three days before, when he had built what he hoped would be an impregnable advantage.
LeMond fled across the line, putting every last ounce of strength into it with a time of 26-57. And gasping, surrounded by milling reporters sensing something great, he and the rest of us waited for the moment of truth.
Dwarfed in the vast expanse of the wide roadway, but illuminated in the headlights of the vehicles in his wake, Fignon strived to reach the line in time. And when there was still one kilometre to do, we knew he was going to fail. A road went up for LeMond from American supporters.
A silence of utter disbelief greeted Fignon as his 50 seconds advantage was wiped clean away and eight more lost before the Frenchman brought a gripping Tour to a close. In the crazy furore that swept over the race followers in the aftermath of one of the closest Tours, the rest of the result was forgotten.
For the record, Marie finished second at 33 seconds, Fignon third at 58, Jelle Nijdam (Superconfex) fourth at 1-7 and Yates a good fifth at 1-10. As for Pedro Delgado (Reynolds) his challenge ended in the Alps. He was 27th, at 1-56.
STAGE RESULT

1. Greg LeMond (USA) ADR 26-57
2. Thierry Marie (Fra) Super-U at 33secs
3. Laurent Fignon (Fra) Super-U at 58secs
4. Jelle Nijdam (Ned) Superconfex at 1-07
5. Sean Yates (GB) 7-Eleven at 1-10
OVERALL RESULT

1. Greg LeMond (USA) ADR 87-38-35
2. Laurent Fignon (Fra) Super-U at 8secs
3. Pedro Delgado (Spa) Reynolds at 3-34
4. Gert-Jan Theunisse (Ned) PDM at 7-30
5. Marino Lejarreta (Spa) Paternina at 9-39
POINTS

1. Sean Kelly (Ire) PDM 277pts
2. Etienne De Wilde (Bel) Histor-Sigma 194pts
3. Steven Rooks (Ned) PDM 163pts
MOUNTAINS

1. Gert-Jan Theunisse (Ned) PDM 441 pts
2. Pedro Delgado (Spa) Reynolds 311pts
3. Steven Rooks (Ned) PDM 257pts
TEAMS

1. PDM 263-19-48
2. Reynolds at 1-19
3. Z-Peugeot at 44-22
COMBINE

1. Steven Rooks (Ned) PDM 15pts
2. Laurent Fignon (Fra) Super-U 20pts
3. Sean Kelly (Ire) PDM 22pts
'MY GREATEST MOMENT' – GREG LEMOND
Greg LeMond's second victory in the Tour was an outstanding ride by any standards. But you cannot apply normal standards to this extraordinary athlete, who was nearly killed in a shooting accident in April 1987.
As if gunshot injuries were not enough to contend with, three months after being shot, he underwent an emergency operation to remove his appendix, complicated because some of the lead pellets are still in his body. A year after that, LeMond had an ankle tendon operation. He has only been back to full training for one season.
Now the man who progressed from third in the 1984 Tour, to second in 1985 and first in 1986 is back on top.
He knew he was on course this year. Fourth in the Critérium International, third in the Tour of Americas, and most telling of all, second in the final time trial stage of the Tour of Italy where he beat Fignon by a minute after taking a pounding in the mountains, where he nearly abandoned.
LeMond found it hard to describe his feelings in the seconds as he waited for Fignon to finish the time trial: "When I finished the stage, I turned round and saw Fignon pass. It was the worst moment of all. I was afraid I would lose by just one second. I could hear the speaker counting down the seconds – it was terrible."
That morning victory still had seemed out of reach: "When I went over the course in the morning I said to myself that I would not be able to take more than 30 seconds out of Fignon on a route like that. I think Laurent was more nervous than me, he had everything to lose. I told myself, 'if you blow, tough luck!'"
"With the tailwind, my only chance of gaining time was to use a big gear. I used 54 by 12 on the whole course, and only used the 13 on the rise up the Champs Elysées."
Fignon, ironically, chose an even bigger gear, a massive 55 by 12.
The Californian found it hard to believe his good luck: "Today has been the greatest moment in my whole life. It can't compare with my first Tour win, which I was sure of for several days, and if I win the Tour again some day, it won't be the same. I can't stop myself thinking of all that has happened to me over the last three years, and now, with my family, I will take in what has happened."
Where to now? Newcastle-upon-Tyne for the Wincanton Classic perhaps. "I'd sure like to make it, I'll just have to see how I recuperate."
Thank you for reading 20 articles this month* Join now for unlimited access
Enjoy your first month for just £1 / $1 / €1
*Read 5 free articles per month without a subscription
Join now for unlimited access
Try first month for just £1 / $1 / €1
Get The Leadout Newsletter
The latest race content, interviews, features, reviews and expert buying guides, direct to your inbox!
Keith Bingham joined the Cycling Weekly team in the summer of 1971, and retired in 2011. During his time, he covered numerous Tours de France, Milk Races and everything in-between. He was well known for his long-running 'Bikewatch' column, and played a pivotal role in fighting for the future of once at-threat cycling venues such as Hog Hill and Herne Hill Velodrome.