Met Manta helmet review
Met's aero road helmet looks fast and until 2018 graced the head of Mark Cavendish to prove it too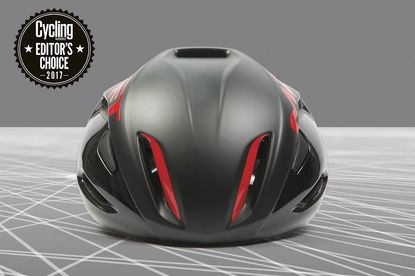 The Met Manta has a distinctive, purposeful design, but is still comfortable for the average cyclist to use - hence it's made it's way into the 2017 Editor's Choice awards.
The brand claims this lid can save 10 watts at 50km/h - but it isn't a lid you can expect to overheat in. Here's why we admire it so much...
It would be hard to miss the Met Manta - the design stands out from the aero helmet crowd.
There are two front slot vents, a couple more on each side and another slot around half way along the helmet's crest, so the Manta looks relatively enclosed from the front.
At the rear, out of the wind, it's more open with six vents to let warm air escape. Inside, there's a complex pattern of ribs and ridges to direct air across the top of the head. Even the rear cradle fits close under the shell to keep it out of the wind.
Despite being quite enclosed, the Manta was not hot in use. The vents work well to channel air over the head. In particular, the side vents keep the temples cool; an area where heat build-up can become uncomfortable on hotter rides.
There's not exactly a surfeit of padding, but what is there is well placed. The brand has used its Safe-T Advanced micrometrical fit system - which uses large surface area contact points to enhance comfort and keep the weight low.
A Dualgel front pad is used at at the forehead - this gel layer increases comfort, stops sweat dripping into your eyes, but doesn't absorb it - providing a longer lifespan.
Met claims the Manta is 10 watts more efficient at 50kph than other aero road helmets it's tested. At 252 grams for a size large, the Manta is pretty light too, and at £179.99 it comes in it a reasonable price compared to others on the market.
For the safety-conscious, Met sells a USB rear safety light which fits to the dial of the adjuster, for increased visibility to other traffic.
A helmet which has adorned the heads of riders on Team Dimension Data, and Team UAE Emirates - and it certainly never seemed to slow Mark Cavendish down when he wore the lid in 2016.
Thank you for reading 20 articles this month* Join now for unlimited access
Enjoy your first month for just £1 / $1 / €1
*Read 5 free articles per month without a subscription
Join now for unlimited access
Try first month for just £1 / $1 / €1