6 reasons why we love Danish gravel: the overlooked cycling trails right outside Copenhagen
We rode the woodland singletrack and deer park doubletrack, all less than 10mi / 16km from Copenhagen's city centre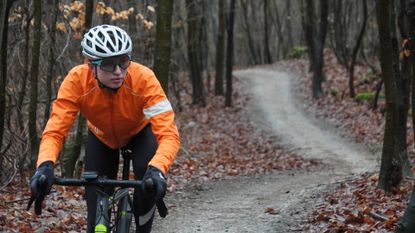 (Image credit: Future)
It's true, when most people sit back and think of the best destinations for gravel, Denmark probably isn't very high on that list - if it's there at all.
Arizona - yes. Spain's Costa Brava - yes. Of the Nordic countries, it's Iceland which really dominates the gravel scene.
Of course, those are all amazing places. But we'd like to put forward one particular haven for gravel riding which mostly gets overlooked. From super-fast singletrack to wide-open doubletrack and a highly developed bikepacking infrastructure (more on that later!), Denmark quietly accommodates a whole network of amazing rides.
Sure, if you are solely after long mountainous climbs, this really isn't the the best cycling holiday for you - the country's highest point rises to just 173 meters above sea level - that's not even 600 feet.
But though you can certainly find plenty of roads doing their best to imitate a pancake, the forests harbour plenty of short ramps - which are hugely fun to hammer your way up and then flow down on the other side.
Then there's just the general Danish ethos, covering everything from bicycle infrastructure (both on the roads and in the trails) to their love of the outdoors. You've probably come across hygge (often rendered as 'cosiness') - but how about Friluftsliv? It's another hard-to-translate word which literally means 'living in the free air' and is all about being outside in nature.
But let's not waste time talking around the edges and jump straight in on our ride around Hareskoven woods and Dyrehaven Deer Park!
1. Flowing singletrack
We're going to put it out there: singletrack gravel riding is some of the most fun you can have on a bike. There is one big caveat, though - it really has to be on the right sort of trails. In other, more mountainous, parts of the world, the singletrack can quickly get too extreme for a gravel bike.
There are riders with sufficient skills to navigate large drop offs and unforgiving rock gardens, but that's not most people those trails are generally best enjoyed on a bike that's designed for them.
Over in Denmark, the trails in the Hareskoven woods are arguably the most fun when tackled on a gravel bike! They were fast, twisty and punchy, with the surface being sufficiently smooth not to feel jarring or harsh - absolutely spot on for a lighter and more nimble gravel bike.
2. Excellent top soil
As an archipelago situated at the confluence between the North and Baltic Seas, it's fair to say that Denmark can get pretty wet through the winter.
Still, even with the bar already set quite that high, January 6th 2023 managed to break the record for being the wettest January day in Danish history - and it was the next day that we were going out riding…
In other parts of the world, you would have anticipated some localised flooding and for the trails to be doing their best impressions of a sloppy CX race in Belgium or the Netherlands. Not so in Denmark.
The water drained away so quickly that we barely rode across a puddle at any point in our ride. It's likely that we could have found some wetter areas if we'd been looking, but, across over 30km of riding, that's pretty notable that we'd have had to have searched.
To be fair, on the singletrack of Hareskoven woods and the double track of Dyrehaven deer park, a fair bit of that is down to the good trail design and management - but that in itself is something quite special. In the South of England, the clay-y soils there cling to their moisture like a miserly sponge, until it finally gets baked dry by the start of the summer…
3. Wide open double track
Fun whilst the forests are, they're not going to be everyone's cup of tea - and we wouldn't want you to think that woodland riding is all that Denmark has to offer. No, there's plenty of doubletrack to enjoy, too.
Just three kilometres north of Klampenborg train station, there's a 300-year-old royal hunting lodge that was commissioned by the Danish King, Christian V. What's notable about this is that - after having spent a lot of time in the court of the French King, Louis XIV (best known for the Palace of Versailles) - Christian V wanted to hunt back in Denmark in the same way as they did over in France.
This meant lots of wide, open paths spreading out across a huge area, making it easier to see, and get to, both the hounds and the prey. Today, there's now a healthy population of about 2,000 deer (you can see them running about!) and that network of dirt roads makes for some sublime gravel riding.
But we didn't spend much time riding around there - just a short little dog-leg to see the Hermitage Hunting Lodge and its recently redone top section of its roof. Apparently, you can sometimes see Sweden from that point in the park, but on the day we were there it was hard to tell where the clouds ended and the sea began…
4. The bikepacking huts(!)
Okay, so these aren't specifically bikepacking huts, you can use them no matter what means of transport you used to get there - but they are great for bikepacking and there's just so many of them!
On the website, around 270 are listed across Denmark and you can 'book' them out so that there's no issues with more people turning up than there is space to sleep on any particular night. It is completely free - the booking system is just for convenience and being able to go bikepacking without having to bring the bulk of a tent is just a brilliant thing.
We didn't make use of them this trip - to be fair, camping overnight in the record breaking rainfall would very much have fallen into the 'type 2' category of fun (though what a story it would've made!) - but it is definitely something that we'll be coming back for!
5. Bicycle infrastructure
Yes, it's hard to talk about Denmark without getting onto its excellent bicycle infrastructure at least at some point.
But not only does it have a huge expanse of cycle paths that'll take you just about anywhere you want to go, fully separated from the traffic - for the most part those cycle paths are two-abreast, so you can chat with whoever you're riding with as you go. More of this please!
Case and point, we rode 10km from Klampenborg station to Hareskoven woods without a single stint on the roads. Having ridden the route previously, you can also spin 35km up the coast to Kronborg castle - which was the setting for Shakespeare's Hamlet and well worth a visit - without deviating from a roomy bike path.
But it's not just the roads: the trails in Hareskoven were well maintained, way-marked the whole way round and even had a map at the start.
Of course, trail centers do do the same, but it's everything part coming together which really makes Denmark stand out - which brings us onto the final point...
6. Convenience
Denmark is small - and the island of Sealand upon which Copenhagen is situated is even smaller. But this is actually quite helpful in a lot of ways!
The Hareskoven woods are less than 15km from the dead centre of Copenhagen, easily in riding distance straight out the door. Plus the centre of Copenhagen itself is only a 15 minute train journey from the airport - everything on Sealand is just so close by.
But say you didn't - or don't want to - travel with your bike (we didn't bring ours on this trip). It's just a 20 minute train from Copenhagen's main station over to Klampenborg station, which is just on the edge of that deer park with the Royal hunting lodge and about 10km from Hareskoven woods.
Just outside the station (literally 20 metres from the ticket machines), there's the Café Parforce which, aside from serving top-notch coffee and delicious cakes, rents out everything from road to gravel to MTBs to e-bikes.
We got in touch with them through Veloce Bike Rental, which is an Italian family-run business (going since 1928) that organises delivery of high-end rental bikes directly to your accommodation in 500 cities across Europe, the US and Japan.
They were kind enough to equip us with bikes on this short notice trip - although we did turn down the offer of delivery to have a good excuse for sampling Café Parforce coffee and cakes (as if that were needed!)
Thank you for reading 20 articles this month* Join now for unlimited access
Enjoy your first month for just £1 / $1 / €1
*Read 5 free articles per month without a subscription
Join now for unlimited access
Try first month for just £1 / $1 / €1