Alternative and unusual therapies to treat cycling injuries: Cure or con?
Many cyclists are resorting to offbeat, unproven therapies in a bid to recover from injuries. Are they being cured or conned? Cycling Weekly investigates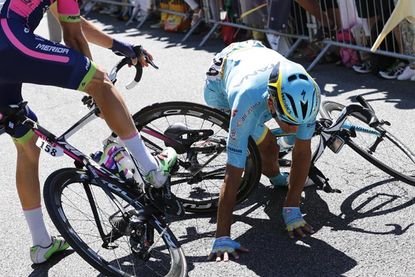 (Image credit: Yuzuru SUNADA)
Words: Dr Nick Tiller
Injuries are part and parcel of training and racing. Whether you're a pro rider or weekend warrior, picking up an injury can mean weeks on the sidelines as your hard-earned fitness deteriorates. In the worst-case scenario, for a pro, livelihood and even career can be put in jeopardy.
Desperate to get back on track, more and more riders are taking a chance on unproven, weird and wonderful therapies that promise to fast-track their recovery.
Professor Alex Faulkner, a researcher in the sociology of healthcare at the University of Sussex, is investigating the use of such treatments in elite sport in the UK. "We found that doctors consciously take into account the 'belief system' of full-time athletes, and many use homeopathy, reflexology, chiropractic, and osteopathy — in spite of weak scientific evidence for their efficacy.
"One pro cycling therapist told us that the level of innovation in biological therapies meant that 'the science will catch up'. Aversion to needle-based therapies in cycling may contribute to interest in the alternatives."
Though these therapies may purport to be 'revolutionary' or 'cutting-edge', many of them are founded on hype and hope rather than solid science. Are cyclists wasting their time and money on treatments that offer no real benefit?
Regenerative medicine
Since the Thirties, doctors have been treating musculoskeletal injuries using regenerative biological procedures called orthobiologics. These are substances produced naturally in the body which are harvested and reintroduced to promote the healing of broken bones, injured muscles, cartilage, tendons and ligaments.
There are various treatments that fall under the umbrella term orthobiologics, supported (or not) by various degrees of scientific evidence. Many pro athletes resort to these techniques, perceiving them as cutting-edge or even fashionable, but what does the evidence say?
>>> Which is the best route to recovery from injury?
Bone grafts
Probably the oldest of the orthobiologic treatments, bone grafts are used on breaks and fractures. At first glance not so different from the dubious work of Dr Frankenstein who "collected bones from charnel-houses" to build his monster, the graft can be extracted from various locations (e.g. the pelvis), then implanted at the site of injury to fill a void, help provide structural stability and even promote regeneration.
Fractures of the collarbone are common among pro cyclists, who demand a speedy recovery. Filippo Pozzato, for example, broke his collarbone in 2012, but was back in the saddle just days following surgery to place second in the Tour of Flanders.
And yet, the evidence for bone grafting is mixed, depending on the nature and site of injury. A 2015 retrospective study published in the Journal of Orthopaedic Surgery and Research studied 58 patients with slow-healing clavicle fractures.
Although nearly all patients in the sample recovered, the 33 patients receiving bone grafts recovered at a faster rate. Indeed, the research on bone grafting for clavicle injuries is generally positive.
Despite the risk inherent in all surgery, the costs are fairly modest, at £1,000-£2,000. On balance, then, bone-grafting is a reasonable avenue of exploration for the consultant and cyclist looking to minimise time out of the saddle.
Stem cells
Stem cells are a class of cells that are able to specialise their function for any given purpose. They can divide or self-renew indefinitely, enabling them to generate a range of cell types from the location where they are injected. Stem cells are usually harvested from the bone marrow, in which they are most concentrated, and then injected into the site of injury to promote recovery.
One form of stem cell therapy, called bone marrow aspirate concentrate (BMAC), provides a good source of growth factors that are thought to have an important muscle-building and anti-inflammatory effect. Treatments are expensive, at £5,000-£6,000, but, more importantly, there are several risks and ethical concerns around stem cells.
All clinical procedures must include a careful analysis of the benefit-to-risk ratio. On the basis of available studies, the risks in this case are not sufficiently offset by the potential benefits.
Several recent systematic reviews published in the respected British Journal of Sports Medicine have called the practice into question, highlighting the lack of firm evidence. The authors concluded that they do not recommend stem cell therapy for knee osteoarthritis; no evidence was found for the therapeutic use of stem cells for tendon disorders.
As such, this appears to be an expensive and risky procedure with not nearly enough evidence in its favour.
Platelet-rich plasma (PRP)
PRP is perhaps the most popular of the orthobiologic treatments. It works by using a quantity of an individual's blood that contains a higher than normal concentration of platelets.
About 60ml of blood is drawn from a vein in the arm, and then spun in a centrifuge to separate the red cells from the blood's other constituents. The platelet-rich portion is then carefully injected at the site of injury, using an ultrasound probe to see images at the muscular level.
>>> Listen to your body: don't ignore the warning signs of injury
The platelets contain over 30 different proteins, which are considered potent in healing. Numerous studies have assessed the effectiveness of PRP. In one randomised controlled trial, published in the American Journal of Sports Medicine, 51 patients with lateral epicondylitis (tennis elbow) exhibited significantly better improvements in pain and function scores with PRP when compared to 49 patients who received corticosteroid injections.
Despite the encouraging results, the study is not supported by much other literature. Moreover, for injuries at other sites (e.g. the rotator cuff, knee and Achilles tendon) the evidence for PRP is even less convincing.
A 2014 review analysing the pros and cons of the available strategies, as well as the paucity of quality studies, concluded that PRP cannot be recommended for routine use. An important consideration is that PRP was initially banned by the World Anti-Doping Agency (WADA), though it has since been legalised for treating sports injuries.
Actovegin
Sixty years of research has failed to identify the active ingredients of this ultra-filtered calf's blood, though it is thought to contain steroid hormones and amino acids, which stimulate muscle repair, and Inositol phosphate oligosaccharides (IPO), which promote glucose uptake.
Actovegin has received some media attention because its creator, Dr Hans-Wilhelm Müller-Wohlfahrt, so-called 'Healing Hans', has worked with some of the world's top athletes including Usain Bolt, Ronaldo and Paula Radcliffe.
You might remember Actovegin as the product that Lance Armstrong and the US Postal Team were caught trying to smuggle across the French border in 2000.
Many of the clinical studies have tested Actovegin on rats, and so the evidence is far from conclusive.
When looking at human studies and, specifically, data in competitive athletes, there is limited evidence for its use in treating muscle injuries, and no evidence regarding performance-enhancing effects. For this reason, the substance has not yet made it onto the WADA list of banned substances, except in very high concentrations.
Among the published studies on Actovegin is a case report in the Annals of Internal Medicine which described anaphylactic shock and multiple organ failure in a cyclist following intravenous administration of Actovegin. Although the patient recovered, and it appears to be an isolated case, the risks require further exploration.
Alternative therapies
Sometimes referred to as complementary medicines, these are a group of treatments that claim to have the powerful healing effects of modern medicine — but without any of the associated evidence or stringent scientific criteria. In fact, many of the basic claims of these treatments run counter to fundamental laws of nature.
Cupping
Several athletes at the Rio Olympic Games were pictured with circular bruises on their skin — the result of an ancient Chinese therapy called cupping. The procedure involves the placement of small glass cups onto sore muscles or sites of injury.
The cups are heated, causing suction on the skin, which is supposed to stimulate blood flow. That said, cupping was originally, in Eastern practice, designed to stimulate energy flow along the body's meridians, the energy channels central to traditional Chinese medicine.
The characteristic bruising is caused by broken capillaries and clotted blood. This contradicts the notion that cupping stimulates blood flow. Proponents of cupping have misappropriated scientific terms and concepts to create a pseudoscientific practice that doesn't adhere to real-world principles.
The research into cupping is wholly negative, with the higher-quality studies failing to show any physiological benefits. Don't be fooled by the endorsements from successful Olympic athletes; any positive effects are likely just placebo.
Traumeel
For years, athletes have been using non-steroid anti-inflammatory drugs (NSAIDs), such as ibuprofen, to treat injury and reduce inflammation.
But with overwhelming research showing that NSAIDs can have serious adverse effects on the cardiovascular, musculoskeletal, gastro-intestinal and renal systems, the latest scientific recommendation is to avoid NSAIDs during exercise.
This has been exploited by the alternative therapy movement, which has responded with Traumeel, a substance marketed to treat sports injuries, inflammation, and pain.
>>> Cycling knee pain: everything you need to know
The laundry list of natural ingredients include Aconitum napellus, Matricaria recutita, Arnica and Echinacea, mostly in extremely dilute concentrations.
Several studies suggest that Traumeel might be a reasonable alternative to NSAIDs for the treatment of musculoskeletal injuries, although the research is far from conclusive. Further studies are needed before Traumeel can be confidently prescribed for injury management. It is marketed as a homeopathic remedy, though technically homeopathic products are so diluted as to not contain any active ingredients.
Acupuncture
Another vestigial practice from traditional Chinese medicine, acupuncture has gained widespread acceptance because of its use in physiotherapy clinics around the world. The ancient premise was to stimulate energy flow along body meridians by spearing small needles into the skin at acupuncture sites.
As with many traditional therapies, the principles have now been retrofitted to align with a less mystical, more scientific-seeming contemporary viewpoint.
>>> Can acupuncture aid performance?
One of the problems with acupuncture is that there's no plausible mechanism of action. Some proponents argue that penetrating the skin with needles causes the release of natural pain-killers into the blood, releasing muscle tension, but neither has been clinically demonstrated.
There are literally hundreds of studies in acupuncture and some excellent summaries have been compiled by Science-Based Medicine (www.sciencebasedmedicine.org) and the NHS (www.nhs.uk).
Acupuncture may be anecdotally well supported, but in the majority of high-quality studies its effects rarely outperform placebos. The small benefit shown in certain studies cannot be considered clinically significant.
According to Dr Steven Novella, a neurologist at Yale University, acupuncture is not worth the risk or the cost: "Humanity should not waste another penny, another moment, another patient — any further resources — on this dead end."
Conclusion
Humans are hard-wired for taking shortcuts; it served as a survival advantage for our distant ancestors. In the modern world, shortcut-seeking behaviour manifests in our obsession with supplements, gadgets, and quick-fix therapies for injury management.
Commercial pressure on athletes, who work closely with sports physicians, results in a rush for the latest treatments, even before the hard evidence is in.
The discussion on whether so-called placebo products should be used to improve performance requires ongoing dialogue. On the one hand, elite coaches argue that any treatment that provides a performance edge — even if unproven physiologically — is worth trying. On the other hand, many of these therapies come with risks, and scientists, coaches and medical advisers must think hard about their motives and justifications.
Is speculative medical experimentation really good for sport? The history of cycling would suggest not.
Thank you for reading 20 articles this month* Join now for unlimited access
Enjoy your first month for just £1 / $1 / €1
*Read 5 free articles per month without a subscription
Join now for unlimited access
Try first month for just £1 / $1 / €1