'Being a junior doctor can be really tough, but on the bike I'm a different person': How Zoë Langham trained for the eSports World Champs
The 24-year-old medic tells us how hard training is her way of letting off steam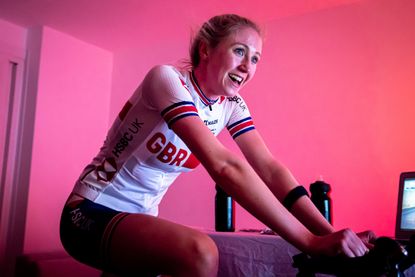 (Image credit: SWpix)
Want to know how the best riders in the world train? For each article in this long-running MY WEEK IN TRAINING series from Cycling Weekly's print edition, we sit down with a pro rider who talks us through a recent week of training in granular detail. This time it's the turn of Zoë Langham.
Zoë Langham took up cycling just four years ago, getting into Zwift racing while studying medicine at university. She has made extraordinary progress since then. At her first big race, the 2022 eSports Worlds, she took the bronze medal. In her debut season on the road, last year, she finished fifth at the Ryedale GP, and was sitting third on GC at the Rás until an unlucky crash on the final stage forced her to abandon with a broken collarbone. Returning to the eSports Worlds last month, the 24-year-old bettered her 2022 performance and took silver. CW spoke to Langham two days after she finished second overall at The Peaks 2 Day.
How did you first get into cycling?
I started out as a really average runner while at uni [from 2018]. I wasn't really getting anywhere and kept getting injured. Having got on the bike just to keep active, I soon realised I was actually a lot better at cycling than running. I do remember, in my early teens, my dad took me on a 70-mile ride in the Yorkshire Dales that was so savage I cried!
You had been seriously ill as a younger child?
Yes, I had aplastic anaemia, which is basically bone marrow failure and presents similarly to leukaemia. It means you're not producing red blood cells, the blood cannot clot, you bruise really easily and can't fight infections. I had a very severe form of it, and it was touch-and-go. Thankfully I had ATG treatment [an immunosuppressive therapy] and went into remission – I was lucky because only about 50% of people respond to it.
As a medical student, squeezing in training must've been difficult?
Absolutely it was, though lockdown helped a little, as I got some time off to go home and ride my bike. Zwift came into its own too, at times when we couldn't go outside. It was during this time that I started training in a more structured way.
Rider profile: Zoe Langham
Age: 24
Height: 5ft 5in
FTP: 270W
Lives: Birmingham
Rides for: Pro-Noctis Rotor Redchilli Bikes
Best results: 2nd – UCI eSports World Championships (2023); 3rd – UCI eSports World Championships (2022); 4th – Stage 2, Rás na mBan (2022)
Twitter: @Zoee_Langham
Instagram: zoe_langham98
And now as a junior doctor, you must still be very pushed for time?
My training volume remains 10-14 hours a week, but I've been lucky because my working hours are going to be reduced by 60% this year to allow me more time for cycling. It's been getting really hard for me, since a lot of the national-A peloton in the UK are full-time riders, whereas I'm juggling a job that involves 12-hour shifts and night working.
Is it sustainable, juggling being a doctor and a national-level racer?
I am in a really difficult situation because I'm only on a provisional GMC licence, so taking time out now would mean leaving medicine completely. Hospitals are really tough environments to work in right now – the things I see on a day to day basis can be hard to process. We are all trying but the NHS is really struggling. I'll come home and not even have words for what I've seen that day. Being able to get on the bike really helps – I feel like a different person.
The week: Facts and figures
When: 30 January - 5 February 2023
Where: Birmingham
Training for: UCI eSports World Champs (18 February)
Total riding: 13hr 15min
Z3+ effort: 2hr 23min
Monday: Recovery ride – 1hr
Most of this week's sessions were done on the turbo after work. Today I just did an hour's recovery ride with some one-minute bursts of tempo effort. It was 140W for most of the time – really low, Zone 1 effort – with one tempo effort every 10 minutes, just to wake up the legs. I was fairly tired, as I had done a Zada [Zwift accuracy and data analysis] test at the weekend, which involved one-minute, four-minute, seven-minute and 12-minute maximal efforts, plus two 15-second sprints.
Tuesday: Zwift race – 2hr 15min
This wasn't a typical Tuesday for me, but I did an evening Zwift race, a team time trial with my Wahoo-Le Col team-mates [ZRL Premier Division - Stage 4]. It functioned like an interval session and was the perfect substitute for a hard session on the turbo, with a warm-up and a half-hour warm down to add some more volume. It can be hard to get out of work on time to make it home for a Zwift race but today it worked out.
Wednesday: AM: Core session, PM: Lactate clearance session – 1hr 30min
Today was about lactate clearance. I love these sessions but they're really brutal. It starts with a four-minute effort at my 20-minute max power, then straight into 10 minutes of under-overs. This means you flood your legs with lactate and then try to recover during the under-overs, simulating an attack in a road race. The 1:30 'overs' were at 265W and the one-minute 'unders' at 210W. I did two blocks of effort, and also did four sprints.
Thursday: AM: Core session PM: Recovery ride
Before work, I did a strength session in the gym, mainly focused on my core. I was also working on upper body strength, rebuilding muscle since breaking my collarbone last year. Because I'm small and naturally have 'noodle' arms, I know that strength work helps me to sprint harder. After work, I did an easy recovery ride, just an hour at 140W.
Friday: Supra-threshold intervals – 2hr
The session today was suprathreshold eight-minute blocks, with the aim of maintaining a very high heart rate, close to max. I start at a high power of around 300W for two minutes and then drop down by 10-20W, keeping heart rate at 185bpm. These are hard sessions, but playing good music helps. As you get fitter, the higher power you have to sustain. I did four sets of eight minutes, followed by some Zone 2 riding.
Saturday: Medium ride with tempo – 2hr 30min
I was off work, so I drove up to Yorkshire and rode for three hours with my sister [Lauren Langham]. I did the first 45 minutes at 170W, which is Zone 2, and then a 30-minute block at tempo, around 230W. It was nice to do some outdoor riding after a string of indoor sessions. My sister is a competitive cyclist too and she's particularly good at sustained tempo riding, so keeping up was no problem for her. We're both coached by Emma Wilkins of High North Performance.
Sunday: Medium ride with sprints – 3hr
Still in Yorkshire, I did a threehour ride mostly at Zone 2 with some sprints, with my sister again. I did one set of three sprints at the end of the first hour and another at the end of the second hour. The sprints were 20 seconds each – specific preparation for the eSports World Champs. Outdoor sprinting is something I need to work on. That afternoon, I drove back to Birmingham, as it was back to work the following morning.
This full version of this article was published in the 30 March 2023 print edition of Cycling Weekly magazine. Subscribe online and get the magazine delivered to your door every week.
Thank you for reading 20 articles this month* Join now for unlimited access
Enjoy your first month for just £1 / $1 / €1
*Read 5 free articles per month without a subscription
Join now for unlimited access
Try first month for just £1 / $1 / €1