E-cycling may be an easier way of managing type 2 diabetes than diet, study finds
Electric bikes allowed participants to ride further, faster - and have more fun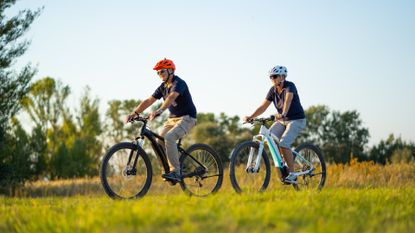 (Image credit: Getty Images - amriphoto)
If you don't enjoy something, you're not likely to continue doing it - and doing nothing is going to leave you much, much further from your goals than doing even a little.
It's that principle which underpins a recent study into the benefits of using an electric bike for managing type 2 diabetes. The paper concluded that "engaging in e-cycling was [..] an easier way of managing their diabetes [in comparison to] diet or other types of exercise - largely [because of] the enjoyment of riding."
Part of what made the riding so enjoyable was the low perceived effort and "the ability to ride further, faster and on hillier terrain than previously possible".
This is important because physical activity is a key component in the management of type 2 diabetes. However, as the researchers from the University of Bristol highlighted, the population segment which suffers from type 2 is overall less physically active than those without type 2 diabetes - and many fail to meet the recommendation of 150 minutes of moderate to vigorous physical activity (MVPA) per week.
As part of the investigation, interviews were conducted with 8 male and 8 female participants from the e-cycling arm of a pilot randomised controlled trial between September 2019 and April 2020 - the mean age of the participants was 59.75 years old.
Participants in the study received two one-to-one e-bikes training sessions, followed by a 12-week e-bike loan in which they were told to ride the e-bike as they desired - no set riding distance or time was stipulated. During the loan period, the participants were also offered two further training sessions.
The median distance travelled on the e-bike during the loan period was 144.4km and a median number of journeys was 22. This is based on the available data from 13 participants.
Both the men and women who participated in the study found that e-cycling positively impacted a variety of health outcomes including diabetes management, through notable decreases in blood sugar levels, improved mental health and increased fitness.
Thank you for reading 20 articles this month* Join now for unlimited access
Enjoy your first month for just £1 / $1 / €1
*Read 5 free articles per month without a subscription
Join now for unlimited access
Try first month for just £1 / $1 / €1