Here's the science behind why Tour de France rider's legs are so veiny
Why is it that the fittest riders often have such exposed piping?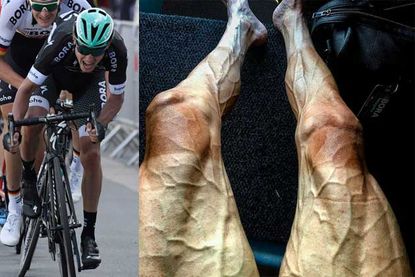 (Image credit: Yuzuru Sunada/Pawel Poljanski/Instagram)
We've all seen pictures of the legs of rider's when they're at peak fitness. Veins standing up like protuberant tree roots surging up against the skin, criss-crossing his quads and calves - it certainly makes for an arresting image. But what's the physiological explanation?
When Bora–Hansgrohe rider Paweł Poljański shared pictures of his jaw-dropping legs across social media after stage 16 of the 2017 Tour de France, pundits emerged from all quarters to chip in their views on the how exceptional (or not) Poljański's legs were.
The latest pro to add to the catalogue of veiny leg images on social media is Enric Mas from Deceuninck - Quick-Step.
>>> 'How do cyclists get big legs?' – you asked Google and we've got the answer
And they're not the only ones to have drawn attention for their veiny pedal pushers.
Canadian pro Antoine Duchesne showed off his defined tree trunks after he missed out on a Tour call up (gotta get them some air time after all that hard work!) and Lotto-Soudal's Tomasz Marczynski bowled us all over with his exceptionally chiselled pipes (and muscles), asserting "Looks like Le Tour is coming!"
In an attempt to explain the phenomenon behind these snaking estuaries of blood transportation, The Times' resident doctor, Mark Porter, ventured to temper the hype around Poljański's legs by suggesting that the veiny-ness on display was in fact quite normal.
"Although the image looks an extreme example," wrote Porter, "this is exactly what happens in all of us after exercise in warm conditions. You just can't see it because most of us have much more body fat."
Fair enough: professional riders have very little body fat, around six to eight per cent, but was this really an adequate explanation? Plenty of riders are very lean, but rarely do we see legs with such startlingly bulging bloodlines.
"The notion that we'd all have legs like that if only we were skinny enough isn't really correct," says exercise physiologist Dr Jamie Pringle. The truth, as ever, is more complicated than the tabloids' brisk explainers would have us believe. Just as important as leanness are athletic adaptations in the vascular system.
"In athletes, we see exceptional vascularisation," Pringle continues. "That means greater non-visible capillarisation within the muscle, but also greater visible vascularisation at an arterial and venous level."
In other words, the gruelling training undertaken by a pro cyclist expands both the supply of oxygenated blood to the muscles and the extraction of deoxygenated blood, via veins, back to the heart and lungs.
"There is not more piping as such, but greater arterial diameters and definitely greater flow and dilatation — in response to the muscle's demand for blood and oxygen."
Bear in mind, in the example of Poljański, the Polish rider had just finished the punishing 165km from Le Puy-en-Velay to Romans-sur-Isère in blustery conditions and crossed the line a mere 1min 43sec behind stage winner Michael Matthews. His leg muscles had been screaming for blood for hours.
A super-adapted blood-supply network is no great advantage in itself, nor does it account for super-veiny legs — the major factor is having more blood.
"An extremely well trained athlete has far greater blood volume as a whole, referred to as hypervolemia," says Pringle. "Because of that, their veins are simply fuller. That's the key difference."
We're not talking a few drops of blood, either — the difference is substantial.
"An untrained person has around five litres of blood, typically around 50 - 75ml per kilo — five to seven per cent — of body mass. A world-class endurance athlete can have two or three litres more in total, and as much as 150ml per kilo — 15 per cent — of body mass."
So pro riders, like those pictured, could have twice as much blood in their bodies compared to the average Joe. No wonder their legs occasionally look set to burst.
Thank you for reading 10 articles this month* Join now for unlimited access
Enjoy your first month for just £1 / $1 / €1
*Read 5 free articles per month without a subscription
Join now for unlimited access
Try first month for just £1 / $1 / €1
David Bradford is fitness editor of Cycling Weekly (print edition). He has been writing and editing professionally for more than 15 years, and has published work in national newspapers and magazines including the Independent, the Guardian, the Times, the Irish Times, Vice.com and Runner's World. Alongside his love of cycling, David is a long-distance runner with a marathon PB of two hours 28 minutes. Having been diagnosed with retinitis pigmentosa (RP) in 2006, he also writes about sight loss, equality and social affairs.