'How did it feel to turn pro at 35? Terrifying! But I was very determined': Claire Steels tells us how to get faster year after year
The fitness trainer turned WorldTour pro talks us through a key week of training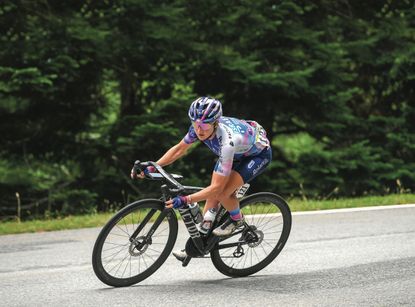 (Image credit: Getty Images)
Want to know how the best riders in the world train? For each article in this long-running MY WEEK IN TRAINING series from Cycling Weekly's print edition, we sit down with a pro rider who talks us through a recent week of training in granular detail. This time it's the turn of Claire Steels..
Claire Steels has flown somewhat under the radar to the top level of the sport. Having started out in duathlon, she did not switch to cycling until six years ago, aged 30. The learning curve may have been steep, but so was her progress. In 2019, even before signing for a UCI team, Steels won Ireland's premier stage race, Rás na mBan. A strong 2022 season, including eighth on GC at the Tour Feminin l'Ardeche, earnt her a contract with Israel-Premier Tech Roland. Here, she talks us through a key week of training ahead of leading her team at the Tour de France Femmes.
How did you get started in endurance sport?
Initially I was a runner and hockey player. Much later, aged 30, I bought a bike just to try it and started doing some duathlon racing, which I loved. It went from there, and I did my first road race, the Tour of Sussex, in 2018, and from that I was invited to ride with domestic team Fusion.
You work in the fitness industry too?
Yes, after university I trained to be a PT and fitness instructor, and subsequently set up my own fitness company (steelsfitness.com). So all of my life has always been about sport and fitness. I've lived between Majorca and the UK since 2018, and in 2020, having just signed for a Spanish Continental team, I made the decision to move to Spain full-time.
How have you progressed so rapidly since 2018?
The educational side of things. I came into the sport already very fit, strong and capable, but I didn't have any race-craft at all. I had to learn a lot very quickly. In 2019, something clicked and it all began to make sense. Having by then spent 18 months over here [in Majorca] also helped – the mountains, the nice roads, the ability to have a solid winter of training, all that stuff.
Rider profile: Claire Steels
Age: 36
Height: 5ft 5in
Raised: Stamford, Lincolnshire
Lives: Majorca, Spain
Rides for: Israel-Premier Tech Roland
Best results: 1st – reVolta (2023); 6th GC – Tour de Suisse (2023)
Instagram: c.steels
Stepping up to the WorldTour at 35 is very unusual – how did it come about?
It'd been a big step up to UCI level [in 2020], and for the three years racing with [Spanish UCI team] Sopela I felt terrified most of the time but also determined to get better. In 2022, I was at a point where I couldn't keep racing and running a business, as I was just exhausted. I made the decision that I either had to quit or go to a WorldTour team. The sports director at Sopela really helped me broker the deal with Israel- Premier Tech Roland.
Has stepping up made a big difference to your training?
I'd say the main difference is in my recovery – I definitely sleep a lot more and spend a lot more time on the sofa, legs up in recovery boots. I get eight hours of sleep now, whereas before I was probably functioning on five. The training itself has not really changed drastically, aside from the natural evolution, with bigger volume through the winter.
The week: Facts and figures
When: 10-16 July, 2023
Where: Sierra Nevada, Spain
Training for: Tour de France Femmes
Total riding: 21hr 30min
Z3+ effort: 1hr
Monday: Recovery ride – 0hr
I was staying at altitude in the Sierra Nevada mountain range for this week, part of a big block in preparation for the Tour de France Femmes. I do yoga every day, but this being a rest day, I did an extended yoga session of 45 minutes. I included some static stretches and some mental relaxation. My usual daily mobility routine is 22 minutes long.
Tuesday: Endurance ride – 3hr
Today was a three-hour ride, and it was what we refer to as a 'free ride' – no set pace or efforts. I tend to feel a bit sluggish after a rest day, so I like a free ride to give my legs a chance to wake up. I rode all the way up to the summit of Sierra Nevada, 3,500m, and did 35 miles, all very slow, cruising up to the top. All of my rides this week were on my own.
Wednesday: TT efforts – 2hr
This was a two-hour ride with a ramp up to begin with, then two blocks of 10 minutes at TT level effort on my road bike – but with my power meter covered. Rather than looking at numbers, I was riding to feel. As much as I like the numbers, they can control you too much, and I think it's really important to be able to gauge effort by feel. My power for the efforts was around 290 watts, less than five watts different from my target.
Thursday: Climbing attack simulation efforts – 3hr 30min
It was climbing efforts today with simulated attacks: 10 seconds all-out, then 30 seconds seated, then another 10-second attack, then five minutes at threshold. I did three repeats of that, on two 10km-long climbs. The power target for the five-minute efforts was around 290 watts. The total duration was three-and-a-half hours.
Friday: Endurance ride – 5hr 30min
On Friday, as ever I started the day with my mobility routine – my team-mates mock me for it, but at my age I feel it's important. Even if it's a placebo effect, who cares! Today's ride was five-and-a-half hours at Zone 2, riding up to 3,000m, where I did four times two-minute efforts at around 280 watts, with three minutes' recovery between each.
Saturday: VO2max intervals – 2hr
Another two-hour ride, this time with five three-minute efforts at around 330 watts, with five minutes' recovery between each. After the efforts I did 45 minutes just cruising along at Zone 2. I did the efforts at around 2,400m altitude, and they felt fairly horrendous! In hindsight, I may have pushed a little too hard too close to the Tour, as I felt very sluggish after returning to sea level.
Sunday: Long cafe ride – 5hr 30min
To round off the week, I did five-and-a-half hours at endurance pace, mostly Zone 2. A different route today: I dropped down into Grenada and met up with two friends and had a really good coffee and a slab of cake. After that, I climbed back up to where I was staying – a 25km climb, so the cake was needed! This marked the end of a hard three-week block, and I was pretty cooked.
This full version of this article was published in the 17 August 2023 print edition of Cycling Weekly magazine. Subscribe online and get the magazine delivered to your door every week.
Thank you for reading 20 articles this month* Join now for unlimited access
Enjoy your first month for just £1 / $1 / €1
*Read 5 free articles per month without a subscription
Join now for unlimited access
Try first month for just £1 / $1 / €1