'I thought I'd never be pain-free again – but now I'm cherishing every ride': The comeback from a devastating hit-and-run crash
Long-distance record-setter Christina Mackenzie tells us about her biggest challenge yet – returning to racing after a collision in which she was left for dead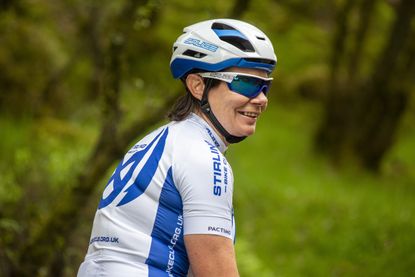 (Image credit: Andy McCandlish)
This article was originally published in Cycling Weekly's print edition as part of the long-running MY FITNESS CHALLENGE series.
As Christina Mackenzie crossed the finishing line of this summer's UCI World Championship Gran Fondo road race in Scotland, her mind flashed back to a fateful day from last September. "It was broad daylight and I was wearing hi-vis," says the 46-year-old. "They must have seen me, yet they had no regard for my life." Mackenzie is referring to the SUV driver who collided with her and left her lying in the middle of a dual carriageway near Kippen in Stirlingshire, her pelvis broken in two places. The driver did not stop and has never been traced.
At the time of that ill-fated training ride, Mackenzie's season was winding down after an eventful 14 months during which she had broken two major records: Land's End to John o' Groats, setting a time of 51 hours and five minutes, and the North Coast 500, with a time of 36 hours and 39 minutes. "I had my last race of the season coming up that weekend and was looking forward to a holiday the following month," she says.
Instead, she spent 10 days in hospital followed by three months of excruciating rehabilitation. "I was in a dark place," says Mackenzie, "unable to move without a Zimmer frame and watching my fitness disappear. I didn't want to see a bike or hear about cycling, and I considered selling my bikes because they only reminded me of the pain I was in." During her first few weeks at home in Stirling, central Scotland, the pain was so severe she had to take painkillers just to tolerate getting to the toilet. "I'd left my home fit and healthy with a VO2 max of 63 and came back 10 days later unable to do anything for myself," she says. "Mentally, it was really hard to deal with." Unable to get a referral for physiotherapy on the NHS, Mackenzie put out an appeal on social media and heard back from Seonaid Airth, a local physio with extensive experience of working with elite athletes.
"After being trapped in my house for a month, Seonaid got me down the 10 steps from my front door using crutches and I could finally breathe fresh air," recalls Mackenzie. "Her exercises were quite challenging, using balance balls to build up my strength, then a programme of lunges and squats. Later she took me to a swimming pool and the feeling of weightlessness was amazing – the first time my body wasn't tensed up."
Six weeks after the accident, the Scotswoman was still suffering. "I thought I'd never be pain-free again, even sitting on the sofa was painful," she says, and an added discomfort was the awareness of her dwindling fitness. "My resting heart rate increased by 15bpm and I woke up every morning feeling exhausted." Then came the flashbacks. "I wasn't knocked out [by the impact] so I remember everything. I can see the ambulance; I'm lying there with my bike between my legs." On top of the physical scars, the memory of having been left for dead. "It's the fact that someone's hit me, has known they've hit me, that's what haunts me."
Mackenzie turned to a trauma counsellor and met for weekly sessions online. "It was nice to be able to talk to someone who didn't know me and who was a non-cyclist. It helped me deal with the flashbacks – though I still get them – and gave me the confidence to get back on the bike." Last Christmas she decided to get on her turbo at home for the first time since the accident.
"That's when I got into the world of Zwift. I'd never done that as an endurance cyclist; I'd always hit the roads. There were great basic programmes like 'Back to Fitness' – I didn't need to worry about cars or wintry conditions."
Back in the saddle
Finally, in early 2023, nearly four months after the accident, she was ready to ride outdoors again. "Without telling anyone, I booked a holiday to Lanzarote for the end of January," she says. "The hotel provided bike rental and offered beginners' guided rides. I didn't tell anyone there my story, as I didn't want them to make a fuss. I ended up going on four rides. Riding on that smooth tarmac in the sunshine was the best thing I could have done – it took me back to my happy place."
Once back home, Mackenzie decided to set a goal to spur on her training. The International Island Games – a bi-annual "mini- Olympics" between islands around the world – were to be held in Guernsey in the summer. She had already been selected as manager of the cycling team for the Western Isles. "It was the perfect goal. I would enter the cycling races. I was going as manager anyway so had nothing to lose. I even managed to get Seonaid a place as one of the team physios."
The next step was to design a training programme with her coach Gary Hand, mindful that long endurance rides were not now appropriate. "It was one thing getting back on the road but another doing structured sessions and having to concentrate on my power and specific targets," recalls Mackenzie, "so I took the easy option of getting back on Zwift." How did it go, rebuilding her fitness? "The first few months were horrific. I started questioning myself, thinking that at my age I should just bow out and settle for just being reasonably fit. But the target was the Island Games."
The Games took place from 8 to 14 July, and Mackenzie finished sixth in the TT, seventh in the criterium, and 11th in the road race – a highly respectable set of results, given the challenges she had overcome. "They were open-age races against girls much younger than me," she points out, "so to achieve those results 10 months after my accident was really satisfying." As for the Gran Fondo world championships, the following month, she suffered a time-costly puncture and finished midway down the field.
Naturally, we asked for details of her next target event, but Mackenzie would not be drawn, disclosing only: "It's going to be epic!" It is clear that, for now, her primary aim is not outright performance but peace of mind. "I'm still nowhere near the fitness I had for LEJOG [in 2021] when I was the fittest I've ever been, so for now it's all about enjoyment, getting the love back." She accepts that she may never get back the free-and-easy mindset she had before the crash. "Mentally, I'm not the same person I was; the accident changed me completely. I'm more anxious, more aware of cars passing." The perils are more vivid now, but so too the preciousness. "I don't take anything for granted – I cherish and appreciate every ride."
Coach's view: 'The flame had been blown out'
Former pro rider and Scottish road champion Gary Hand (espressocyclecoaching. com) coached Mackenzie to her LEJOG and North Coast 500 record-breaking rides
"Christina messaged me from the hospital after the accident and my heart sank. I knew what this could mean for her cycling, not just short term but potentially long term. As her coach I've always been a shoulder for her to lean on mentally, not just physically, but during those first months supporting her was tougher than it had ever been before. Cycling is her life, and now there was a deep scar mentally.
"I told myself to have zero expectations. This helped me to handle things calmly and slowly. It was all about her state of mind. Physiologically, her engine was still there.
"Essentially the flame had been blown out but I could see the spark trying to light that flame again. We started with no wattage targets, just riding and getting the enjoyment back. Getting her out with others was important to help her grow in confidence as she rode on the open roads again. Then, when the time was right, we started again with the power meter and a specific programme.
"For anyone who finds themselves in a similar situation, set realistic goals and remind yourself to have fun. Step by step, you'll turn the invisible into the visible."
The full version of this article was published in the 31 August 2023 print edition of Cycling Weekly magazine. Subscribe online and get the magazine delivered to your door every week.
Thank you for reading 20 articles this month* Join now for unlimited access
Enjoy your first month for just £1 / $1 / €1
*Read 5 free articles per month without a subscription
Join now for unlimited access
Try first month for just £1 / $1 / €1