Top five US gravel getaways —and routes— to escape winter weather
Go here to escape the snow, the wet or the trainer hours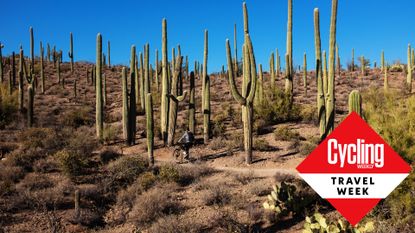 (Image credit: Future)
In many parts of the U.S., winter for gravel bikers means braving snow and ice on the road, freezing temperatures and short days —that, or hours on the trainer. A gravel getaway is just what riders need to stay psyched on cycling and dedicated to logging some miles regardless of the conditions outside. Luckily, there are some excellent winter cycling holiday destinations with great gravel riding within a few hours' flight, or a reasonable road trip, for most riders.
Patagonia, Arizona
Say the word Patagonia and most cyclists' minds will spring to spiky summits, epic bike touring and southern hemisphere summer found in the mountains of Chile and Argentina. But exceptional winter riding is found much closer to home in Patagonia, Arizona.
A great winter escape for everyone from pros preparing for the next season to enthusiasts anxious for a break from the cold or their trainers, Patagonia is a quirky, low-key town surrounded by an abundance of quiet gravel roads and a super cycling-friendly vibe. It was recently featured as one of Yuri Hauswald's "hidden gravel gems" and it's also home to the Spirit World 100 gravel race.
Sitting at roughly 4,000 feet in elevation and nestled between the Santa Rita and Patagonia mountains and Tucson and the Mexican border, the region is considered by many to have some of the best gravel in the Southwest, if not the nation. It's not just quality dirt roads Patagonia has to offer, it's also quantity; you can ride days without ever repeating the same route. And winter is the optimal time to visit: according to Lael Wilcox, ultra-endurance bike rider and racer, "the weather is ideal—sunny and warm almost every day."
In addition to bountiful gravel routes, Patagonia is "preposterously beautiful." That's how Jim Harrison, Legends of the Fall author and part-time Patagonia resident, described it. The Sky Island Ecosystem, in which Patagonia is found, is one of the most biodiverse areas in the nation and was a world-class birding destination long before becoming a gravel hotspot with hundreds of species of birds living, nesting and migrating in the area.
The Spirit World 100 courses provide an excellent starting point for riders interested in exploring the area:
Tucson, Arizona
Tucson has long been a favorite winter cycling destination for road and mountain bikers, but in recent years, gravel riders have also flocked to this southwestern city. What attracts riders of all types—especially as the thermometer drops in other parts of the country—is Tuscon's mild winter weather, with temperatures typically hovering in the high 60s and low 70s, clear skies and dry conditions.
The seasonal influx of cyclists has also created an extremely bike-friendly culture and plentiful cool coffee shops, hip breweries and must-try restaurants—great for powering up before and refueling after a big day in the saddle. Pro cyclist Alexey Vermeulen loves Tucson for "its hearty cycling community—which is highlighted by the Shootout Group Ride every Saturday—and its never-ending list of good food!"
Mount Lemmon is commonly thought of as the crown jewel of Tucson cycling and a mecca for serious road cyclists looking to test themselves on its 20+ miles climbing more than 5,000 feet at 5% to 6% grades—it's been a regular training ground for off-season pros. Lesser known is the dirt road up gracing the backside of Mount Lemmon—Redington Road—which is quickly becoming a favorite among in-the-know gravel bikers. Cyclists grinding their way up Redington Road are treated to stunning southwestern scenery as they twist past cacti, yuccas, and junipers while taking in views of the Galiuro Mountains.
Those looking to get the full Tucson gravel experience will want to check out Lael Wilcox's Redington-Lemon Loop. This 100+ mile half-pavement/half-gravel route climbs more than 11,000 feet as it travels through seven different ecological zones. The ultra-fit can complete the ride in a day, although most mortals will want to turn it into a two- or three-day bikepacking trip.
Miami, Florida
Snowbirds have been escaping harsh northern winters and flocking to Florida's warm weather for decades, so it only makes sense for cyclists to do the same. Miami is better known for its glitz, glamor, clubs and white sand beaches than for bicycling, however, just outside of the city are some fantastic mixed-surface rides along the outskirts of the Everglades, encompassing everything from gravel to grass to coral to levee roads. It also presents unique challenges like prevailing winds and water crossings.
Miami offers an excellent reprieve to riders looking for a break from the gray skies, frigid weather and icy roads with winter temperatures generally hovering in the mid-70s, dry weather and low humidity. That said, when it does rain the humidity tends to spike, but there is a strong chance it will feel good to riders escaping colder climates. Wildlife abounds around the Everglades and rides provide ample opportunity to spot deer, turtles and pythons, along with an enormous variety of birds. As a reminder of the unique ecosystem of the Everglades and gravel grinding in Florida, Kevin Abbate, race director of Gravel Miami, asks: "Where else in the world can you ride with alligators looming nearby?"
Visiting riders—especially those who've neglected their trainers or spin classes—will love the elevation profile of most rides. The Everglades is almost entirely flat and only a few feet above sea level, which means that rides generally don't have much climbing or descending. As three-time Gravel Worlds Champion Alison Tetrick says, "it is flat, fast, warm and beautiful. The pancake roads can build your confidence in your overall average speed, but nothing can beat the cuisine, culture and tropical gravel party."
For those feeling fit, Gravel Miami is held in February and presents an excellent excuse for a "bikecation" for all levels of riders with 25-, 55-, and 100-mile courses.
Santa Monica, California
Southern California is a tried-and-true escape for cyclists searching for warm-weather pedaling. Typical SoCal tourists are attracted to places like Hollywood and Beverly Hills, but bikers are beckoned to Santa Monica, thanks to the superb riding it offers to riders of all disciplines—including some of the most robust and accessible gravel riding in the Los Angeles area. In the words of Alexey Vermeulen, Santa Monica has "great riding, great weather and lots of great food."
The Santa Monica Mountains are home to miles of singletrack and fire roads with numerous trailheads connecting them. Most rides require a bit of asphalt and residential riding to link tracks of dirt and feature a healthy amount of climbing and descending. Riders can expect high-quality gravel along with epic views of the surrounding mountains, Los Angeles and the Pacific Ocean. Riders should also plan on crowds; while the dirt roads get you above the city and sprawl, they don't totally avoid the other trail users—it's southern California, after all, and gravel bikers aren't the only people attracted to the mountains.
There are several established loops throughout the Santa Monica Mountains, though many of the routes incorporate the same popular trails—these include the Dirt Mulholland, Canyonback, Sullivan Ridge and Westridge. Don't miss the old Nike missile site, it's just a short diversion from both Dirt Mulholland and Westridge Trail, and is a hallmark of the area's gravel rides. Adventurous riders and strong bike handlers will want to check out the Backbone Trail—a 67-mile route that traverses the length of the Santa Monica Mountains. The trail is mostly open to cyclists—bikes aren't permitted in the state park wilderness area in Pt. Mugu State Park—and sections of the trail are often incorporated by those looking for more technical riding.
Helen's Cycles hosts a group ride on the first Saturday of every month and if you can't make it, they have a number of suggested rides on their website.
Sonoma, California
Reliable sun and pleasant temperatures are hallmarks of gravel getaways, but as veteran gravel racer Alison Tetrick says, "gravel will always be a year-round adventure."
For Tetrick, her home in Sonoma County, California, is a top cycling destination, no matter the month. Winter in northern California isn't balmy and warm, however, "the adventure runneth over the gravel cup of the goodness of views, singletrack and pristine roads"—and despite the mud, there are endless opportunities "for exploration along the ragged coasts and vineyards."
Peter Stetina, another Sonoma County resident, cautions cyclists visiting the area in winter not to expect fun in the sun, but they can bank on exceptional road, mountain and gravel biking. The list of pros who have called the area home is impressive and highlights the diversity of the region's riding—along with Stetina and Tetrick, gravel rider Ted King used to split his time between Sonoma and Vermont (so did his wife, former triathlete and pro cyclist Laura King), retired road rider Levi Leipheimer calls the area home and two-time Leadville 100 winner Larissa Connors was born in the region.
Sonoma is also home to the Grasshopper Adventure Series—the OG gravel series—which is celebrating 25 years running this season. The rides are described as "fun, often very long and hard, magical mystery tours through the diverse, challenging and eclectic hills of Sonoma County and beyond." Notably, the series runs events through January, February and March. It also posts its routes online, offering good inspiration for visiting riders:
The rest of the world may know it as "Wine Country," but many cyclists refer to Sonoma as "Ride Country." While visitors might not get treated to great weather, there's no shortage of world-class wineries to visit and bottles to taste.
Other gravel destinations
These are just a few places for you and your gravel bike to escape to this winter and true adventure is often found on your own—so pick a warm-weather destination, pack your bike and head out in search of dirt roads. If you find a little slice of winter gravel heaven, let us know!
Thank you for reading 20 articles this month* Join now for unlimited access
Enjoy your first month for just £1 / $1 / €1
*Read 5 free articles per month without a subscription
Join now for unlimited access
Try first month for just £1 / $1 / €1