Should you always ride with data?
We ruminate on riding against the machine: should we use data all the time?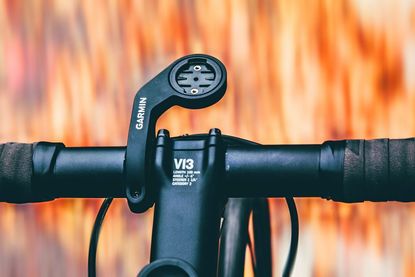 Cycling is one of the most data-driven sports in the world. Watching Chris Froome, eyes glued to his power meter readout relentlessly tapping out an effort he can sustain, slowly clawing back his rivals, is enough to show how important numbers can be.
Away from the high octane world of motorsport, data gathering technology and analysis is the preserve of the professional athlete.
Cycling, however, is unique in that the average rider can access the same data gathering devices, from power meters to GPS cycle computers as the likes of Froome and the rest of the pros.
As the increase in demand results in power meters costing less than a new pair of shoes, more and more riders are finding themselves immersed in data recording and analysis than ever before.
Turn up to a Sunday club run and at least half of the riders will have some form of power meter or GPS device attached to their bike.
The start of a ride is accompanied by the various beeps of devices recording each owner's every move and effort.
And once the ride is completed, the first thing most will do is share that data with apps such as Strava. But has this obsession gone too far, do we really need all this data?
Smart training
In the right hands, used and interpreted correctly, cycling data is one of the most powerful tools in a rider's arsenal. For competitive cyclists, data analysis can take the guesswork out of many traditional training techniques and help riders to train smarter.
Software such as Training Peaks allows coaches to analyse the information given and provide training plans tailored to the individual's goals.
Team Sky are certainly a master of data — it's no surprise that they employ a team of data analysts to help in the pursuit of victory.
And let's not forget the fun aspect of competing with your peers when going for local Strava KoMs. However, there is a well-known phrase, 'paralysis by analysis' and nowhere else does it ring truer than in cycling.
Even though we can observe, measure and record an almost infinite number of variations on power, speed and cadence; do many cyclists actually use all these variables, all the time?
With a Garmin 1030 or SRM PC8 showing over eight data fields on one screen, is it now far too easy to get confused and stare blankly at the numbers?
Strava, for all its upsides, seems to be the bane of the social ride. When all you are thinking about is beating your mates to the top of the leaderboard, is there ever a time to just enjoy riding?
How many times has the phrase: 'If it's not on Strava it didn't happen' meant that a ride without recording data felt wasted?
The Velominati, with their tongue-in-cheek rules for cycling have this, final word, to say about data, "Forego the data and ride on feel; little compares to the pleasure of riding as hard as your mind will allow. Learn to read your body and learn to push yourself to your limit."
Our take
Cycle computers and power meters are go-to tools for those looking to improve on the bike. And while data plays an important role in the life of the cyclist, we shouldn't forget why we choose to ride in the first place.
Switching the computer off once in a while is certainly recommended to help you reconnect with the sheer pleasure and sense of freedom that riding a bike can bring.
When you do use data, do it right
Expert views
Paul Pickup, head coach at Pickup Sports Coaching
"There is a massive need for quantifiable, instant results from what we are doing, and with a power meter and a Garmin or equivalent device, you can have that.
"You can see straight away how hard a ride was, what impact it will have had on that rider and how best to carry that forward and progress their training."
Jen Abercrombie, creator of 'No Garmin, No Rules'
"The little screen on your stem shouldn't dictate your ride. People should enjoy riding bikes without always thinking of mileage or power; maybe even get a little lost.
"'No Garmin, No Rules' is a movement, a revolution, a four-word manifesto; to counter this data-focused riding culture and to remind you that bikes are fun."
Thank you for reading 20 articles this month* Join now for unlimited access
Enjoy your first month for just £1 / $1 / €1
*Read 5 free articles per month without a subscription
Join now for unlimited access
Try first month for just £1 / $1 / €1