Cycling training plan for spring fitness
Coach Oli Roberts talks us through his inspiration and training plans for spring fitness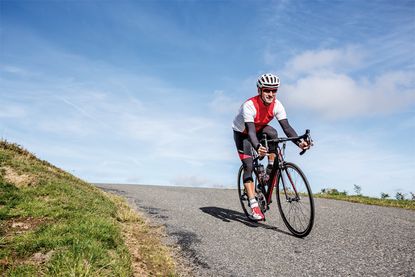 How to use this training plan
Credit: Cycling Active
Get into cycling, get fitter, or ride faster with our cycling training plans
What's involved
Throughout this cycling training plan your training sessions remain similar. This gives you lots of time to get used to what each session demands, and you'll be able to explore the boundaries of what you can do as your fitness improves.
>>> Five invaluable tips to help you step up from riding 60 to 100 miles
This approach is based around much longer cycles, increasing the training duration over five or six weeks, leaving it level for up to eight weeks, then tapering over a racing block that ends with a key event.
This training plan starts by building up through Block One and Block Two, then levelling off and starting to taper in Block Three. In each block, there is a handful of sessions, which you'll repeat again and again, with minor changes to the number of efforts.
The first two blocks focus on maintaining performance as the number of reps increases. Use the same routes and keep close tabs on your speeds, distance covered per rep and (if possible) power output to establish your limits.
>>> How to resume your training after a break
In the final block, push carefully against these limits by aiming for a higher power output with each session.
Learn about training zones
This is the plan for you if…
You're a time triallist looking to take a jump in speed
You struggle when the pace goes up and the attacks begin
You want to improve your innate feel for different training efforts
Key sessions
Minute efforts
Based on the classic runner's 400m track session, these are a weekly staple. Keep a close eye on the speed you achieve and the distance you cover, and use that as your carrot for improving your performance as the weeks pass. Maintaining performance across the entire session is vital.
Short reps
Think of these as long surges rather than sprints. Instead of hitting hard and hanging on, wind your way up to the best pace you can over the 30 seconds, then let momentum carry you through the recovery on little more than coasting.
Four-minute intervals
Mile reps are another very traditional running track session, and this is an attempt to recreate them on the bike. In running, the goal would be to chip away at your time for the distance, but to make things more universal for different abilities, and more readily applicable to cycling, we've changed that to pushing for a slightly greater distance or power target instead.
Tempo rides
For elite runners, a tempo session is one that contains an extended effort at half-marathon race pace, which makes it rather harder than a standard sweetspot effort in Z3b. You'll only do one of these per fortnight.
Dress right for thr spring weather
Fitter plan: block 1 - building up the workload
Click here to download a high resolution PDF of the spring training fitter plan: block 1.
Fitter plan: block 2 - pushing the boundaries
Click here to download a high resolution PDF of the spring training fitter plan: block 2.
Fitter plan: block 3 - chasing faster times
Click here to download a high resolution PDF of the spring training fitter plan: block 3.
Your coach
Oliver Roberts is a level two coach, specialising in cycling and triathlon, who works with PBscience.com. Over the past 10 years, he's created training programmes for the Race for Life 5K running series, had three training manuals published and has coached athletes of all abilities, from novices to national champions, World Championship contenders and a National Ironman record holder.
Thank you for reading 20 articles this month* Join now for unlimited access
Enjoy your first month for just £1 / $1 / €1
*Read 5 free articles per month without a subscription
Join now for unlimited access
Try first month for just £1 / $1 / €1