Find your perfect pace to optimise cycling performance
Pacing is integral to optimal performance. But with so much data now available to cyclists, which are the figures you should focus on? George Winter finds out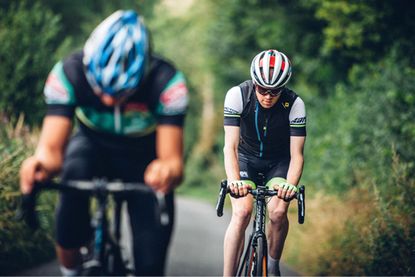 Whether in a race or a training ride, a pacing strategy is crucial. This means cycling at optimal intensity while balancing energy expenditure and speed. It takes mental skill, experience and training to get it right. Get it wrong and you end up either overcooking it and running out of energy, or not giving your best performance.
>>> The natural foods you need for top performance and recovery (video)
Getting your pacing right is tricky; it's not just about our physiological fitness and psychological capabilities, it is also influenced by factors such as knowledge of the distance and/or course, experience, feedback from the body and information provided by data tools.
Eye-tracking technology
The wealth of data available to every cyclist is beginning to feel overwhelming. On our handlebars at any moment we can have displayed our heart rate, power, average speed, current speed, distance, a GPS map for navigation, Strava live segments, air temperature, altitude, vertical altitude metres (VAM), calories burnt and cadence. You don't know where to look next, though hopefully you do still glance at the road frequently!
>>> Garmin Edge: complete buyer's guide
We know information and data is important in helping pacing, but with such a wide range of data available, which type matters most? This is where groundbreaking eye-tracking technology is providing some answers.
Eye-tracking technology measures eye activity: where we look, what we ignore, how often we blink, etc.. Non-intrusive eye-trackers for cyclists typically include a helmet-mounted infra-red light source directed at the eye, and a computer-linked camera that tracks reflected light from the eye and enables the direction of gaze to be determined.
In an as-yet-unpublished laboratory based study from Essex University, a team headed by research student Manhal Boya investigated 10 novice and seven experienced cyclists who completed 10-mile time trials wearing a head-mounted eye-tracker lens, while riding a Velotron (3D) RacerMate with a simulated road cycling course projected in front of them.
>>> How to pace a long time trial (video)
Boya told Cycling Weekly: "We found that experienced and novice time trial cyclists look at different types of information. Experienced cyclists tend to look at speed information for about a third of the time trial, whereas novices look at distance for about a quarter of the time. This probably reflects differences in the performance and completion motivations between experienced and novice cyclists.
"In a repeat trial, the novice cyclists became more selective in the type of information they looked at, whereas the [eyeline of] experienced cyclists did not change much."
>>> Top tips to sleep better and ride faster (video)
This invites the inference that experienced cyclists are more interested in the quality of their performance in the task, and their race outcome, while novices' interest is primarily on just getting to the end.
Dominic Micklewright, of the Sport, Performance and Fatigue Research Unit at the University of Essex, says that eye-tracking technology and other more sophisticated psychological techniques are now allowing the mechanisms involved in pacing to be investigated with much greater precision: "The work we are doing in trying to understand the cognitive processes that underpin pacing decisions and performance among cyclists is really important, yet it's at a very early stage.
>>> Can cycling help your sex life? (video)
"I expect that our studies in this area will help us to understand and explain pacing mechanisms in a level of detail that has never been achieved before.
"It is a very exciting project to work on and we all hope it will eventually translate to improved training and competition techniques for competitive cyclists."
Head-up display technology
Coming right up to date, to what extent might wearable technology such as the recently released Recon Jet head-up display glasses system, influence cyclists' approach to pacing?
Boya explains: "As our research progresses, I expect we will learn much more about what information cyclists look at and how they use that information to make key pacing decisions. Once we have a better understanding of this, then it may be possible to provide a rider with very specific information during a race via head-up display glasses.
>>> Recon Jet: smart-glasses have arrived (video)
"It should be noted that there may be safety issues, and it is not immediately obvious what the advantage of head-up glasses might be compared to a normal device mounted to the handlebars. In one sense, the glasses option is more of a disadvantage because they will require the rider to have a much greater change in focal length between horizon and glasses display, which could cause some issues."
Riders who have used the glasses dispute this, saying it enables them to maintain an aero head position, not having to look down.
>>> What to do (and what not to do) after every bike ride (video)
Boya's colleague, psychologist Dr Tom Foulsham, told CW: "Our initial findings seem to indicate that cyclists only need a very selective amount of information to pace themselves effectively, and that exposing them to lots of information has no advantages and may even be distracting, or confound decision-making.
"One thing to consider is that different types of information might be more useful at different stages of a race, and this is where glasses technology could become useful. First we must gain a much better understanding of what information athletes look at, individual preferences for certain types of information and then how that information is used."
Who are the early adopters?
With this type of kit retailing at a tyre's width short of £600, a recent unscientific telephone survey of around 20 bike shops across the country showed that there is currently little widespread demand for the new technology.
On the other hand, Andy Watson, store manager at Velotive Newquay, said: "Interest in the product within store has been varied, and in no way limited to any particular type of cyclist. For many, it is a curiosity; others see the benefit of having the information right there at a glance — How fast? How far? What power? It's all there. I believe it is a product that will attract the affluent, tech-savvy rider — more a keen sportive type rider, perhaps, than an elite racer.
"Garmin has quite a hold on the cycle computer market, yet the type of product that the Recon Jet introduces does represent the future. It all starts here!"
>>> Can amateur cyclists benefit from blood analysis?
So could sportive riders soon favour this technology? Cycle coach Tim Kennaugh is clear: "Cycling has moved forward technologically in the last five years, with improvements in equipment and the tools we have available to assist us with training/racing. The more information you have, and the easier that information is to receive, can only be a positive for elite riders and sportive riders alike, especially when it comes to pace judgment."
As research into pacing and its associated technologies continues to progress, ever more knowledge will accumulate. The sports scientists and pro teams will examine and apply this knowledge to wring out every second of advantage.
Of course, it's worth remembering that, irrespective of scientific development and technological trends, there is one core factor around which all aspects of cycling, including pacing, revolve: enjoyment.
How to pace a long time trial
What the experts say
Tim Kennaugh
Former GB Olympic Academy rider, current assistant sports director to the JLT-Condor Cycling Team, and owner and head coach of Tim Kennaugh Coaching, Kennaugh coaches cyclists of all abilities from pro level to sportive riders.
"When pacing a time trial, focus on the watts you're producing, aiming to keep the effort as smooth as possible," he says. "Distance and speed are variable, with factors like wind and terrain playing a major part.
"When pacing a sportive, if you've been training for your event, you should have a good idea of what you're capable of. My advice is to break the event down into sections; don't go too deep too soon, think about the wind direction and use other riders to slipstream as much as possible, especially on the flat, where you will get dragged along at a faster pace while still saving energy.
"To help with pacing, I would have the following information on my bike screen computer: watts to see the work you're doing; heart rate to see the body's response to the work you're doing; distance covered; and time."
Michael Hutchinson
Expert time triallist and former national champion Michael Hutchinson uses little data in racing but lots in training.
"[In racing] I used to tape over my power and heart rate; I don't bother now, as I have trained myself to ignore them," he says. "I'm pacing it just on feel, as I think that is more accurate than a power meter. On some occasions, such as on a very steep hill, I might use power. I will set a target I don't want to exceed, but that is not really pacing, more an alarm bell. The more experienced a rider is, the better feel they will have of how the race is going. They are more aware of the physiological spectrum of what they can and can't do.
"In training, I want every number going; I keep an eye on heart rate, power, how far, how fast, average speed — it adds interest and motivation. I'll often flick through the screens on my Garmin, and some screens have as many as five different data fields. I particularly look at heart rate and power and their relationship to each other. On a macro level, this lets me know how my fitness is progressing; on a micro level, it lets me know how that day's ride is going, if I'm tired or going well."
What the research says
Pacing and experience
Experience plays a huge part in our ability to pace a ride. Once you have ridden 10 miles, or even 100 miles, you know how your body felt during that ride, and this influences your strategy on your next attempt. If you have never completed the distance, then knowing the figures may not make much difference, as shown by a recent study at the universities of Exeter and Kent.
>>> How to ride with a power meter
A group of 22 healthy untrained cyclists (average age 20) were randomly assigned to either an experimental group or a control group, and they performed two successive 4km time trials, separated by a 17-minute recovery. The control group was given distance knowledge and distance feedback, whereas the experience group was told nothing except that each time trial would be the same distance.
The researchers expected that the experimental group of cyclists would have slower times than the control group, as the former didn't have the prior knowledge of the distance or feedback during the test. But the results, published in the British Journal of Sports Medicine (2012, 46: 4953), showed no significant differences between the two groups' performances.
>>> Five foods you should NEVER eat before a ride (video)
Previous studies had investigated trained cyclists, whereas this was the first study to investigate untrained riders. It seems that distance knowledge, distance feedback and experience are of little or no relevance to untrained cyclists, who appear to adopt a conservative approach to pacing, relying more on how they feel than on what the information is telling them — a good reason for practising your race distance frequently.
Pacing and risk-taking
Are you a risk-taker in everyday life? The pacing strategy you adopt when cycling will be determined by the answer, according to a study carried out by a team led by Dr Dominic Micklewright. He told Cycling Weekly: "Our research shows that individual traits — in this case, risk-taking — are associated with different approaches to pacing an event. In particular, individuals with a lower perception of risk tend to adopt a faster starting strategy."
>>> Watch – Training zones: what are they and why do they matter?
Micklewright's study, entitled 'Risk perception influences athletic pacing strategy', published in the journal Medicine and Science in Sports and Exercise, consisted of two experiments involving 20 novice cyclists and 32 experienced, ultra-marathon runners. Special psychological tests determined their attitude towards risk before the experiments began.
In experiment one, novice cyclists predicted their pace before undertaking a 5km maximum-effort time trial; in experiment two, ultra-marathon runners predicted their split times before a 100km race. The study found that, for cyclists and runners alike, irrespective of experience, those with a greater perception of risk adopted conservative pacing strategies. The researchers also found that those with a greater perception of risk "have a greater tendency to appraise, express, regulate and use emotions".
Pacing and emotion
Emotion plays a role in the pacing strategies a rider employs. A study conducted by Dr Bertrand Baron, published in the British Journal of Sports Medicine, explained that unconscious/physiological and conscious/emotional control mechanisms combine to ensure that exercise stops before the body sustains catastrophic damage.
For example, when a cyclist chooses to go 'eyeballs-out' all the way in a training run or race, aiming to maintain a certain power output, they experience a progressive and increasingly unpleasant sensation of effort as the finishing line approaches. The researchers said this means "the mental acceptance of the effort needed to be sustained for the duration of the exercise that remains must also be managed, and could be of great importance in the development of successful pacing strategies".
>>> How to perfect your event day routine for a race or sportive
The researchers said that previously memorised emotions may influence our mental state either positively or negatively. This is to suggest that training programmes must be both physiologically efficient and psychologically acceptable, but that training should be seen as a "mental education". This allows athletes to "approach as closely as possible their maximal performance allowed by their own physiological and emotional processes that control the fatigue mechanisms".
In other words, you need to regard training as not just a physical process but also a way of familiarising yourself with how it feels to work hard, close to your limits — thereby making it easier to tolerate the same level of exertion next time. In this sense, knowing what you're able to tolerate becomes part of what makes it tolerable.
Thank you for reading 20 articles this month* Join now for unlimited access
Enjoy your first month for just £1 / $1 / €1
*Read 5 free articles per month without a subscription
Join now for unlimited access
Try first month for just £1 / $1 / €1