How do YOU keep your winter fitness levels up? 17 reader tips
Cycling Weekly readers give their tips on how to stay motivated to ride through the colder months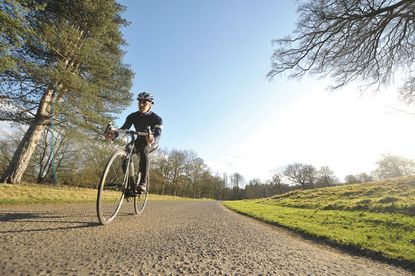 Winter is rapidly approaching in the northern hemisphere, and as the temperature drops so does the motivation to get out and ride your bike.
It can be hard to persuade yourself to leave a cosy, warm home and don multiple layers of clothing to brave the harsh winter conditions outside.
How you do motivate yourself to continue riding through the colder months? We asked Cycling Weekly readers how they keep their fitness levels up through the winter - or whether they simply stopped riding and just ate lots of cake instead.
Do you have some great advice on how to keep cycling fitness levels up over the winter months? Please share it in the comments section below.
>>> Winter cycling survival guide: 10 tips to keep you riding
I cycle 15 miles to work and back five days a week, in the winter I keep on it as long as it is still safe to do so. There is a greater feeling of achievement when you complete a week of riding in harsh winter weather, makes me feel like a proper Flandrian.
Roy Padojino
Sell your car and force yourself to keep on cycling.
Jason O'Brien
Have none of you guys ever heard of cyclo-cross? Man up, embrace the cold and find your nearest race! It's cheap, friendly, fun and will make you a much fitter, stronger cyclist and with better handling skills so stop complaining about the weather and go get muddy!
Pete Acorn
This will be my first winter as a cyclist. I plan to ride on road when the roads are clear down to freezing temps (pray for me) and on the trainer at home the rest of the time.
Deb Baker
>>> Detraining: The truth about losing fitness
Get muddy on the mountain bike or trail running. No brambles or nettles and less people and their crazy dogs on the single tracks. Otherwise, "sun's out – bike's out" for my road bike.
Denver Anderson
MTBing works too, less cars (off road), you don't need cleats and more chilling, even if the real dudes are too cool for some road cyclists to feel comfortable with. Just leave those skin tight bib shorts under wraps!
David Moran
Keep riding unless roads too dangerous with ice, no such thing as bad weather, just wrong clothes and poor attitude. If it is too dangerous TT bike on turbo trainer in summerhouse with some tunes on iPod.
Neil Smith
Usually stop riding and eat the same amount as though I were still riding. Put on a couple of stone. Battle to lose it when weather gets better. This year in hoping to get a turbo for Christmas and will use that instead.
Cearon O'Flynn
We used to fit the saddlebag, put in heavy tools, mudguards, Dynamo and wear more clothes out at night. No such thing as static indoor trainers, other than rollers, in 1960. Continued to cycle to school, work and shops as usual, of course, plus Sunday club run of 80 miles.
David Chadderton
Someone was kind enough to build a massive velodrome in Derby about a mile from where I work so I can use it whatever the weather. I had to buy a track bike obviously!
James Franco
Keep riding regardless. Hybrid + mudguards = winter bike.
Richard Clinker
Spinning class at the gym.
Michele Simpson
Watch: Buyer's guide to cycling winter clothing
Road biking as much as the weather allows but then hit the mountain bike trails when it's too wet or icy on the roads! Plus at least two turbo sessions a week.
Simon Wells
Keep hitting the road on the dry days, TT bike on turbo in the conservatory for base fitness and filthy dirty days or darkness hours triathlon/brick training, running in all weathers and swimming. Plus warm weather holidays at the end of autumn and the start of spring to kickstart everything again...
Carl Jennings
"Stop riding and eat lots of cake?" Mmmmm. Have to give that a try.
Juli James
Keep the commuting. But swap to the fixed gear with mudguards. Then when the weather gets better, the fitness is already there.
Scott Church
Move to Florida and ride all year round!
Ross Dubin
Thank you for reading 20 articles this month* Join now for unlimited access
Enjoy your first month for just £1 / $1 / €1
*Read 5 free articles per month without a subscription
Join now for unlimited access
Try first month for just £1 / $1 / €1