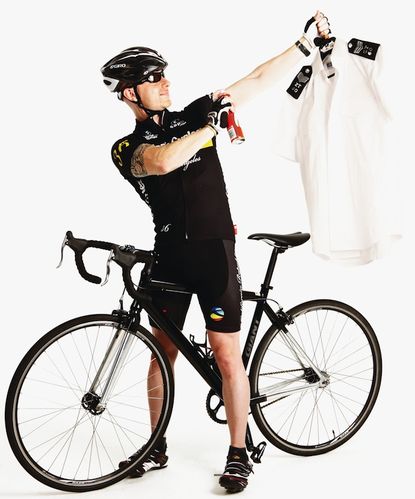 18th November 2010 Words: Rebecca Charlton
Sitting in a pool of sweat at your desk is enough to put many people off cycling to work but it doesn't have to be like that. Follow the example of our three real-life commuting experts and you'll be happy riding, too.
Cycling to work has numerous benefits when it comes to health, money and time. But what about the aspects that put people off the daily jaunt on two wheels? One of the most common reasons people cite for avoiding getting a sweat on is their appearance when it comes to the workplace, and this is even more common among female cyclists.
According to the Women's Sport and Fitness Foundation, "over 80 per cent of females are not active enough to stay healthy," attributing this to several factors including the idea that being active isn't perceived as "attractive" and that "a lot of facilities miss the mark for women".
Granted, turning up for an early boardroom meeting with rapidly growing sweat patches and a soggy hairline is less than desirable, but despite the bad press this is all very avoidable with a little bit of a savvy approach. What's more, facilities are improving and companies are increasingly listening to you when it comes to your commuting needs.
We spoke to three commuters with a strict dress code at work and asked for their best tips on how to go from road to meeting room.
Charlotte Easton
Self-confessed shoe-a-holic

Age: 30 Occupation: Classics teacher Daily commute: 9 miles each way
"I stick with smart. I fold things very carefully when putting them into my bag and pray I don't look too dreadful. Two layers of plastic bags around my clothes ensure that I don't arrive with wet things if I've been caught in a downpour. The initial process took a bit of thought and then I was up and away. I even have a selection of hangers at work so that I can dry out damp clothes in the cloakroom if need be."
As a teacher, Charlotte has to factor comfort into her outfit, as she's likely to be on her feet all day, but still needs to retain a professional appearance. She's been commuting by bike for around six years and admits to a bit of a love for shoes which extends to the staffroom, where she keeps an array of options so that she never has to carry them on the bike. She says good planning, careful folding and plastic bags for rainy days all help her to avoid any workplace wardrobe malfunctions.
How important is your appearance for work?
It's important both to set an example to students and to appear professional. I'll often default to smart suit trousers, skirts or dresses when I have parents' events and the like.
Does a dress code make cycling to work difficult?
I think I'm aware that I don't want to get things wrong. Over the years I've become pretty organised and have a stash of shoes/toiletries etc at school. I also keep a suit jacket there. Very occasionally I've forgotten key items of clothing and have had to beg or borrow until I could nip out to M&S at break time.
How much do you think a person's worries about work appearance actually put them off the idea of cycling to work?
I do have girlfriends who won't cycle because they perceive their appearance as being high maintenance and can't accommodate the change from Lycra to designer! I have colleagues who have got into cycling and once they've got over the fear of showering at work, have loved it.
Are your colleagues generally accepting of your extended wardrobe?
Yes, I think they have been. I'm not the only one who cycles and I'm certainly not the only one who keeps the odd pair of shoes there. Towards the end of term the shoe situation can get a little out of hand — I just hope they know me well enough to let me know if I'm being a pain.
Do you have any advice for clothing and footwear that is particularly good for fitting in a rucksack?
I've learnt recently that dresses are a very easy solution. They can be folded quite small and take little thought with regard to coordination.
Do you have any other top tips for looking good in that first class after a brisk ride in?
I tend to think that just being there before the children is a good start!
Have you made any faux pas?
I've definitely developed a technique for not faffing over what I'm going to wear. I do own an awful lot of black as I know that most things will go with it. One of my sixth formers pointedly complimented me when I was wearing something bright! I've once forgotten knickers and had to run out at break time.
My working week:
Monday-Friday: I cycle pretty much every day. I leave shoes in a locker and just carry clothes for the day plus moisturiser/hairbrush and a handful of cereal bars. I might also pack a pair of running shorts and a vest if I've got a parents' evening so that I can run between the end of school and the start of the evening session. I have a lovely woolly cardigan and a bright scarf which never leave the staffroom. I try and carry as little as possible and think about my clothes the night before.
CA SAYS: Keeping a handful of cereal bars with you is a great idea when you're commuting every day so that you don't get caught out. It's easy to think that a steady commute doesn't take too much out of you, but it's important to keep an eye on your nutrition so that you're eating when you need it most.
Nigel Martin
Not a crease in sight

Age: 35 Occupation: Police sergeant Daily commute: 7 miles each way
"My main organisation is done on the night before an early shift. I pack my rucksack and lay out all my cycling kit so that when the alarm goes off I know I have everything I need. In the middle of winter the first thing I do when I get up is put on my bike shorts so that I don't get tempted to drive to work. This has however in the past meant that I have been in full cycling kit before opening the curtains and seeing the six inches of snow that has fallen overnight!"
A smart appearance is key to Nigel's role as a police sergeant so dishevelled hair and a creased uniform is strictly off the agenda.
After 10 years, his daily commute has become something of an organised operation following some initial rookie mistakes that led him to realise wearing heavy duty boots with no socks and sitting at the desk in Lycra was less than ideal. He explains how starch spray has been the answer to his commuting prayers.
How important is your appearance for work?
Extremely important. A smart appearance is part of the compulsory professional standards we have to maintain. In particular, as a supervisor I am expected to lead by example, which means lots of ironing and polishing!
Does a dress code make cycling to work difficult?
If it wasn't for the shower and locker facilities, and indeed the ironing boards provided at my first station, it would have been next to impossible to cycle in and then look presentable. But with these facilities and secure storage provided for the bike, it's been easy.
How much do you think a person's worries about work appearance actually put them off the idea of cycling to work?
I think it must have a real effect on people particularly when it comes to showering and changing facilities at work. I can't imagine having to cycle to work in a suit and not appear a sweaty, crumpled mess at the other end. Not that I have to worry too much about straightening my hair and applying make-up but I have been told that this is not helped by bike helmets and warm weather combined with a fast ride to work. It may be a bit extreme for some people, but I find that shaving your head can really help with helmet hair!
What are your top tips for arranging your working wardrobe?
Luckily most of my uniform is kept in a locker at work so I only have to remember to bring a shirt and socks etc. Although at half four in the morning in the middle of winter even that can be hard work! I now have a drawer full of identical black socks so I can't make a mistake even if I'm in a rush. I have one spare shirt in my locker for emergencies and the others I take to and from work each day.
Do you have any advice for clothing and footwear that is particularly good for fitting in a rucksack?
I don't have a choice when it comes to work clothing, but spray starch has been a great help in getting the shirts to work in a presentable state. I have a lightweight Pearl Izumi waterproof jacket and thermal base layer that I've had for years. They are both really light and very small when folded up, and a lot more useful because of this than some of the heavier and more expensive kit I have bought. Arm warmers have been another great space saver and a handy addition for chilly mornings or evenings.
Have you learned as you've gone on?
It's definitely easier now than in the beginning. My bag is about half the size and weight than when I started riding to work. So far the only thing I have forgotten is socks, and those boots really aren't too comfortable without them! I have, however arrived at work and then remembered my locker key was at home on the kitchen table. It was only slightly embarrassing having to sit through the morning briefing in Lycra!
My working week:
Monday-Friday: Having discovered spray starch for shirts and rolling of dry-cleaned trousers instead of folding, I ride everyday and just take a shirt in and the same with the trousers when they have been at the dry cleaners. Shower gel, razor, towels, spare boots, spare trousers etc all stay at work.
CA SAYS: Having everything at work allows Nigel the flexibility to ride everyday but factoring in one day by public transport can be a good idea to act as a rest period and get yourself set up for the week ahead, especially if you're riding at the weekend.
Rachel Przybylski
City high-flyer with a low-maintenance routine
Age: 29 Occupation: Associate director market development Daily commute: 18 miles each way
"I have my shirts dry cleaned so they never need to come home. Plus I leave spare tops and underwear in the office in case I ever forget something. Flat shoes are easier to carry and stuffing socks into shoes works well. Using bags with side pockets and separate front sections help too, but you need to fold clothes well and protect them from make-up and shoes. Rucksacks with waterproof covers are essential — 'Hump' covers are a great buy!"
Rachel works in the hub of the City and looking immaculate in a suit is all part and parcel of keeping up with the pace of her daily life in London. She explains why it's common to see women avoiding cycling to the office and how dry-cleaning helps her organise her working wardrobe and lighten her backpack so she can ride in care-free. Rachel has been commuting for two years and in that time has mastered the routine. She tells us how she makes things as "low maintenance" as possible.
Does a dress code make cycling to work difficult?
It means I have to leave lots of clothes in the office as it's too far to ride in work clothes. My desk is packed with toiletries. Shoes in all the drawers and remembering underwear is an issue!
How much do you think a person's worries about work appearance put them off the idea of cycling to work?
I think it's the biggest reason women don't. I'm happy with low-maintenance hair, but that isn't the norm!
How much extra organisation does it take to get into a routine, commuting to the City?
Quite a lot at first, but it becomes second nature. It actually means that I am fully prepared for the next day and don't panic every morning.
Are your colleagues generally accepting of your extended wardrobe?
Some are, and others just laugh at the outfits. Top management are mixed about it. When I don't go drinking after work some can be judgmental and see me as not wanting to get along in the City, where relationship management is key. My philosophy is that healthy staff are happy staff and relationship management can be done in coffee shops.
Do you have any top tips for looking good in that 9am boardroom meeting after a brisk ride in?
A big upside is using the local gym to change in as they have hair dryers and straighteners in the City!
Have you've learned as you've gone on?
Forgetting bra and knickers is the worst of all... also no make-up is fairly bad as I use foundation to hide the red face.
What would you say to people thinking of taking the plunge and starting to commute?
I'd say give it a go. It wakes you up and as long as you eat pre-commute and at the office it makes for a great start to the day. You can plan your day, get that alone time and avoid train germs.
My working week:
Monday: Ride in, check wardrobe for clothes options for next five days. Leave bike in office overnight.
Tuesday: Go to the gym on way home, or race in the summer then ride home or commute to train station catching a late train if the session was tough.
Wednesday: Ride in, make sure the dry-cleaning is dropped off/picked up. Leave work to catch an early train with bike and go racing or just ride home (I try to coordinate working late with the days I ride home because the commute is much nicer after 7pm.)
Thursday: Same as day before.
Friday: Day off commuting usually, as I generally have races planned for the weekend. I'll switch these options depending on the racing calendar and the weather.
CA SAYS: Rachel's dry-cleaning routine means that she's smart enough for the office without giving herself a backache with an overloaded bag. She rides a fairly significant distance which equates to a 36-mile round trip if she takes on both legs of the journey by bike. It's good to see that Rachel's approach is realistic and logistically organised so that she doesn't end up overdoing it and getting tired.
This article first appeared in the September issue of Cycling Active magazine
Thank you for reading 10 articles this month* Join now for unlimited access
Enjoy your first month for just £1 / $1 / €1
*Read 5 free articles per month without a subscription
Join now for unlimited access
Try first month for just £1 / $1 / €1