How to prevent back pain (video)
Back pain can be a common complaint for cyclists, but there some simple steps to prevent it from happening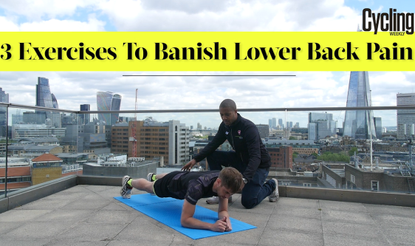 As soon as you perch on the saddle, clip into your pedals and reach forwards for your handlebars, your back is put into a somewhat unnatural position.
As your spine flexes forward, the weight of your body becomes unevenly distributed across the back and with each pedal turn, muscles will continually contract and relax, which can cause a lot of stress.
>>> Lower back pain? Don't blame the bike!
If your body isn't conditioned, it won't take long before pain creeps in as your body struggles to compensate and adapt to the stresses that are being placed on it.
Back pain isn't fun, least of all when you are cycling. In fact, it's down right miserable and while it has a tendency to attack virtually every cyclist, the good news is that it can be treated. And if you follow our exercises, it can even be prevented.
Remember, you can ride a bike comfortably and most importantly pain free. Here are three exercises every cyclists needs to know in order to banish back pain forever.
Thank you for reading 20 articles this month* Join now for unlimited access
Enjoy your first month for just £1 / $1 / €1
*Read 5 free articles per month without a subscription
Join now for unlimited access
Try first month for just £1 / $1 / €1