Taking on the Alpe du Zwift: How does it really compare to Alpe d'Huez?
Simon Warren takes on Zwift's new Alpe and see how it stacks up against the real thing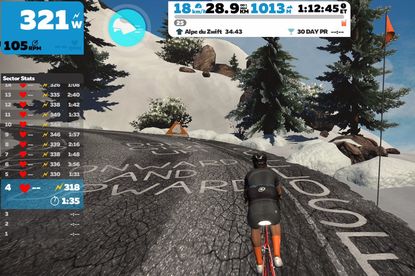 Until now I'd never used Zwift, my turbo was made in the early 90s and I'm not sure it's compatible.
Yes, it is true I have been heard to scoff at those on it, especially when it's a nice day out but my main reason for non-participation was the set up cost so I just did without.
>>> Alpe du Zwift lets you climb you-know-where on your turbo
However, when I saw they'd built a virtual Alpe d'Huez I knew I had to get myself there and give it a try and within seconds of me Tweeting my interest, Matt Payne from Full Speed Events invited me to try on his set up.
Every year from 2005 I've ridden up Alpe d'Huez at least once and since the advent of Strava, my times have been logged so I can compare my efforts across the years.
My attempt is usually performed mid-drive between England and a holiday in Italy and involves me jumping out the car, dumping the family at the Casino supermarket, doing a 30 minute warm up and then attacking the mountain.
Over the past few years my times have been freakishly similar as you can see in the picture, this is just my limit, this is as fast as I can go. I did do a good PB last summer, but for the first time I left the family at home and took my old super-light hill climb wheels instead.
As I'd never used Zwift before I first went round to Matt's for an acclimatisation, and yes, it was amazing. No I will not be on it all the time, and no it won't replace riding outside, but compared to sitting on the turbo staring at a pool of sweat on the floor and a stopwatch it is a quantum leap and I loved it.
It's nuances did need a bit of getting used to, and thanks to Matt having put in the hard kilometres I pretty much had my pick of available kit, so once I was happy we set my attempt for a week later.
I was weighed, we calibrated, I warmed up for about 35 minutes and then I hit it and in a nutshell, it's pretty much bang on. I knew what I wanted and expected it to feel like and it delivered - oh it delivered.
From the off you will notice on Zwift, or at least I do, that I find I am riding two to three sprockets higher at the back than I would be in real life.
Having had a trial run on the system the week previous I was ready for this so hit the base of the climb in the 39x23 instead of the 39x27. If it was to ride true then I knew that if I was comfortable in that gear on the first ramp then I would not need anything lower higher up.
Just like the real thing the first kick up to bend 21 is a killer and you have to hold back even though your excitement tells you to attack it. The key is to find a rhythm, a place somewhere between comfort and discomfort then take two per cent off that.
I've never ridden with power before or a heart rate monitor, I've always just relied on feel so it was fascinating to see the array of stats in front of me and to have Matt calling out my average power splits between each of the famous 21 corners.
How the program reacted to the bends was what I was really looking forward to seeing; would they offer that brief respite you get on the real thing, would there be 21 points of salvation that punctuate the pain?
Honestly I think they were spot on, especially the wide left hand turns where just like on the Alpe you get the chance to spin out before hitting the next solid ramp. I was disappointed with not being able to look out over Le Bourg-d'Oisans from turn two though, but I'll let that slip.
Upon reaching the bend where in real life La Garde would stand I anticipated a slight relaxing of the slope and it arrived, in fact all the tiny nuances were where I remembered them.
When the gradient did ease the temptation was to change up a sprocket which I did briefly but as soon as I felt I was going just a fraction too hard I changed back.
Sitting on a metronomic 110rpm, which is a fair bit faster than I would pedal in real life and turning out a consistent 330+ watt average I was still trying to keep a lid on it to save a bit for the end.
Through Dutch corner, which is subtly marked with a field of orange tents (which maybe during the Tour will hide a horde of drunken fans?), there's another lull and by now the pain was setting in.
When riding the real thing it's usually at bend four where I properly begin to suffer and start begging for it to end and this was no different. I was guessing I had paced it just right, my wattage had been about as consistent as it could be and now I just had to fight to get to the finish.
On the actual Alpe between bends four and three there's a long straight open stretch where your morale can dip significantly as you see so much road ahead, but on Zwift there's a tunnel, and much more varied scenery which are both very welcome distractions.
I'd been chasing a rider from Hong Kong almost all the way up, he had started about two minutes in front of me and was now in sight, I had to close a gap of 20 seconds but I was on my absolute limit.
I got to bend one and was on my knees but I could not give up and it was now that my target time came on screen. I think Matt, whose excellent encouragement was just about the only thing keeping me moving, had been hiding it from me so I didn't focus on it.
It said 44 minutes exactly, so naturally I wanted to do 'a 43'. I tried to sprint, but like on the real mountain from bend one to the village is purgatory, it's one of the steepest sections and on Zwift it's no different and I screamed once across the line.
The clock stopped at 44.01. I fought as hard as could but could not get the extra two seconds I needed, still I was happy with that time.
Of course the scenery is different, and you can't go for a lazy breakfast in Le Bourg-d'Oisans, or stock up on chocolate covered waffles in the Casino supermarket, but if you strip it back, and this is what I wanted to find out, the feel of the ride is pretty much exact.
Each corner reacted as I would have expected, each bend arrived with the regularity I remembered. Yes some familiar landmarks were missing, as were the two photographers who sit on bends five and three all day, every day, but that aside it was just excellent and I'll be back when my legs stop hurting to break 44 minutes.
In the spirit of transparency and fair sport, here are the details of the attempt. I was weighed right before the start and took no performance enhancing drugs, honest.
Equipment
Virtual Bike: Canyon Aeroad with Zipp 202 wheels
Actual Bike: Time carbon with Campagnolo Record and Zipp 202s
Turbo: Tacx Vortex Smart – Spin down calibrated to rider's bike using Tacx Utility program
Link: Ant+
Program: Zwift – Spin down calibrated to turbo after 15mins of riding using Zwift program
Virtual rider extras: Std Helmet (can't be too careful kids!), no mitts, long socks
Actual rider extras: No Helmet, no mitts, long socks
Settings
Programmed Rider Height: 181cm
Programmed Rider Weight: 73kg
Actual Rider Height: 181cm
Actual Rider Weight: 74.3kg including shorts, socks & base layer taken after breakfast & approx 1.5l of fluids
I was expertly aided, tutored and encouraged in my attempt by Matt Payne from Full Speed Events and if you want to enlist the help of Matt in an attempt on the Alpe, or use any his coaching services then get in touch.
With a life time in cycle sport including 20 years in retail and manufacturing, Matt is also an ex-racing cyclist on the road and track, riding National Hill Climb Championships from Ditchling Beacon to Luddenden Foot. He has for the last 15 years been a race announcer and commentator covering road, track, cyclocross and MTB.
He is also importantly a real Zwift addict which is put to good use at Full Speed Events who use Zwift as part of their bespoke coaching, guiding and consultancy work.
Thank you for reading 20 articles this month* Join now for unlimited access
Enjoy your first month for just £1 / $1 / €1
*Read 5 free articles per month without a subscription
Join now for unlimited access
Try first month for just £1 / $1 / €1