Training for power with Canyon//SRAM's Tiffany Cromwell
We asked the Canyon//SRAM rider for some training sessions that would help riders targeting peak power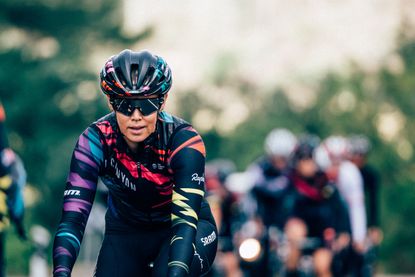 (Image credit: Russ Ellis)
Get The Leadout Newsletter
The latest race content, interviews, features, reviews and expert buying guides, direct to your inbox!
Thank you for signing up to The Pick. You will receive a verification email shortly.
There was a problem. Please refresh the page and try again.
It's easy to put yourself into a box as a cyclist: climber, tester, sprinter. Most of us base our assessment on how well we perform in certain situations.
Perhaps you're always cresting the hills first on the club runs, yet find you're trailing behind in the final meters of a race – so you assume you're a natural climber, not capable of a sprint.
But according to Canyon//SRAM rider Tiffany Cromwell, you might still be able to surprise yourself. Once considering herself a climber, the Australian rider has since shifted her focus to short intense efforts, and found untapped talents in the process.
Spinning up a gentle climb from team bike sponsor Canyon's HQ in Koblenz, Germany, the 28-year-old explains: "As a rider I've changed so much, I used to only be a climber, I couldn't sprint to save my life. I wasn't good on the flats. So then I spent a lot of energy focusing on sprinting, and now I've managed to become a much more powerful rider."
British Cycling qualified coach and founder of Buckley Performance Coaching Ken Buckley is keen to agree that whilst of course nature plays a part in where we'll excel the most, there's a lot to be said for nurture.
He explains: "Most riders think they know where their talents lie, but actually when you carry out performance testing, they can turn out to be wrong – often their assessment is based on how they perform against their peers, which isn't representative."
Describing her own racing style, now, Cromwell – who is targeting stages of the upcoming Women's Tour of Britain says: "I'm a bit of a rouleur - my favourite style of racing is one-day Classics - punchy, up and down all day. You need to have that power on 30 second to one-minute climbs."
We asked Cromwell to provide some insight into her own power focused training sessions. With all the hours in the day to train, of course Cromwell has more time and energy than most amateurs – so we asked Buckley to offer structured versions, which you can slot into your training plan.
Buckley knows a thing or two about going fast, as well – having lifted his own British land speed record to 76.59mph at the 2016 Human Powered Speed Challenge.
Training for... Power climbs
"During the Classics period, the climbs are all 30 seconds to two minutes, at high intensity," Cromwell says.
Coincidently, those Classics climbs are not dissimilar to many you'll find in the UK – which is precisely why Cromwell is targeting the Women's Tour of Britain later in the year.
To prepare for them, she prescribes one minute efforts with plenty of recovery - saying: "Often we'll go out for a three hour ride, and do four one minute max efforts [on short, sharp climbs] - with a maximum of 10 minutes recovery between, trying to hit peak power and sustain that right from the bottom."
Ken Buckley's session:
Warm up: 15 to 20 minutes at endurance pace
Main set: 4 x 1 minute maximum efforts with 10 minutes active recovery in between
Cool down: 10 minutes active recovery
Buckley tells us: "In order to get the most out of yourself in a high quality maximal effort the recovery periods must be long and very gentle."
Whilst Cromwell includes the efforts into a long ride, the average rider will need to get their quality intervals into a shorter time frame – Buckley comments: "Save your longer rides for the weekend and use them to improve your aerobic endurance as that requires much longer efforts to see improvements."
He added: "This is an effort level you shouldn't spend time training more than twice a week. Only the most gifted of athletes can cope with and recover from this type of intensity more than twice a week for extended periods of time.
"Us mere mortals are more likely to suffer insufficient recovery and a steady decline in power over time if we try to repeat this session every day. Not to mention running the risk of over training syndrome."
Training for... Fielding repeated attacks
Of course, in the chaos of the peloton, you don't always know when you're going to need to administer that high power.
"For learning to go above your threshold, and recover, over and over again... there's one really horrible session that my coach sets, which is 10 lots of one minute efforts well above threshold, with one minute recoveries - so you go up, down, up down, that's basically trying to go beyond your limit - repetition, repetition."
Ken Buckley's Session:
Warm up: 15 to 20 minutes at endurance pace. Towards the end of the warm up, include two 15-second efforts, with a couple of minute's active recovery between them
Main set: 10 x 1 minute Vo2 Max Efforts (Zone 5 - read more on training zones here), each with one-minute active recovery between
Cool down: 20 minute steady endurance, starting straight after the last effort
And why are you doing this? Buckley explains: "The purpose of this session is to improve your anaerobic capacity, which is the amount of work you can do above your threshold before exhaustion.
"The rest periods are short to ensure you don't fully recover from the effort. The idea is to force you into that uncomfortable place where you don't feel like you can pedal hard but you have to. It's as much a mental test as it is a physical one."
Doesn't sound easy – and it's not. Buckley offers further advice, saying: "My top tip is to build your way into this session, starting at the lower end of your zone 5 effort otherwise known as V02 max. By the last few efforts you should not be holding back at all and really trying to empty the tanks."
It's important to go straight into an easy, endurance pace after your efforts, including at least 15 minutes to ensure that you "flush out the toxins" that will have collected in your legs over the duration. And it's ok not to finish it, first time - Buckley observes: "It could take you a few attempts to complete all ten efforts. Give it time and revisit this session once a week over a period of 6 weeks before going back to the drawing board."
Training for: Race winning sprints
For race winning sprints, Cromwell has yet another trick up her sleeve: rolling accelerations.
"Being a good sprinter is just about practising sprinting – doing 10 second rolling accelerations, from a high speed, launch into a sprint, basically as hard as you can, and repeat that - five to 10 times, 10 second sprints, with 50 seconds recovery each time. Doing that has worked wonders, I'm now a much more explosive and powerful rider."
Ken Buckley's Session:
Warm up: 15 to 20 minute endurance pace
Main set: Find a long stretch of road with a gentle one - two per cent downhill gradient where you can easily maintain a high speed. Complete 10 x 10 second sprint, 50 second recovery.
Turn around, ride at endurance pace back to your starting position. Repeat the sprint efforts to exhaustion, until your sprint power starts to significantly drop off. Make a note of how many sprints you completed so that you have a target to aim for next time
Cool down: 15 to 20 minutes at a gentle endurance pace
Launching into your sprint from an already fast pace means that you're replicating a race situation, making it even more specific.
This session gives you plenty of opportunity to experiment with your sprinting style, and Buckley highlights the importance of this, saying: "Sprint technique is as important as sprint power. It's the fastest sprinter that wins the race not the most powerful so make sure you are applying all of your power through the bike.
"Most sprinters put their hands on the drops, move their weight forwards and come out of the saddle in order to deliver a maximum sprint. Experiment with what works for you."
Training for... Flat road power
Producing power on the flat is different to producing power on a climb. Cromwell says: "I think it's important as an athlete to train your weaknesses – and one area I struggle with is the flat. Power to weight I'm quite strong, but pure power, I don't have compared to the stronger girls."
When it comes to focusing on this area, again it's about practice - she says: "[Improving flat road power] is about learning to push big gears on the flat and doing persistently long, sub-threshold efforts - so a good session I do is three minutes at threshold, one minute above threshold, one minute recovery - repeat three times - so working on persistent power. So it means if there is a change of pace, and attacks, you can go hard and recover well."
Unsure how the power to weight equation works on a climb? We explain...
Ken Buckley's Session:
Warm up: 15 to 20 minute steady warm up at your all day endurance pace.
Main set: Complete a nine minute pyramid effort of three minutes just under threshold, three minutes slightly above, three minutes just below threshold. Recover for three minutes, and repeat twice more.
Cool down : Ride steady for a further 10 minutes after your last pyramid.
It's important, if you want to get better at producing power on flat roads, that you complete this session away from the hills. Buckley explains that the muscles and systems used are different – saying: "Putting out power on the flat sometimes feels more difficult than doing so on a climb as it utilises your muscles in a different manner."
Training for power: do you hit the gym?
The 'to gym, or not to gym' debate is an ongoing one – and our two experts take differing approaches.
Cromwell – famous for her favourite superman pose on the bike and impeccable core strength – is a fan – she says: "I do work in the gym, there is a lot of strength stuff you just cant do on the bike. So a bit of weight work, some plyometrics work, just to get that extra strength that you can apply on the bike."
However, Buckley points out that a pro cyclist has a lot more time to dedicate than your average amateur.
"If you don't feel stable or solid whilst sprinting then perhaps follow Tiffany's advice and look to the gym to improve your core strength, stability and muscular force," he says.
"However", he adds, "for most amateur athletes who are riding less than 15 hours a week, the biggest improvements in speed will come from spending time on the bike itself.
"Unless you have a significant problem with strength or an injury to overcome in the gym then make your sprint training as specific as possible – do it on the bike."
Thank you for reading 20 articles this month* Join now for unlimited access
Enjoy your first month for just £1 / $1 / €1
*Read 5 free articles per month without a subscription
Join now for unlimited access
Try first month for just £1 / $1 / €1
Get The Leadout Newsletter
The latest race content, interviews, features, reviews and expert buying guides, direct to your inbox!
Michelle Arthurs-Brennan is a traditional journalist by trade, having begun her career working for a local newspaper, where highlights included interviewing a very irate Freddie Star (and an even more irate theatre owner), as well as 'the one about the stolen chickens'.
Previous to joining the Cycling Weekly team, Michelle was Editor at Total Women's Cycling. She joined CW as an 'SEO Analyst', but couldn't keep her nose out of journalism and in the spreadsheets, eventually taking on the role of Tech Editor before her latest appointment as Digital Editor.
Michelle is a road racer who also enjoys track riding and the occasional time trial, though dabbles in off-road riding too (either on a mountain bike, or a 'gravel bike'). She is passionate about supporting grassroots women's racing and founded the women's road race team 1904rt.