1948 Olympian Tommy Godwin dies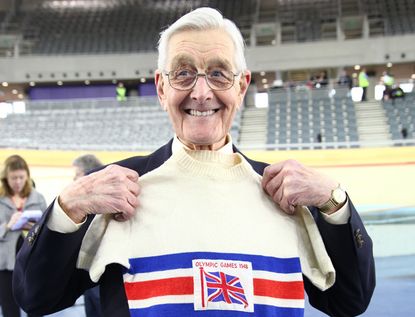 1948 Olympic medal winner Tommy Godwin has died, aged 91. Godwin won two bronze medals at the 1948 London Olympics and was in the velodrome this year to witness the success of the current Great Britain team.
He died on Saturday, November 3, at the Marie Curie Hospice in Solihull according to British Cycling.
Godwin was an amateur cyclist in 1948, working 49 hours a week in a factory and racing at weekends. At the games he stayed in a private house near the Herne Hill velodrome and his mother came to London to cook for him and his team mates.
When they started their team pursuit all they knew was what order they were to ride in, and little more. Godwin, along with Dave Ricketss, Alan Geldard and Wilf Waters eventually won the bronze medal with a time of four minutes and 55 seconds.
Godwin was involved with the promotion of the 2012 Games, acting as Birmingham's ambassador. He was at the track world cup in February and the Games themselves.
This year he was also awarded an honorary degree by Loughborough University and was inducted in to the Midlands Hall of Fame. He was a former British Cycling Federation President, coach and Solihul Cycling Club President.
Tommy Godwin, 1920 - 2012
Related links
The Tommy Godwin story
Thank you for reading 20 articles this month* Join now for unlimited access
Enjoy your first month for just £1 / $1 / €1
*Read 5 free articles per month without a subscription
Join now for unlimited access
Try first month for just £1 / $1 / €1