Andy Fenn aiming for spot in Classics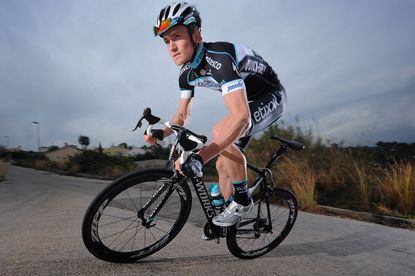 After being disappointed by his season last year, third year pro Andrew Fenn has set himself the serious target of trying to make the Omega Pharma-Quick Step team for some of the biggest races of their season.
"I'd like to try to get a spot in the Spring Classic type races," the Scot told CW. "I'm not going to say I'm going to ride them, because this team is a squad that is made for those races, but just to be around them, to push myself for a spot on the team, I think that's a pretty good goal."
The hard fact is that securing a place on the team for a race like Kuurne-Brussels-Kuurne would be an achievement in itself.
"Yeah, in this team that's true," Fenn said. "I'd love to ride those type of races and the sooner you ride them the better, especially for the experience of a race like Flanders, knowing all the climbs, knowing the roads.
"The Belgian guys who train there every day, they know when you need to be in the gutter, when it's smoother in the gutter, when it isn't, when you can use the bike path, when you can cut a corner [the UCI have brought in new rules to limit such freestyling this season] and stuff like that.
"That level of knowledge can take years to learn and you can learn it quicker from those guys, by riding and racing with them." Another advantage of getting stuck in sooner rather than later, said 23-year-old Fenn, is getting to understand the nuances of how his team mates race.
"Sometimes it's almost as though you need to know the other riders instinctively, almost subconsciously - and I don't think that it's something that you can learn at a training camp.
"I think you only learn about each other in a race. So when there are new guys in a team and the season kicks off, you'd better learn it quick, especially these days when it's important to get a good start.
"You know how it works - if a team starts a season well, it almost always continues. "If you start badly the pressure builds, you're playing catch up and that's never good," added Fenn, who's hoping he's going to be part of that process more often in 2014.
This article was first published in the January 9 issue of Cycling Weekly. Read Cycling Weekly magazine on the day of release where ever you are in the world International digital edition, UK digital edition. And if you like us, rate us!
Thank you for reading 20 articles this month* Join now for unlimited access
Enjoy your first month for just £1 / $1 / €1
*Read 5 free articles per month without a subscription
Join now for unlimited access
Try first month for just £1 / $1 / €1