Bad cycling boroughs named and shamed in parliamentary inquiry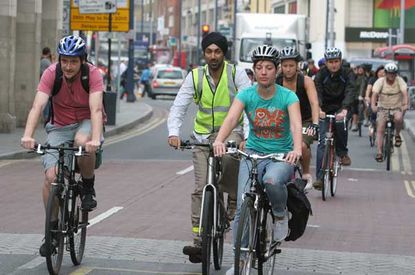 Ben Bradshaw MP called on a panel of witnesses to "name and shame" boroughs that fall behind in cycle provision in today's All Party Parliamentary Cycling Group evidence session.
In the penultimate of six Get Britain Cycling sessions, this one focussing on local authorities, the London Cycling Campaign's Tom Bogdanowicz did just that. He said London boroughs Barnet and Newham needed to do more to provide for cyclists, while the peer Lord Berkeley took aim at Westminster, the City of London and the Royal Parks.
Witnesses suggested councils nationwide should be given more powers to enforce careless driving, while the Public Health Minister Anna Soubry gave enthusiastic support for cycling.
Ralph Smyth, Senior Transport Campaigner and Barrister at Campaign to Protect Rural England, requested enforcement powers for local authorities.These had been agreed under part six of the Traffic Management Act 2004, but were never implemented.
He added more needs to be done about careless driving offences "that make cycling unpleasant on a day to day basis" such as car-dooring and drivers cutting up cyclists, and that repeat offenders should face driving licence points.
Among the UK's good news stories presented were Leicester, which has seen 1,000 more cyclists per year since 2005, and Manchester, where between 2001 and 2011 the city had a 25% increase in people cycling to work.
Dave Newton, Cabinet member for Transport in Manchester, said cycling is now embedded in planning in the city, and if you get the facilities right - like Manchester's bike hubs - it makes businesses attractive to potential employees.
However, it was agreed successes can be slow to materialise. Andy Salkeld from Leicester City Council said:"We have spent the last 50 years building a car-centric culture, and it doesn't change overnight because we have won some Olympic gold medals."
Lester Wilmington of Devon County Council said there is a suppressed demand for cycling and that political will and funding can overcome barriers to cycling.
Councillor Roger Simmonds, of the Local Government Association, added cycling champions are needed within local authorities.
Since Cycling England's closure, lamented by many panellists, councils have worked with CTC, Sustrans and British Cycling to deliver projects cheaply.
Caroline Pidgeon, leader of the Liberal Democrat London Assembly Group and chair of the London Assembly's Transport Committee, said we need ambitious targets, reallocation of road space and pioneering infrastructure as seen in New York.
She added 2% of London's transport budget should be spent on cycling to reflect the capital's 2% modal share, as opposed to the 1% spent on cycling at present.
The Minister for Public Health, Anna Soubry, said: "Putting in good cycling provision is clearly good for public health," adding she has launched a fund for cycling together with Norman Baker the transport minister, both of whom are "wildly enthusiastic" on cycling.
She conceded, however, that she would not put her own children on a bike.



Related linksWhat is 'Get Britain Cycling'?
Cycling experts present evidence to Parliament Ministry of justice agrees to look at bad driving laws The Times campaign: one year on How Britain has failed cycling Comment: Cycling takes centre stage at Westminster Ministry of justice agrees to look at bad driving laws
Thank you for reading 20 articles this month* Join now for unlimited access
Enjoy your first month for just £1 / $1 / €1
*Read 5 free articles per month without a subscription
Join now for unlimited access
Try first month for just £1 / $1 / €1