Baker's BBC Rickshaw Challenge going well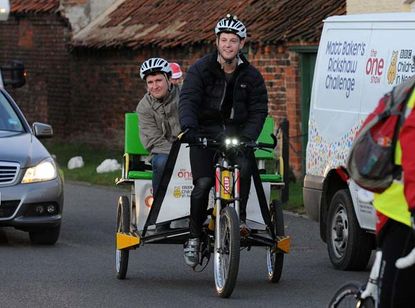 Cycling Weekly caught up with the BBC's Matt Baker at Susworth's Jenny Wren Inn between Scunthorpe and Gainsborough in Lincolnshire on Tuesday afternoon as he progressed on day five of his Rickshaw Challenge for BBC's Children in Need.
Matt Baker, the presenter from the BBC's The One Show, was riding from York to Lincoln on leg five of his 484-mile Rickshaw Challenge from Edinburgh to London which started last Friday November 11 from the Castle Esplanade in Scotland's capital.
Baker has already completed four hard hilly days with the legs from Edinburgh to Hawick (53.5miles), Hawick to Hexham (59.2miles), Hexham to Barnard Castle (49.0miles) and Barnard Castle to York (70.6miles). Sunday's epic routing saw Matt tackle the 20 per cent gradients out of Stanhope and then over the unrelenting Bollihope moors on his route to Barnard Castle. Those climbs alone took around three gruelling hours.
Tuesday's leg, the longest at 78 miles from York to Lincoln, offered some respite over some flatter roads as he pedalled the heavy rickshaw down the country with various passengers on board.
Stopping at the Jenny Wren Inn at Susworth for a planned filming and refreshment stop, it was a chance for local well-wishers to meet Matt and pass on words of encouragement. Already behind schedule, Matt was looking at finishing in Lincoln at around 10pm.
Wednesday's leg six, scheduled to start at 6am will take Matt from Lincoln to Peterborough (73.2miles). Thursday's leg seven will see Matt ride from Peterborough to Cambridge (41 miles) before finally taking on leg eight from Cambridge to London (59.3miles) on Friday 18th November.
Matt plans to finish at the BBC Television Centre and to arrive during The One Show's BBC Children in Need Live Special that goes out at 7pm on BBC1.
To donate to Matt's Rickshaw Challenge which has currently raised over £515,500 - text "MATT" to 70705. Texts cost £5 plus one standard rate message. £5 will go to BBC Children in Need. Click on this BBC web link for full terms and conditions.
Thank you for reading 20 articles this month* Join now for unlimited access
Enjoy your first month for just £1 / $1 / €1
*Read 5 free articles per month without a subscription
Join now for unlimited access
Try first month for just £1 / $1 / €1