Barclays hire bikes put to the test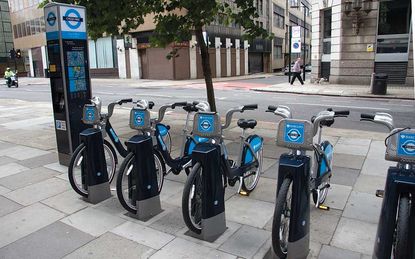 London's cycling revolution is well underway, with the cycle to work scheme, a growing 'fixie' scene, the Super Highways and the Barclays' Cycle Hire bikes.
This final piece of the jigsaw was without doubt the most ambitious. Several years ago one of Transport for London's (TfL) technical advisors told Cycling Weekly that the installation of the bike hire scheme, similar to the Velib one in Paris, was one of London's biggest civil engineering projects since the second word war.
The installation of 315 docking stations (to rise to over 400 when they are all in situ) was a complex process, requiring multiple planning applications and taking over parking bays and pavement space on various councils, and private, land.
But creating permanent parking spaces for 6,000 heavy duty, Barclay branded bikes was done with little disruption in any single location, and occasional visitors to London wouldn't have noticed the building work at all. Now the stations are in they're neither overwhelming, or offensive. In fact the bright blue branding on the titanium coloured bikes is quite a refreshing site, especially when they're all neatly lined up.
The question many are asking is whether or not the scheme will now work, and some are looking at Paris' often troubled, but very popular, Velib scheme for the answer. In fact London's hire bikes are modelled on Montreal's Bixxi scheme, and countless other European cities - San Sebastian, Bordeaux, Montpellier, Rotterdam - run similar successful projects just on a smaller scale.
There's no reason for it to not work as the benefits to users are multiple. For a small registration fee, a person who is happy to ride in all weather could have free transport around London for life. The key is to keep each journey down to less than 30 minutes. Do this and you wont be charged a penny.
In fact the system is set up so that if you arrive at a docking station in 29 minutes and find it full, a few taps on the station's control panel will give you an extra 15 minutes to get to the next one.When we went to Paris to check out the Velib scheme several years ago, one Parisian user told us he hadn't paid for a journey around the French capitol for over two years.
Recreate that in London and it's a saving not to be sniffed at.Of course you can't just dump 6,000 bikes in London and leave them to be ridden. They need permanent maintenance and the scheme needs managing.
This is where Barclays comes in. Their sponsorship funds a team of workers who drive round London checking bikes (there's a button on each docking station for a user to press to alert the roving mechanics of a technical problem) and moving the bikes around so the busier stations aren't permanently full and the quieter ones permanently empty.
Early problems
While the bike themselves are largely user friendly, getting your head around registration and the pricing structure is less so. Many people have been left baffled at the information posts wondering exactly what the scheme costs to use.
Yes, as advertised, journeys under 30 minutes are free. But first you've got to have registered for the scheme on line, purchased an electronic key (£3) and paid for the access to the scheme for a set time period.
This can be done on a daily (£1), weekly (£5) or annual (£45) basis. Signing up is as straightforward as any other online purchase and, after we tried it, the key was delivered to the card billing address (an alternative delivery address is not an option) the very next day. The user then has to activate the key by returning to the website or phoning a call centre. Once this considerable process has been completed, the user has access to the bikes for the length of the access period.
To use a single bike for a journey of less than thirty minutes there is no extra charge. Then costs kick in of £1 up to an hour, £6 for up to two hours and £35 for up to six hours. This pricing structure is designed to encourage users to re-dock a hired bike after each journey - not hold onto it all day. There is no limit to the number of journeys a user can make during an access period.
Three Cycling Weekly writers raced accross London to see what was quickest. Here's what happened.
With the Cycle Hire Scheme designed for short journey's across town, we set ourselves a challenge. Three people, one on a bike, one in taxis and one on public transport, would race across town to three different destinations. Starting at Waterloo Station each person had to find their way to the cycling café Look Mum No Hands for a bite to eat, then up to Condor Cycles to buy an inner tube, and finally down to The Iron Duke at Victoria station for a quick drink before heading home.

Rules: As they don't come with locks News Editor Hugh, the rider, would have to dock his bike at each destination - making the situation of docking points crucial, Deputy Editor Simon was not allowed to have a cab running on the meter at either spot, while Writer Lionel was free to use whatever mode of public transport he could find, and utilise a handy Travelcard. Who would win?
Taxis - Simon
Stage one: Waterloo station - Look Mum no Hands (Old st,)
A short hop over the river surely wasn't going to take very long so off I sauntered, determined not to rush. But wait, no cash! A quick scan the concourse revealed no cash machines. I head outside, there must be loads there. None! I start walking, quickly, east along Stamford street confident I'll find one soon, but I'm nearing the end of Stamford street before I find an HSBC.
Damn, that's cost me five minutes. But that's the drawback of cabs - you need cash. A cab soon pulls up and we're on our way with a stereotypical chatty London cabby. I explain what we're doing. "I reckon the bike will win. If he's got strong legs."
"Do you see many about?" I ask of the hire bikes.
"Nah, not many," he replies. Nice to know he's keeping an eye out for them.
"Do you think they'll take business away from you?" I ask, deliberately trying to provoke a response.
"Nah, if people want to get off a train and jump on a bike then good luck to them, I say. It's all good exercise," he says.
Before I know it we're cutting through Smithfield Market before being held up from pulling in to the kerb by a fixie rider in skinny jeans. I pay up and triumphantly walk in to Look Mum No Hands. A minute later in walks Hugh, his brow dripping in sweat. Lionel's nowhere to be seen.
Time - 18mins
Cost - £8
Stage two: Look Mum No hands - Condor Cycles (Grays Inn road)
All three of us quietly fancied their chances on the short hop up to London's most famous bike shop, only my confidence slipped away as I waited two minutes for a cab to come up Old Street. As we headed off, Hugh on the bike quickly came in to view - he was pushing the pace and jumping past other two wheeled commuters.
As we glided past him I leant out the window and gave him some abuse. My confidence grew with the slight incline of the road and the fact that I couldn't see any buses going this way. Hugh took a short cut off to our right, but we were soon swinging round the corner of Grays Inn road and outside Condors.
I'd paid and walked up to the front door as Hugh came bombing round the corner. Lionel was yet further back. Another win for the cab. Yes!
Time - 7mins
Cost - £5
Stage three: Condor Cycles - The Iron Duke (at Victoria station)
This was the longest leg of the three and didn't start well for me as the first taxi missed me and all others were full. Once I had hailed one and got on my way we were soon in traffic. Shafstebury avenue was near gridlock and no matter what diversions our cab driver took we couldn't avoid the jams.
We ducked down the side of Piccadilly and turned right on to the Mall that was free of jams, but it was too late. A text pinged through from Hugh - 'Where are you?' I was five minutes away and he was already there sipping on a nice refreshing drink. More traffic held us up as we went to the south of Buckingham Palace.
Even getting dropped off further away from the station on Victoria Street to avoid all the road works didn't help much. We'd been soundly beaten by Hugh on the bike and Lionel on public transport. Time - 28mins
Cost - £12
Total time - 51mins
Total cost £25
Public Transport - Lionel
Stage one: Waterloo station - Look Mum no Hands (Old st,)
I was so confident the tube would win so as Simon and Hugh ran off, I strolled across the Waterloo concourse and pondered whether or not to buy a snack to eat on the way. I decided to play safe, figuring I'd have time for a decent lunch at Look Mum No Hands while waiting for the other two.
I left Waterloo at 12.30 and even had time to help a lady with her heavy suitcase. But my smugness evaporated when it dawned on me although Waterloo and Old Street, my destination, were on the Northern Line, they were actually on different branches of it.
So I quickened my stride and headed for the Jubilee Line. A train was waiting on the platform when I got there and it sat with the doors open for a couple more minutes before pulling away at 12.37. I arrived at London Bridge three minutes later and hot-footed it over to the Northern Line (Bank) branch.A few stops later and I was at Old Street.
The walk from the tube station to the café was longer than I'd thought - almost 15 minutes - and I arrived at 1pm to see the others sitting down with a nice cold drink. I'd lost 12 minutes on the first stage.
Time - 30mins
Cost - Zone 1 off-peak travelcard: £5.60 (reusable)
Stage two: Look Mum No hands - Condor Cycles (Grays Inn road)
An old colleague was at the café and over lunch he said the bus would be my best bet for the next leg to Condor cycles. I had considered walking because the tube would have taken me round in a big square.I never use the bus. How do you know which number goes where? My former colleague tipped me off that the 55 or the 243 would do it.
I was on the bus before Simon had hailed a cab. As we set off towards Clerkenwell Road I saw Hugh at the bike station.Despite keeping an eye out, I didn't see him come past. The traffic wasn't too heavy so I figured Simon's taxi might overtake us but we were moving well and I knew Hugh had to find a docking station and then walk to the bike shop.
I'd surely get second, at the very least.No. As I approached the shop I saw them both inside, chatting happily and looking at their watches theatrically.
Time - 10mins
Cost - £0
Stage three: Condor Cycles - The Iron Duke (at Victoria station)
The last chance for public transport to redeem itself. I headed for Chancery Lane tube station and broke into a light run. I got on a hot and crowded Central Line train full of tourists and shoppers heading for Tottenham Court Road and Oxford Circus. I didn't get a seat.
I changed at Oxford Circus and didn't get a seat on the Victoria Line train either. But I did see a man with a fold up bike. I smiled and nodded towards his bike. He looked at me as if I was strange.Two stops later I was at the Iron Duke. Not last. but not first either.
I'd beaten the taxi by miles but the bike won. Mind you, shouldn't the bike always win?
Time - 22mins
Cost - £0
Total time - 62mins
Total cost -£5.60
Bike - Hugh
Stage one: Waterloo station - Look Mum no Hands (Old st,)
Why is that when we are all so keen about cycling that none of us wanted to take the bike?"I'm not dressed for a bike race across London on a warm summer afternoon," I protested at Waterloo. But my reasoning fell on deaf ears. Lionel and Simon had been poncing around on the bikes all morning for a photo shoot.
Now that the pressure would be on, they'd already bagsy-ed the arm chair options. "You haven't tried out a hire bike yet," pointed out Simon.My inexperience, though, proved to be my excuse on the first leg. As Lionel fumbled his lines and Simon lost time searching for cash, I spent a good minute or two trying to undock a bike.
Key in, key out, pull, tug, lift, it wouldn't budge. Undocking requires patience to wait for the light to turn green then a good hard backwards yank.
Eventually on my way, London whizzed by beneath my wheels. It's amazing how quickly you can cross the city by bike - especially when sticking to the main thoroughfares. Despite the limited gears, along Farringdon and Clerkenwell Road, I was moving perceptibly quicker than the traffic. After spotting Look Mum No Hands, I had to find a docking station.
The nearest was a couple of hundred yards away. Perhaps that was the margin between Simon's arrival and mine, but the docking process is all part and parcel of using the hire scheme.
Time - 20mins
Cost - £3 membership key (one off payment) + £1 for 24hr access
Stage two: Look Mum No hands - Condor Cycles (Grays Inn road)
Again I struggled to get the bike out of the dock. I eventually got going on the third bike I tried after finding the first with loose handlebars, the second refusing to move.It was then with considerable competitive urge but feigned nonchalance that I drifted past Simon's taxi in a line at a red light. Lionel was nowhere to be seen.
We exchanged the lead a couple more times with the ebbs and flow of the traffic before I got dropped on a slight rise. Maybe I'd catch Simon again at the next lights, but the queues weren't long enough for me to really gain any lead. With the taxi able to offer a kerbside drop off, not unless I chanced my way down a narrow side street - cutting the corner off a right angle junction - could I beat him into Condor Cycles.
This worked superbly, but I then turned the wrong way onto Grays Inn Road, thinking the shop was still further up it. One u-turn I approached the shop as Simon walked into the doorway. If only hire bikes came with The Knowledge, two wheels might have won this leg.
Time - 8mins
Cost - Free
Stage three: Condor Cycles - The Iron Duke (at Victoria station)
With a docking station just round the corner from the shop, my getaway was as quick as the others. "See you later, losers," I bode them after I'd hopped onto a bike and quickly and cleanly undocked it. As the traffic then thickened through the West End, I knew the cockiness was justified. The taxi would be miles behind in gridlock. Although slowed by negotiation of the queues, I was gaining ground with each pedal stroke.
But what about Lionel? The Lantern Rougue was hurtling through the underground while I was still stopping for lights and wayward tourists. "Is that thing electric?" one of them asked me as they crossed the road in Trafalgar Square. "I wish," I replied through a face of sweat. All Lionel had to do was jump on a train or two, hold his nose and then pop up in Victoria.
After Admiralty Arch, I picked up momentum down the uncluttered and lightly descending avenue of the Mall. From looking at the map, I'd already sussed out the best docking station, a couple of hundred yards from the station.
Reaching the Iron Duke two minutes ahead of Lionel and eight ahead of Simon rightfully gave the bike both the stage and the overall victory. What's more -with all three of the legs taking under 30 mins and thus costing no extra than the initial outlays of scheme membership key and day access rate- it's the cheapest option and by far the nicest way to travel around the city. Next time I'm faced with the option of taking the bike over tube or taxi, I won't be trying to wriggle out of it.
Time - 22mins
Cost - Free

Total time - 48mins
Total cost - £4
The bike is the winner! Thankfully.
Thank you for reading 20 articles this month* Join now for unlimited access
Enjoy your first month for just £1 / $1 / €1
*Read 5 free articles per month without a subscription
Join now for unlimited access
Try first month for just £1 / $1 / €1