Bath cycle ride: Going underground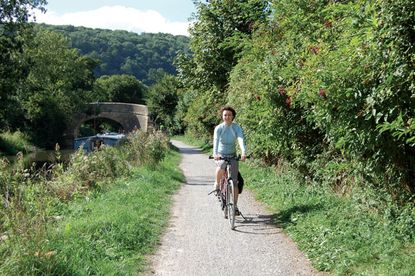 Peering at the map on my phone, I'm trying to work out how I've gone wrong. I've been going astray for the past 6km, it seems. Despite the prevailing hilliness and my phone's GPS telling me I'm off-route, I've been religiously telling myself that my phone's wrong and that I am, unshakeably, right.
So it is I find myself backtracking from a crossroads some 6km south of the southern tip of Sustrans' new Two Tunnels Route, a 13-mile largely off-road circular cycling and walking path, opened in April. Still, there are certainly worse places to lose time. The sun's out, the ponies are abroad in the lanes, and there are plenty of other cyclists to wave at. But I have a train to catch, so I'm backtracking at speed.
My accommodation the previous night had been the servants' quarters of a grand five-storey townhouse. The sky was blue when I departed this morning. After briefly battling Bath's clogged and polluted London Road, quiet avenues of towering, golden-stoned Georgian houses set a more appropriate scene for the day's ride.
The proliferation of grand edifices in Bath hails back to Jane Austen's era when the city was a fashionable spa resort and the magnificent Assembly Rooms kept wealthy tourists entertained during the social season.
I cross Pulteney Bridge, where little cafes and quaint trinkety shops perch atop the River Avon, windows overlooking the great stepped arch of the cascading weir with its scores of bathing fledgling seagulls. The morning light lends itself so well to Bath's oolitic limestone that I'm reluctant to quit staring and get on.
Get connected
The largest of Sustrans' lottery-funded Connect 2 routes, the Two Tunnels Greenway follows the Kennet and Avon Canal and features Combe Down Tunnel, which, at a mile long, is the UK's (and possibly Europe's) longest cycling and walking tunnel.
Starting at the River Avon, there's picturesque old warehouses framed by trees, and other cyclists and runners are out making the most of the warm, bright morning. After numerous semi-derelict bridges, a green foot and cycle bridge crosses the Avon where gas tower skeletons and waterside
apartments are opposed by weeping willows. Blue Sustrans signs diligently mark residential streets and shared paths. The great thing about Sustrans' National Cycle Network (NCN) routes is their pieced-together-ness, created as they are from bits of existing pathways and roads as well as new infrastructure.
There are still plenty of issues to iron out; for example, where a hatchback blocks a pathway entrance on an otherwise empty road, and where, after dismounting on a narrow bridge, cyclists are forced to squeeze single-file between a metal-fenced parking space and the bridge.
On the path, though, it's peaceful and pleasantly green, and we cross a brand new lottery-funded foot and cycle bridge, with dog walkers, joggers and cyclists of all stripes from men in Lycra to families to various old chaps in hi-vis tabards.
Terrace backs peek through tall trees, and after five minutes I'm in tunnel country. First the Devonshire Tunnel and, 10 minutes later, it's the big one. Both are newly resurfaced.
Combe Down Tunnel is 1,670m long. Once inside, it's cool and dimly lit, like cycling in a cave. A single double bass note strikes up from a glowing speaker, then another. Then there are violins, and before long there's a chorus of string music, a gorgeous musical art installation titled Passage. It's truly magical, gliding along on the new tarmac with low floor lights setting the mood.
It takes about 10 minutes to reach the end, where a father and son are peering over a bridge down on to Tucking Mill lake. Midford Castle, once owned by Nicholas Cage, appears from across a field. The post-tunnel high may explain my missing the signpost marking the southern end of the route, before it doubles back on itself like a teardrop.
I decide to forge on through two gates, and on to the Colliers Way, following the old Somersetshire Coal Canal from Midford to Frome. The 'Father of Geology' William 'Strata' Smith, who mapped the rock types in the west of England in 1799, plotted the canal's course, and lived in a nearby cottage at Tucking Mill.
I stop for a coffee in a pub beer garden, admire the views and chat with passing cyclists, walkers and some of the tiniest ponies I've ever seen. There's a rather steep climb into the pretty village of Wellow, where I buy some homemade cakes at a front gate from two girls who've spent the morning baking with their mum, stashing them into my panniers.
After fields, more ponies and an arduous climb or three, I reach a crossroads and finally look properly
at the map. Returning down the hill and back through Wellow, I wave at some cyclists I met earlier, and, after a growing sense of déjà vu, spot the sign I missed before, which leads past a house with a plaque to William Smith. Thanks to the detour, I now know who Smith actually is, and I continue through Monkton Combe.
Glorious sunshine
At the Angelfish Restaurant, where the route meets the Somerset Coal Canal, I watch, with a heavily mayonnaised egg baguette, people getting in and out of canoes and awkwardly manoeuvring canal boats. My energy is now directed into getting back to Bath in glorious sun. But my wonky internal compass leads me the wrong way again, over the Dundas Aqueduct, where I'm heckled by a teenager in a canoe. It seems this area is rife with excitable young men; I've already passed one canoeing in red fishnets and a dress, then, a mile or so later, there's what appears to be a stag do in a canal boat, with the stag dragged along behind in a dinghy, protesting against greater speed.
Four miles of stony, dusty canal path pass peacefully before a shortcut down a dirt singletrack and under the railway to retrieve panniers from my digs en route to the station. My heart sinks as I realise the back tyre is punctured. If there was a list of rules for daytrips by bike, the carrying of a puncture repair kit would surely be on it. Unfortunately I have nothing useful on me. With an hour until my train, I half ride, half push there at a trot.
There's good news and bad when I arrive: the train station has a friendly bike shop next door, but I have the wrong train ticket. With half an hour to spare, the bike shop replaces my inner tube and, buying a new ticket, I swear an oath never to disregard the evidence of maps, nor to travel without at least a rudimentary tool kit.
STOP!
Pubs and grub
Cafes
The Angelfish Restaurant, Brassknocker Hill, Bath, BA2 7JD, 01225 723483. A canal-side cafe with plentiful outdoor seating, bike parking and great views over the water. Impressive variety of paninis and sandwiches, as well as cream teas. Mon-Fri 10am-5pm; Sat, Sun & Bank Holidays 10am-6pm.
The Hope and Anchor, Midford Road, Midford, BA2 7DD. 01225 832296, www.hopeandanchormidford.co.uk. Supplier of classic pub meals, plus more adventurous dishes from local produce, with afternoon tea and coffee, 500m south of the route after Combe Down Tunnel. There's a sheltered beer garden and plenty of indoor seating. Mon-Fri 11.30am-3pm; 6pm-11pm (food: 12pm-2pm; 6pm-9.30pm); Sat & Sun 10.30m-11pm (food: 12pm-3pm; 6pm-9.30pm).
Bike shops
Avon Valley Cyclery, Brunel Square, Bath Spa Railway Station, Bath BA1 1SX, 01225 442442; www.avonvalleycyclery.co.uk; shop@avonvalleycyclery.co.uk
Places of interest
Thermae Bath Spa, The Hetling Pump Room, Hot Bath Street, Bath, BA1 1SJ. 01225 331234; www.thermaebathspa.com; info@thermaebathspa.com.
Bath Assembly Rooms, Bennett St, Bath, BA1 2QH. 01225 477173;
www.nationaltrust.org.uk/bath-assembly-rooms/; bathassemblyrooms@nationaltrust.org.uk.
Road book
From Bath Spa train station, turn left along Dorchester Street and follow the one-way system past the bus station on Broad Quay, joining the riverside path opposite Ambury Street. Follow the Avon West, crossing at the green foot and cycle bridge just after a pair of iron rail bridges. At the end of the green bridge, follow Fielding's Road, turning left on A36, Lower Bristol Road, then taking the first right onto Burnham Road, and the first left on Inverness Road. Follow the foot and cycle path at the end of Inverness Road, turning right at the cemetery on Bellotts Road.
Dismount over the road bridge and, following a narrow entrance immediately after the bridge on the right into Linear Park, crossing another new green bridge onto the railway path towards the route's eponymous two tunnels. Turn left at the way markers onto Tucking Mill Lane as soon as the new fencing after Combe Down Tunnel has ended.
At the end of Tucking Mill Lane, turn right onto Church Lane, which weaves through Monkton Combe. Turn right at the blue sign into Monkton Combe School, dismounting on the footpath that slopes down through the buildings. At the road, turn left and follow until just before its junction with the A36, turning left and follow the path uphill, past the car park on the right, to meet the canal at the Angelfish Restaurant.
Follow the canal for 350m, turning left before Dundas Aqueduct, which leads away to the right (east). Cross a small cantilever bridge over the Somerset Coal Canal, bearing round to the right and crossing another stone bridge onto the Kennet and Avon canal. Follow the canal for 4.5 miles through Bathampton, leaving it at Beckford Road. Turn right on Argyle Street, then left on Grand Parade and follow Pierrepont St South back to Bath Spa station.
Thank you for reading 20 articles this month* Join now for unlimited access
Enjoy your first month for just £1 / $1 / €1
*Read 5 free articles per month without a subscription
Join now for unlimited access
Try first month for just £1 / $1 / €1