Bradley Wiggins: No sympathy for Lance Armstrong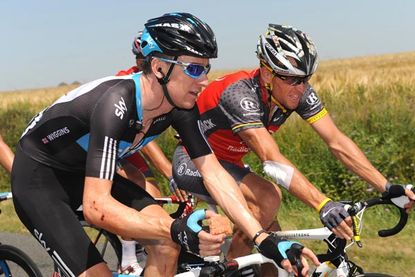 Bradley Wiggins says he feels no sympathy for Lance Armstrong after he confessed to doping - and stated he does not believe the American raced clean upon his ill-fated comeback.
Wiggins finished fourth in the 2009 Tour, one place behind Armstrong who prevented him from achieving what would have been the first podium finish by a Briton in the race.
Having put 29 seconds into the American on stage 15 into Verbier at the end of the second week, he lost 22 seconds to Armstrong six days later on Mont Ventoux. His difference in strength between the two racing days, said Wiggins, is why he believes the Texan is lying when he claims he didn't dope during his comeback.
"That was the thing that upset me the most about 2009 and 2010. I thought you lying bastard. I can still remember going toe-to-toe with him, watching him and his body language. The man I saw at the top of Verbier in 2009 to the man I saw on the top of Ventoux two weeks later, it wasn't the same bike rider. Watch the videos and see the way the guy was riding. I just don't believe anything that comes out of his mouth anymore," said Wiggins.
Speaking to journalists in Majorca during the Team Sky Media Day, Wiggins admitted to being a fan of the American as he was growing up. And, after saying that initially he had no plans to watch the broadcast, the 2012 Tour de France winner eventually sat down and watched it with his son Ben.
"I was very determined not to watch it. I was a fan of Lance; I remember watching (him win) the Worlds in 1993. I was 13 then. Then he came back and won the Tour de France in 1999 when I was 19 years of age, I was on the track programme and that was so inspirational at the time, seeing what he had come from in those pictures with cancer," he said.
Wiggins and Armstrong during the 2010 Tour de France
"Part of me didn't want to watch it, the fan in me didn't really want that perception of him to be broken as an amazing athlete. But I watched it with my seven-year-old son, and those initial first questions - the yes/no answers - watching him suddenly cave in after all these years of lying so convincingly... there was a lot of anger, a lot of sadness... I was slightly emotional as well if I'm honest. It was difficult to watch really. My wife couldn't watch it, she walked out the room.
"It's heartbreaking for the sport, but then the anger kicks in and you start thinking "you f*****g a******e" or whatever feelings most people had when watching it. I had to explain to my son what it's all about, he's won the same race as his dad has won. But by the end of the hour-and-a-half, I had the best feeling in the world.
"When he started welling up about his 13-year-old son asking him what it's all about - I never have to have that conversation with my own son. His father's won the Tour clean; there's this element of being smug about the whole thing to be honest. Then I got a 'you deserve everything you get' kind of thing. By the end, I was feeling no sympathy for him behind all the welling up and the tears."
Related links
Lance Armstrong 'continued to lie' in Oprah interview
The Lance Armstrong confession: Part two
Lance Armstrong opens up to Oprah: Part one
Oprah Winfrey mesmerised and riveted by Armstrong interview
US government set to join Armstrong whistleblower case
Lance Armstrong confesses to doping
Sir Bradley Wiggins: Rider profile
Thank you for reading 10 articles this month* Join now for unlimited access
Enjoy your first month for just £1 / $1 / €1
*Read 5 free articles per month without a subscription
Join now for unlimited access
Try first month for just £1 / $1 / €1
Nick Bull is an NCTJ qualified journalist who has written for a range of titles, as well as being a freelance writer at Beat Media Group, which provides reports for the PA Media wire which is circulated to the likes of the BBC and Eurosport. His work at Cycling Weekly predominantly dealt with professional cycling, and he now holds a role as PR & Digital Manager at SweetSpot Group, which organises the Tour of Britain.