Briggs wins national criterium title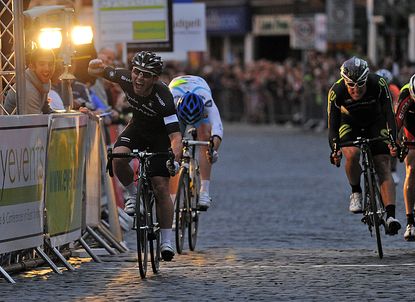 >>>Gallery of images from the circuit race champs



Doncaster's newlywed Graham Briggs sprinted to victory across the cobbles of Beverley's market place on Friday evening to take the Elite Men's National Circuit Championships.
A delay in the evening's race programme due to a support race crash and its subsequent abandonment meant a late start to the championship event and a reduction in duration by 10 minutes to 60 minutes plus five laps.
Although the temperatures in East Yorkshire may have been cool, the race pace was certainly not. A crash early in the race over in the back of the tight technical circuit included amongst others Endura's Rob Partridge and Motorpoint's James Sampson who, along with a large number of other riders, had to take a lap out in the pits before rejoining the action.
As the race settled a break of six riders got away which included Ian Wilkinson (Endura), Tom Murray (Sigma Sport-Specialized), Matt Jones (Raleigh), Marcel Six (Twenty3c-Orbea), Will Bjergfelt (Motorpoint) and Graham Briggs (Rapha Condor Sharp).
The break soon became seven as Dean Downing (Rapha-Condor-Sharp) bridged the gap from the chasing peloton.
Their advantage increased to a maximum of 40 seconds but this started to come down rapidly as the race came to the final third.
However, the break managed to hold on to its race-long advantage and Dean Downing attacked in the closing two laps.
This move set up Briggs perfectly to be able to take the sprint in fading light from Wilkinson and Murray, with the rapidly closing main bunch coming in eight seconds later, led by last year's champion Ed Clancy (Rapha-Condor-Sharp).
The criterium kicked off a weekend of cycling events based around the East Yorkshire town, including the Big G Sportive and Premier Calendar round, the East Yorkshire Classic.
Results

1. Graham Briggs (Rapha-Condor-Sharp) 1-10-25

2. Ian Wilkinson (Endura)
3. Tom Murray (Sigma Sport-Specialized)
4. Marcel Six (Twenty3c-Orbea)
5. Will Bjergfelt (Motorpoint) at 2secs
6. Matt Jones (Raleigh) at 7secs
7. Ed Clancy (Rapha-Condor-Sharp) at 8secs
8. Scott Thwaites (Endura)
9. Jonny McEvoy (Motorpoint)
10. Steven Adams (Sigma Sport-Specialized)


Related linksNational Circuit Championships: The Big Preview
Thank you for reading 20 articles this month* Join now for unlimited access
Enjoy your first month for just £1 / $1 / €1
*Read 5 free articles per month without a subscription
Join now for unlimited access
Try first month for just £1 / $1 / €1