British Cycling secures meeting with justice minister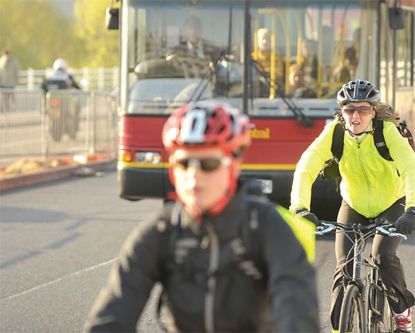 British Cycling has welcomed a meeting with justice minister Helen Grant, secured during an adjournment debate in Westminster Hall on Wednesday, to dicuss further it's call for a review of the justice system.
The 90 minute debate, tabled by MP Tony Lloyd and attended by a number of other MPs, addressed the call for a review of the wider criminal justice system. Particular emphasis was given to the treatment of cyclists killed or injured in road traffic collisions, as called for by British Cycling and Cycling Weekly.
The organisation's Director of Policy and Legal Affairs, Martin Gibbs, was pleased with the result and by the level of support shown for the review during the debate.
"It was really good today to have cross party support," he said. "Sarah Wollaston, Ian Austin and Ben Bradshaw all spoke passionately in support of our joint call with Cycling Weekly and other cycling organisations for a comprehensive review of how the criminal justice system operates when people cycling are hurt on the roads."
Will Jeffries, the brother of cyclist and British Cycling volunteer Rob Jeffries who was killed last year by a motorist with a previous conviction for a speeding offence, also met with the shadow justice minister Rob Flello in advance of the debate.
"I'm pleased to hear that the government has agreed to meet with British Cycling about their campaign for a review of the justice system," he said. "Now we need to see some action on the matter; as we all know that actions speak louder than words."
Flello meanwhile proposed that a 'root and branch review' of the criminal justice system is needed, and would be considered for inclusion in the Labour Party's manifesto for the next election.
"It was great to have the support of Rob Flello," Gibbs added. "We all know that the justice system too often fails cyclists and we need the government to address that urgently."
"It's clear where the balance of fault lies"
The review, which is also backed by organisations including CTC, Sustrans and RoadPeace, aims to address the failure of the criminal justice system to respond to the needs of cyclists who fall victim to road traffic collisions.
It calls for an analysis of the process through which collisions and incidents are investigated and a review of the offences available to the Crown Prosecution Service when prosecuting individuals deemed responsible.
This afternoon's debate approached the wider issue of how the justice system caters for victims and their families, although the topic of cyclists killed and injured on the roads was given prominent hearing as it continued to be raised.
"It's clear where the balance of fault lies," noted Sarah Wollaston, Conservative MP for Totnes. "Justice has weighed in favour of the motorist for too long."
"It's totally unacceptable that people who take the life of someone's loved one are being given little more than a slap on the wrist," added Ben Bradshaw, Labour MP for Exeter and a keen cyclist himself.
Bradshaw helped secure the meeting between Grant and British Cycling, asking for the justice minister to agree to the meeting (which had earlier been proposed by Ian Austin, Co-Chair of the All Party Parliamentary Cycling Group) as she made her closing speech at the very end of the debate.
Although an adjournment debate is a small step in Parliamentary terms, there was significant time given to discussing cycling and cyclists during a debate on the justice system as a whole.
This, as well as securing the meeting with the minister, can be taken as further evidence that cycling safety is consolidating its position as a key and mainstream issue in the corridors of power.
Related links
Get your MP to support our campaign for a justice review
Thank you for reading 10 articles this month* Join now for unlimited access
Enjoy your first month for just £1 / $1 / €1
*Read 5 free articles per month without a subscription
Join now for unlimited access
Try first month for just £1 / $1 / €1
Richard Abraham is an award-winning writer, based in New Zealand. He has reported from major sporting events including the Tour de France and Olympic Games, and is also a part-time travel guide who has delivered luxury cycle tours and events across Europe. In 2019 he was awarded Writer of the Year at the PPA Awards.