Call for cabinet level leadership to 'Get Britain Cycling'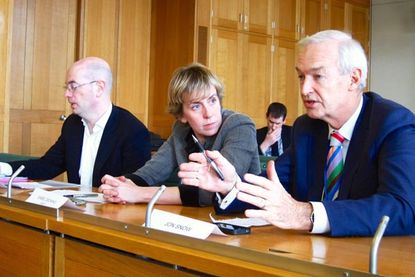 Police are instructed not to enforce 20 mile per hour speed limits, Mark Wilson of the Association of Chief Police Officers (ACPO) told parliament yesterday.
Meanwhile, in the final of six All Party Parliamentary Cycling Group evidence sessions for the Get Britain Cycling inquiry, the panel's Ian Austin called for cabinet-level leadership after Cycling Minister Norman Baker said he has never met the Prime Minister to talk about cycling.
In the session, exploring leadership from government, witnesses included Stephen Hammond MP, London's new Cycling Commissioner Andrew Gilligan and Journalist and CTC President Jon Snow, as well as the Dutch Cycling Embassy and European Cyclists' Federation.
ACPO's Mark Wilson said: "At the present time we aren't enforcing 20 mile an hour speed limits; they are governed by sleeping policemen and traffic calming."
Sarah Wollaston, MP and APPCG panel member, said: " Today's careless driver is tomorrow's dangerous driver that could kill someone. Why would anyone drive 20 miles an hour in a 20 mile an hour zone if they knew they will be completely ignored?"
Carl Sargeant, AM, Welsh Transport Minister, was "astonished", adding Wales is introducing more 20 mile an hour limits as young people are disproportionately killed on the roads.
He also said the Welsh Assembly's radical Active Transport Bill was effectively also a public health bill.
APPCG's co-chair, Ian Austin MP, said: "I'm convinced that what we need in Britain is someone in the cabinet saying: 'This is a massive issue, we really have to take this seriously; it cuts across all sorts of different departments, I'm going to pull together all the key people and really make this a priority'. That's how things change in government."
Norman Baker said although he has not met the Prime Minister to talk about cycling he has met with his representatives at No. 10, adding he is in no doubt the Prime Minister is interested in cycling.
Baker said: " There is a case for greater coordination across departments which is what I've been doing by organising bilateral meetings with ministers."
In contrast London's new cycling commissioner, Andrew Gilligan, meets with Boris Johnson three or four times a week. Gilligan stressed what cycling can do for everyone, not just cyclists, including reduced congestion and "fewer cars in front of you at the lights" adding: "If you achieve a 14% modal share in central London you can reduce NOx (Nitrous Oxide) by 30% and that would save hundreds, possibly thousands of lives."
Jon Snow, who cycles because "it is the easiest way to get from my front door to the door of my office", argued for instant amendment of planning laws to include cycling in every new development. He said: "I think until you begin to see those kind of moves in which you see parity, we aren't going to get anywhere."
He said: "Whatever political leader nailed his/her colours to the revolutionisation of cycling would leave a legacy that would live for many generations. The dividends are far greater than we know.
"It is there for the taking, at a time when we are investing in infrastructure."
Stephen Hammond, Road Safety Minister, agreed: "When we are planning improvements or new roads we should be considering cycling at the forefront of that so we don't have to go around doing it after."
Related linksWhat is 'Get Britain Cycling'?
Cycling experts present evidence to Parliament Ministry of justice agrees to look at bad driving laws Bad boroughs named and shamedThe Times campaign: one year on How Britain has failed cycling Comment: Cycling takes centre stage at Westminster Ministry of justice agrees to look at bad driving laws
Thank you for reading 10 articles this month* Join now for unlimited access
Enjoy your first month for just £1 / $1 / €1
*Read 5 free articles per month without a subscription
Join now for unlimited access
Try first month for just £1 / $1 / €1