Clara Honsinger and Curtis White to lead Team USA at Cyclocross World Championships
16 athletes will represent the USA in the Netherlands in February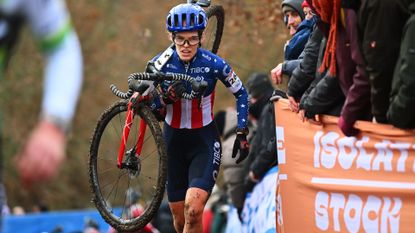 (Image credit: Getty Images)
Freshly crowned U.S. national cyclocross champions Clara Honsinger and Curtis White will lead a roster of 16 riders at the 2023 UCI Cyclocross World Championships taking place in Hoogerheide, The Netherlands in February.
The national champions will be joined by four Pan American cyclocross champions Raylyn Nuss, Jack Spranger, Lizzy Gunsalus and David Thompson. Pan American elite champion Eric Brunner was also selected to the team but declined to attend.
Team USA riders have just finished a three-week racing block in Europe in order to prepare them for the competition they'll face in Hoogerheide.
"USA Cycling has a strong team heading to Hoogerheide in a few weeks. The development team had two podiums in the junior races and are well-prepared for the lead into the World Championships including the final World Cup in France before we head to Hoogerheide," said the program's director, Jesse Anthony.
The 2023 UCI Cyclocross World Championships will take place February 2-5, 2023. Clara Honsinger, who has now been crowned as the best women's cyclocrosser in the U.S. three years in a row, will be looking to improve upon the 11th place finish she netted at the 2022 World Championships.
The Oregonian also competes on the road WorldTour with the EF Education-TIBCO-SVB team, and her race on Saturday, February 4, will come just weeks before the European road season kicks off.
In the men's elite race on Sunday, the 5th, Curtis White will make his 10th cyclocross world championship appearance for Team USA. At 27 years of age, White is an experienced veteran in the US domestic cyclocross scene with 35 UCI victories to his name including three Pan-American titles.
The Team USA Roster
Elite Men, competing on Sunday, February 5:
Curtis White
Elite Women, competing on Saturday, February 4:
Clara Honsinger
Raylyn Nuss
U23 Men, competing on Saturday, February 4:
Jack Spranger
Andrew Strohmeyer
U23 Women, competing on Sunday, February 5:
Lizzy Gunsalus
Madigan Munro
Junior Men, competing on Sunday, February 5:
Andrew August
Daniel English
Miles Mattern
Ben Stokes
David Thompson
Magnus White
Junior Women, competing on Saturday, February 4:
Vida Lopez de San Roman
Kaya Musgrave
Samantha Scott
In the U.S., fans will be able to watch the racing on GCN and FloBikes.
Thank you for reading 10 articles this month* Join now for unlimited access
Enjoy your first month for just £1 / $1 / €1
*Read 5 free articles per month without a subscription
Join now for unlimited access
Try first month for just £1 / $1 / €1
Cycling Weekly's North American Editor, Anne-Marije Rook is old school. She holds a degree in journalism and started out as a newspaper reporter — in print! She can even be seen bringing a pen and notepad to the press conference.
Originally from The Netherlands, she grew up a bike commuter and didn't find bike racing until her early twenties when living in Seattle, Washington. Strengthened by the many miles spent darting around Seattle's hilly streets on a steel single speed, Rook's progression in the sport was a quick one. As she competed at the elite level, her journalism career followed, and soon she became a full-time cycling journalist. She's now been a cycling journalist for 11 years.