Closed road Etape Mercia to launch in 2013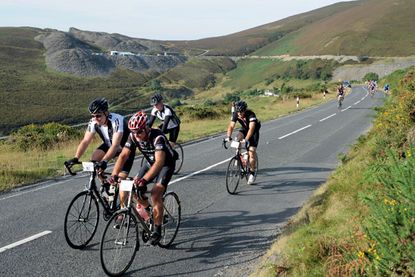 IMG and Marie Curie Cancer Care are set to launch their third closed road sportive for 2013, the Etape Mercia.
The 69 mile ride is billed as an entry level sportive and will be run on closed roads in the west Cheshire area. More details will be released in the new year, but the ride will boost the Etape series back up to three events after the cancellation of the Etape Hibernia in Ireland.
Entries for the Etapes Caledonia and Pennines go on sale today, with the former expected to sell out its 5,000 places in just a few days. The Etape Pennines, that was launched this year, has 3,000 places available.
The organisers are also offering limited free entry spots for those in their first or second year of riding an Etape event and who commit to raise funds for Marie Curie.
2013 will be the seventh edition of the Etape Caledonia, the first closed road sportive to run in the UK. In its early years it encountered problems with local residents and has twice been the victim of sabotage. In 2009 hundreds of riders suffered punctures and the event was halted after tacks were scattered along a 20km section of road.
Local community council chairman Alexander Grosset was initially charged with the offence, but those charges were later dropped
In 2011 there was another attempt to halt the event but organisers checking the course before the start spotted the tacks, drawing pins and staples on the road and were able to clear the route.
External links
Thank you for reading 5 articles this month* Join now for unlimited access
Enjoy your first month for just £1 / $1 / €1
*Read 5 free articles per month without a subscription
Join now for unlimited access
Try first month for just £1 / $1 / €1