The four stages of having your bike stolen
Is there any worse kind of heartbreak?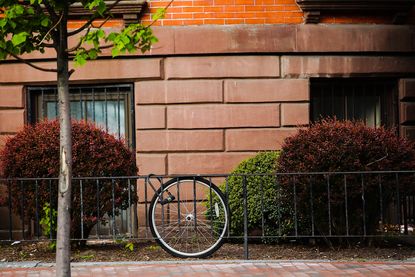 (Image credit: Boston Globe via Getty Images)
There aren't many feelings worse than approaching the spot where you had secured your beloved bike, only to see a ghostly nothing.
Your stomach, sinks, you feel dizzy, your mind starts reeling, turning over all the possibilities and trying to come to terms with what your eyes are telling you.
It is an absolutely awful feeling, and one you wouldn't hurry to relive.
With that in mind, here are the four stages everyone goes through after having their bike stolen, just to remind you.
Denial
Last year my pride and joy was stolen from the secure underground car park of my office in Bristol (before I'd joined Cycling Weekly).
I'd locked the bike in the same spot every day for a year – buried right at the back, out of sight even through the shutters out onto the street.
But somehow a cruel and determined operator slunk into the car park in a hi-vis jacket and construction helmet and rode away into the afternoon.
>>> Watch the moment cycling police officer chases down bike thief in pedal pursuit
When I went back for my bike at around 10pm, ready to ride home in the dark after a long late shift, it wasn't there – just gone.
The first thoughts that hit me were all denial.
I must have locked it somewhere else.
Scouring my memory I was desperate to realise I'd locked my bike outside, or I'd left it at home.
Or maybe this was a prank? When I was a youngster I walked out of work to discover my cheery mates had turned my saddle backwards on my BMX – maybe it was them.
No one would have nicked my bike surely.
All the denial in the world won't help you when someone has strolled off with your steed.
Anger
By far the longest phase of the process.
There is a lot to be angry at when your bike is stolen.
Obviously the thief, who is often at the centre of imagined encounters that involve some very strong words - maybe a bit more than that too.
But there are other reasons to be angry – in my case, the owners of the building had been in dispute with the property managers about who was liable to fix a broken shutter that allowed my now mortal enemy to wander in and out.
I was also angry at the police, who phoned me a few weeks after my bike had vanished to tell me they were closing the case.
It's often taken for granted that bike thefts range from the value of a tenner, to thousands of pounds.
Often the theft is treated in the same way by police, regardless of the cost.
But by far the most infuriating thing after having your bike stolen, is the self-righteous know-it-alls who oh so helpfully ask where you had the audacity to leave your bike, and what kind of lock you'd used.
Because deep down you should know this is your fault, they imply with their smug questioning.
If you are one of these people who dream of enlightening victims of theft that they should have used a better lock… don't.
It doesn't help, they already know they should have used a better lock, their bike's been stolen.
Bargaining
This can take many forms.
The first step I took in the bargaining process was trawling eBay and Gumtree for hours in the hope of finding a glimpse of the familiar colours and tubing.
Bikes are often stolen to sell, and sellers need a market place.
You hear plenty of stories of unlucky victims who found themselves in the unlikely position of finding their bikes for sale online – often at an offensively low price.
Not long before my bike was stolen, I had seen a news story about a woman from Bristol who showed phenomenal bravery and actually stole her bike back from the thief who had tried to sell it to her.
If only I could have that chance.
But the bargaining stage also involves weighing up a new bike.
If you buy a replacement ride, you're sure your old bike will be returned.
Do you get a cheap bike in the hope that your old machine will turn up on your doorstep one raining night, unscathed and relieved to be home?
Or do you accept the loss, take the chance to upgrade and never let your new bike out of your sight?
All part of the bargaining process we've all faced when victims of this unexpectedly awful crime.
Acceptance
Finally, you acknowledge your bike is gone, you break out the credit card, and you buy that Di2 aero bike you had been fawning after for a year.
Still, you're not sure if it was worth the grief. You'd probably rather just have your old bike.
Thank you for reading 20 articles this month* Join now for unlimited access
Enjoy your first month for just £1 / $1 / €1
*Read 5 free articles per month without a subscription
Join now for unlimited access
Try first month for just £1 / $1 / €1