Watch the moment cycling police officer chases down bike thief in pedal pursuit
The officer tried to question the thief, who handed over a backpack containing bolt cutters and then fled by bike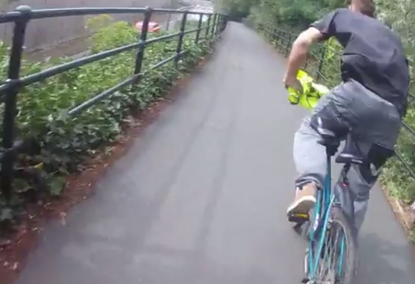 Video footage has been released of the moment a cycling police officer became embroiled in a high-speed bike chase through Derby.
PSCO Jim Sadler stopped a suspect near the bike shelter outside a train station in Pride Park on August 23, but the thief pedalled away rapidly.
The officer quickly gave chase and pursued the criminal along cycle paths until he was finally able to catch up on an incline.
>>>High value e-bikes lifted in yet another local bike shop break-in
Derbyshire Constabulary has released footage of the dramatic chase, captured by PCSO Sadler's body camera.
A statement from the force said: "We have released dramatic footage of the moment a Derby man was chased and arrested for going equipped to steal bikes from Pride Park.
"The subsequent chase through the cycle lanes towards the city centre was caught on PCSO Sadler's body worn video. Jim was able to give a commentary to his colleagues and shortly after, Mr Liddle was arrested. The bag he handed over to Jim was found to contain bolt-croppers."
https://www.facebook.com/derbyshireconstabulary/videos/1865702206843000/
Scott Liddle, 37, of no fixed abode, was disturbed by PCSO Sadler while acting suspiciously near the bike shelter at the rear of the train station.
When approached, Liddle handed over a backpack to the officer but then fled the scene on his bike.
PCSO Sadler caught up with Liddle, who was then arrested.
On Saturday, August 25, Liddle appeared before magistrates and pleaded guilty to going equipped for theft and also to stealing a bike earlier that week. He was given a suspended prison sentence of 18 weeks.
Liddle was arrested again earlier this month for the more thefts of bikes in Derby. This time he was jailed for 36 weeks and given a Criminal Behaviour Order to keep him away from certain parts of the city centre.
Thank you for reading 20 articles this month* Join now for unlimited access
Enjoy your first month for just £1 / $1 / €1
*Read 5 free articles per month without a subscription
Join now for unlimited access
Try first month for just £1 / $1 / €1